Sales Have Ended
Registrations are closed
Please contact JC Wright Lighting at 509-535-0098 for information on seating availability.
Sales Have Ended
Registrations are closed
Please contact JC Wright Lighting at 509-535-0098 for information on seating availability.
About this Event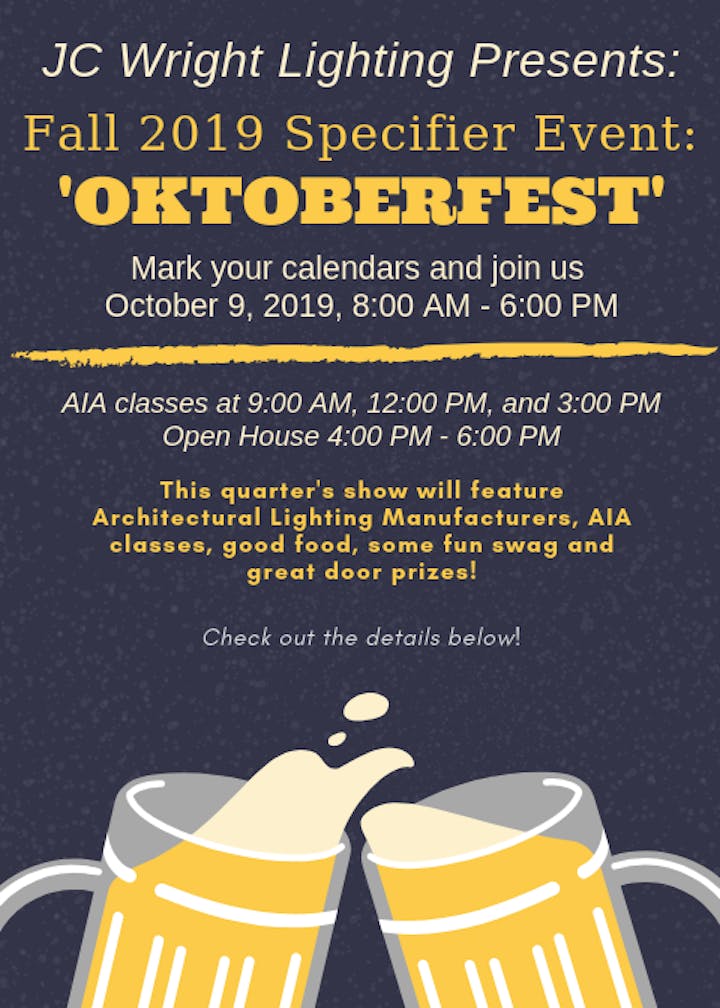 JC Wright Lighting is pleased to present our Fall Specifier Training Event "Oktoberfest" on Wednesday, October 9th, 2019.
This event will be a single day, from 8:00am – 6:00pm and we invite you to join us during the day for a combination of product demonstrations and AIA classes, and to close out the event with an open house from 4:00pm – 6:00PM. As usual, great door prizes will be on hand, along with some cool JCW Swag!
This quarter, we're excited to be hosting Lumenpulse, Fluxwerx, Sternberg Lighting, ETC Architectural Controls, SPI Lighting, and Cooledge Lighting. This quarter's show is geared toward the architectural lighting market, and features three AIA presentations, each worth (1) CEU Credit.
Rethinking Light, Design + Human Experience in a Solid State World of LEDs – Presented by Taylor Clark, Fluxwerx
Advancement in LED technology has led to differentiated product design. Adopting new optical technology redefines luminaries. This course will explore how the industry has and should evolve.
Understanding LED Test Methods and Standards – Presented by Erin Giblin & Dave Young, ETC
This presentation covers the new TM-30-18 standards, interpreting the new graphics, along with a visual demonstration of the shifts in Hue, Chroma, Saturation, and Fidelity, and what these shifts mean in real-world applications and how designers can use this information to make the best choice for their lighting applications.
BUG – Understanding the IES Luminaire Classification System – Presented by Serge Fortin, Sternberg
This course will cover the new LCS, along with interpreting the new ratings, how they're determined and proper utilization of them in application.
Preview the event schedule below:
Wednesday, October 9, 2019 : 8:00 AM - 6:00 PM
8:00 AM - Show Opens
9:00 AM - AIA Presentation - Fluxwerx
10:30 AM - 11:30 AM - Product Demonstrations
12:00 PM - AIA Presentation - ETC
1:30 PM - 2:30 PM - Product Demonstrations
3:00 PM - AIA Presentation - Sternberg
4:00 PM - 6:00 PM - Open House
In a change from last quarter, each presentation will only be offered once. In between presentations, join us on the mezzanine for product demonstrations; those who attend multiple presentations will receive a drawing entry card for each presentation they attend.
This quarter we're changing things up with our Door Prizes. Instead of a couple big prizes, we're doing several smaller, but still fantastic prizes, including:
YETI Tundra 65 Cooler
"Ale Trail Package" gift certificate from the Davenport Hotel Group
uKeg 128 Copper from GrowlerWerks
YETI Rambler 1-Gallon Jug
A brewery tour for 4 to a local brewery
2-pk 10oz YETI Wine Tumblers
2-pk 16oz YETI Rambler Stackable Pints
AND MORE!
Following the afternoon AIA presentation, grab a drink and join us on the Mezzanine for an Open House from 4:00 PM – 6:00 PM. Wine and Beer will be on hand with some light hors d'oeuvres. Come mingle and kick off the fall festivities with us!
Space for the AIA classes are limited, so please register to reserve your seat!