JBLE (Fort Eustis) Job Fair

Thursday, March 17, 2016 from 9:00 AM to 2:00 PM (EDT)
Event Details
The JOB FAIR is open to ALL Veterans!
Active-Duty, Reservist, National Guard, Coast Guard, Retirees and Military Spouses & YOU!
NO CHILDREN PLEASE!!
DRESS FOR SUCCESS!!
For More Information: Call 757-878-0906
INFORMATION FOR ENTRY INTO MILITARY INSTALLATION
All job fair attendees must possess the following item(s) or you will not be allowed access to the military installation or the Job Fair.
A) MILITARY PERSONNEL & ID CARD HOLDERS:
1 )Must present Military Identification Card (Active, Reserve/Guard, Retiree ID); or Civilian/Contractor CAC Card)
2) Current decal sticker on car (if no decal sticker follow directions below)
B) NON-MILITARY PERSONNEL, NON MILITARY ID CARD HOLDERS, & NON DECAL STICKER HOLDERS:
Must GO DIRECTLY TO VISITORS CENTER (MAIN GATE) and present:
1) Driver's license/or form of ID (all passengers)
2) Current state driver's license (driver only)
3) Current automobile registration (driver only)
4) Current proof of automobile insurance (driver only)
PLEASE NOTE: If your driver's license, passport or other identification has expired or is no longer valid you "WILL NOT" be allowed to enter the post.
As part of security measures on a military post your vehicle may be subject to inspection. This is part of the security measures against any terrorist threats. Please cooperate with security and their mission. Please allow extra time to pass security checks at the front gate, which may take 30 minutes or more.

DRIVING DIRECTIONS
SOUTHBOUND
1. Take I-64 E
2. Take exit 250A for VA-105 W/Ft Eustis Blvd toward Ft Eustis
3. Merge onto Fort Eustis Blvd/VA-105 W
4. Continue onto Washington Blvd
5. Follow Washington Blvd. /Ft. Eustis Blvd. /VA-105 W to Main Gate
6. Turn left onto Jefferson Ave
7. Turn right at Madison Ave
8. Turn left onto Pershing Ave
9. Continue to end of Pershing Ave. Club located on the left
FROM NORFOLK
1. Take I-64 W toward Richmond
2. Take exit 250A for VA-105 W/Ft Eustis Blvd toward Ft Eustis
3. Merge onto Fort Eustis Blvd/VA-105 W
4. Continue onto Washington Blvd/Ft. Eustis Blvd. /VA-105 W to Main
5. Turn left onto Jefferson Ave
6. Turn right at Madison Ave
7. Turn left onto Pershing Ave
8. Continue to end of Pershing Ave. Club located on the left
FOR MORE INFORMATION: CALL 757-878-0906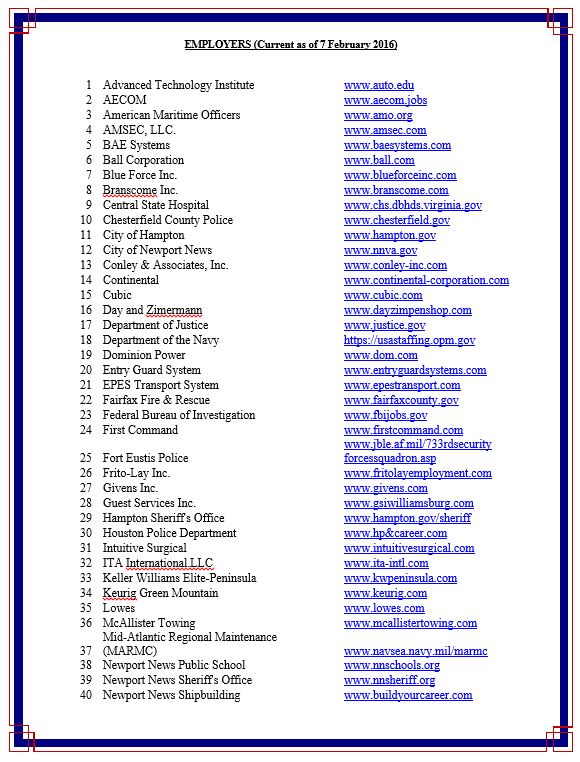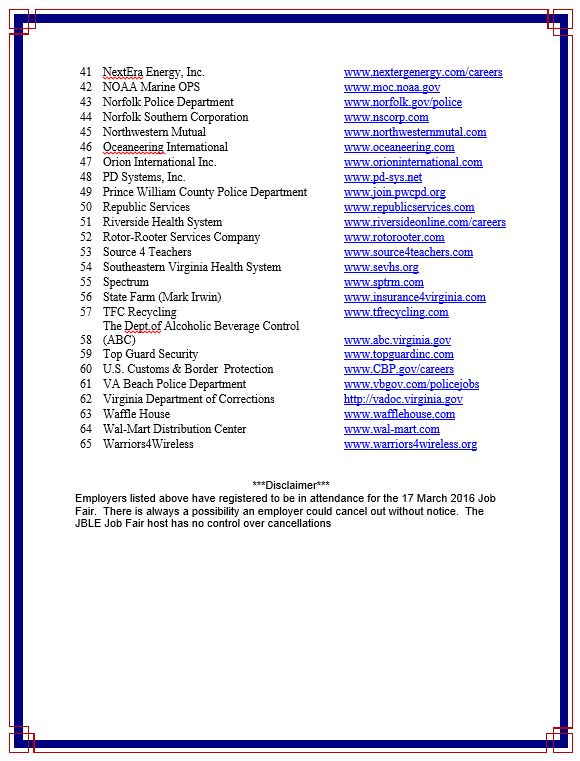 When & Where

The Fort Eustis Club
2123 Pershing Ave
Fort Eustis, VA 23604


Thursday, March 17, 2016 from 9:00 AM to 2:00 PM (EDT)
Add to my calendar