Location
M Health Fairview Sports Center
4125 Radio Drive
Woodbury, MN 55129
Kids grow so fast! Shop happy & save on everything they need at our award-winning sale!
About this event
At JBF Woodbury, you'll find everything you need to clothe and entertain your little ones for the upcoming season.
The best part? Prices are generally 50-90% off of retail!
With over 100,000 items brought to us from 400+ local families, this is one sale that you cannot afford to miss. It only happens 2x a year...get your FREE ticket today!
Click TICKETS for a FREE admission ticket that includes all of our general admission sale days:
Thursday, May 12, 9am-7pm
Friday, May 13, 9am-2pm
Saturday, May 14, 9am-4pm (additional half-off sale)
Or treat yourself and get an Early Access ticket to shop the biggest selection:
Opening Presale is Wednesday, May 11: 12pm, 2pm, 4pm & 5:30pm entry times
Half-Price presale is Friday, May 13: 4pm, 6pm & 7pm entry times
Spring & Summer clothes, baby gear & equipment, outdoor & indoor toys, books, games, feeding & bathing items, shoes, bedding, room decor, sports equipment, electronics, musical instruments, maternity items, baby & child furniture, outerwear, dress-up, ride-ons, strollers and so much more! 
Payment Info: We accept cash as well as VISA, MC, Discover, AMEX & Apply Pay.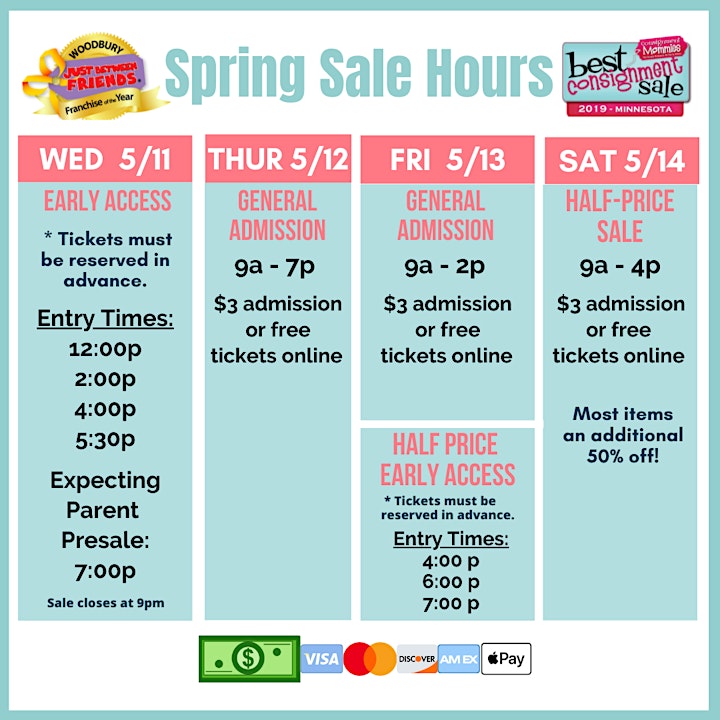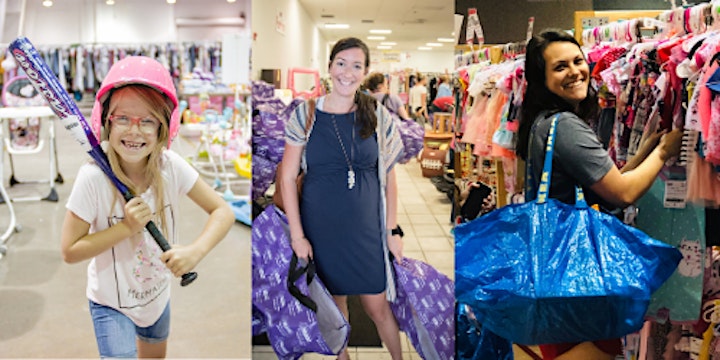 FAQs
What are the sale hours?
Wednesday, May 11 (Early Access): 12p-9p
Thursday, May 12 (General Admission): 9a-7p
Friday, May 13 (General Admission): 9a-2p
Friday, May 13 (Half-Price Early Access): 4p-9p
Saturday, May 14 (General Admission Half-Price): 9a-4p
What forms of payment do you accept?
We are grateful if you can pay in cash but also happily accept major credit & debit cards and apple pay.
Are children allowed at the sale?
Children are welcome at the sale Thursday - Saturday. Under age 18 are free and do not require a ticket for general admission times. To help maintain proper social distancing and for their safety, your children must remain by your side at ALL times.
Are children allowed at the Early Access pre-sale on Wednesday?
No. Due to the packed sales floor, children under 10, strollers and wagons are not allowed at the opening presale; infants worn in a front carrier are allowed. Children ages 10 & up that attend the presale will need a separate ticket due to limited capacity.
What is a presale, and who is eligible to attend a presale?
The presale is an opportunity to shop at Just Between Friends BEFORE we open for general admission. Presale tickets are required and are for sale to the public. Early access times vary by ticket chosen. Limited number of tickets available above.
Does my Early Access ticket include the half-price presale too?
- Your Wednesday Early Access tickets includes the Half-Price presale, Friday, May 13. See your ticket for access time.
- Expecting Parent presale tickets include the Half-Price general admission sale on Saturday, May 14, 9a-4p.
Can I bring a stroller or wagon to the sale?
Yes, strollers and wagons are allowed Thursday - Saturday, however we reserve the right to tag your stroller/wagon on the way in and check it on the way out.  No strollers or wagons on Wednesday.
What is the Expecting Parent presale? 
This is a FREE presale ticket for expecting parents and grandparents. If you are expecting, or had your most recent child / grandchild / adopted / foster child in the past 9 months, you qualify. Congratulations on your new little one!
What is the 50% off sale? 
During the half-price times (see schedule above) most remaining items are marked for an additional half-off their tagged price. Want to shop the Half-Price Early Access presale? Limited number of tickets available above.
What is Bargains by the Bagful? 
This is a shopping fundraiser event. How the shopping fundraiser works:
Register for your access ticket.
Select the items you want during the special fundraiser event time.
Pay for your items by the bagful - $20 for all the items you can fit into an IKEA bag.
100% of the proceeds from bag sales will go to our charity partners so you'll be helping local families in need. You'll score bagful's of amazing items and local families in need get support!
This special fundraiser will be returning in the Fall. See the details and exclusions here - Bargains by Bagful
Do I have to bring my printed ticket to the sale?
No - you can show us your ticket on your phone or we can look you up by your name.
What is the refund policy?
There are no refunds on paid tickets, but you may transfer them to a friend or family member.
General admission tickets are not transferable.  They are FREE though so just have your friend get their own. 
All merchandise purchased at the sale is FINAL, no returns or exchanges.
Has anything changed due to COVID?
Yes, we have adapted our procedures to ensure we provide a shopping experience that is safe, socially-distanced, and sanitized.
Can I bring food or beverages to the sale?
Sorry, per Bielenberg rules there are no food or beverages allowed in the fieldhouse, but you may eat in the lobby.
How often does this sale happen?
We host this community sale every May and September.
Who shops at the sale? 
Moms, Dads, New & Expecting Parents, Grandparents, Teachers and any family with children ages 0-18.
Where do all the items come from?
Families, just like yours, whose kids have outgrown them.  Families price their items online and then deliver them to the sale, freeing up space in their homes and making money in the process. If you have items you'd like to sell, we can help! Visit https://woodbury.jbfsale.com/sell for details.
Where can I get more information?
For a complete sale schedule and more details visit our website - woodbury.jbfsale.com.
Get your ticket and get ready to #ShopHappy!