JBF SNH Kids' Resale Event Spring 2020 - Just Between Friends Consignment
Description
Huge Kids' and Maternity Consignment Event
JBF Southern New Hampshire All Season Sale, May 2020

---
Early Access Shopping ~ Friday, May 15 Times, price and policies for Friday Early Access Shopping times are listed when you click Get Tickets. All tickets for Friday and for the Half-Price Early Access Shopping on Saturday night must be purchased using the Eventbrite site or Get Tickets button on Facebook. Tickets will not be available at the door.

Note: Consignors/Team Members receive their free Friday Early Access Shopping tickets during their Drop Off appointment.
The only children under 12 allowed on the sales floor during the Friday Early Access times prior to the 6:30pm Family Shopping must be in carrier or secured in a stroller. Walking children allowed in after 6:30pm and are welcome for the rest of the weekend.

---
Public Sale ~ 8am-5pm, Saturday, May 16

General Admission is $3 at the door on Saturday. Don't pay $3! REGISTER on Eventbrite and get in FREE!
You must bring a copy of this ticket with barcode to the even either printed or your mobile device.
Early Access Half Price Sale - 6pm-7pm, Saturday, May 16 (doors close at 7pm, registers close at 8pm) Tickets must be purchased online by clicking Get Tickets or on Facebook. Tickets will not be available at the door. All items WITHOUT a star on the tag will be 50% off at this time.

---
Public 50% Off Sale ~ 8am-12pm, Sunday, May 17 (No ticket needed- Doors close at 12pm, registers close at 1pm.)

---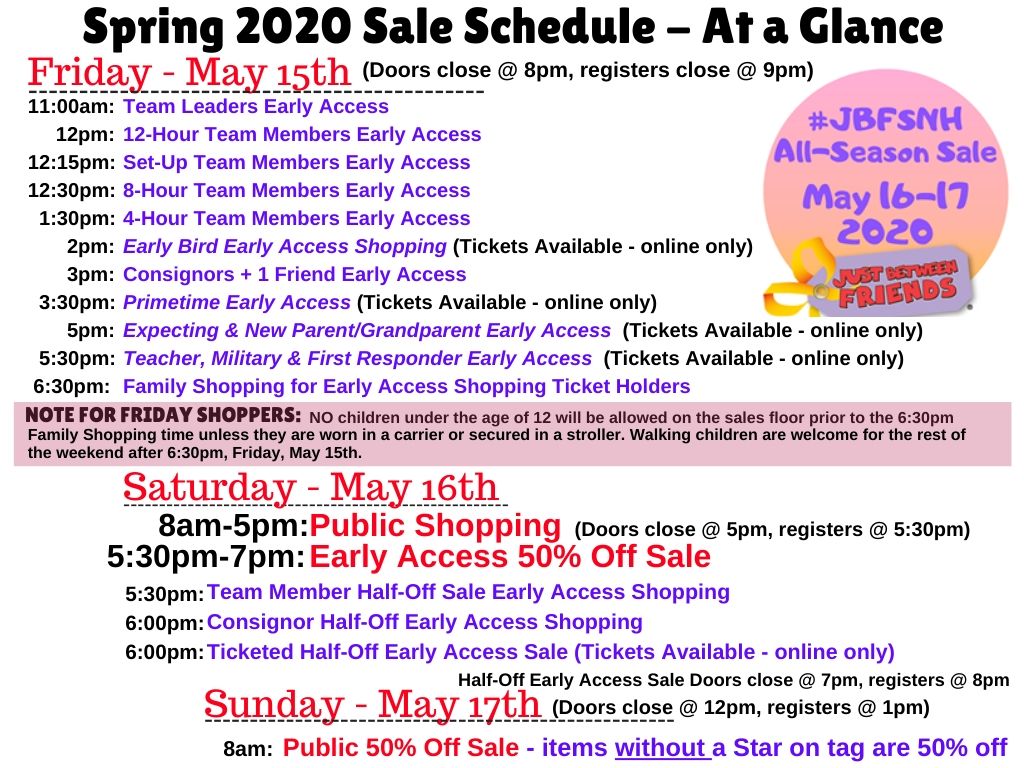 ---
SELL AT THE EVENT! Sell YOUR gently used items by registering HERE to be a Consignior.

LIKE us on Facebook at facebook.com/jbfsouthernnewhampshire

Join our JBF SNH May 2020 All Season Event Page HERE to share with your friends, sale updates and to register for big contests leading up to the Event!

---
We understand, kids are expensive and they grow fast, but our budgets don't! So we created a community event where you can shop name-brand items, at 50-90% off retail. Saving you money and time, because all the best deals are found under one-roof.

You don't want to miss this shopping extravaganza! For a complete sale schedule go to our website - www.southernewhampshire.jbfsale.com

Only infants/small children that can be WORN on mom or dad OR that are riding in a stroller may attend any of the Early Access Shopping on Friday prior to the scheduled 6:30pm Family Shopping time. Family Shopping time allows any qualified Early Access shoppers in possession of tickets to enter and shop with any age walking children.

Kids are welcome on Saturday and Sunday for the public shopping days but please keep in mind that Shoppers enjoy JBF most when they can shop uninterrupted as kids have different shopping tolerances and there are lots of people & temptations around. PLEASE KNOW OUR EXPECTATIONS: Kids must be at your side AT ALL TIMES for supervision and CANNOT climb on or play with the items unless it is with the intention to purchase it. You will be asked to pay for broken items and please don't be offended if we kindly ask your kids to return to you - we value their safety and the safety of our Consignor's items that have been entrusted to us. Thank you for understanding.


---
FAQs
What items are for sale? At JBF families can find bargains on clothing, shoes, toys, books, fames, baby and nursery equipment and gear, outdoor and ride on toys, strollers, car seats, cribs, maternity and nursery items, room decor and much, much more!
What methods of payment are accepted? We accept Cash, Visa, Mastercard, and Discover.
Is there an admission charge/fee? Admission is $3 at the door on Saturday, for adults only. Kids are free. Friday Early Access ticket options and prices can be seen on the Eventbrite page.

Who shops at the sale? New & Expecting Parents, Grandparents, and families with children age 0-18
What is the 50% off sale? On the last day of the sale, most (but not all) remaining items are marked half off their listed price.
What is Early Access Shopping and who is eligible to attend? Early Access Shopping is an EXCLUSIVE opportunity to shop at Just Between Friends BEFORE we open to the 'general' public. The invitation is offered only to people who consign (sell) items, become a Team Member to help at the sale, new/expecting parents, military, first responders, and teachers. If you really want to shop on Friday before the public, you can purchase the NEW Early Bird Prealse ticket or the Prime Time Presale ticket.

What are my parking options at the event?
There is plenty of FREE parking at The Hampshire Dome.

What can I bring into the event?
You can bring a large bag, or a stroller, wagon or some other wheeled cart to help you carry all the great deals you find. We will provide you a large bag to use while shopping if you do not bring anything with you.
Do I need to bring a shopping bag?
JBF is going green this event! We will have large reusable Ikea bags available for purchase at the registers or you can bring your own bags to take your purchases home in.
Do I have to bring my printed ticket to the event?
No, you can either print your FREE ADMISSION ticket or show the ticket on your smartphone at the door. We will scan it and you will be on your way!

For more information visit our website at southernnewhampshire.jbfsale.com