JBF Pop Up Consignment Sale | Lynnwood/Mill Creek Fall Sale 2020
JBF Lynnwood/Mill Creek is at a NEW Location! Come shop and save 50%-90% off all things your kids need!
About this Event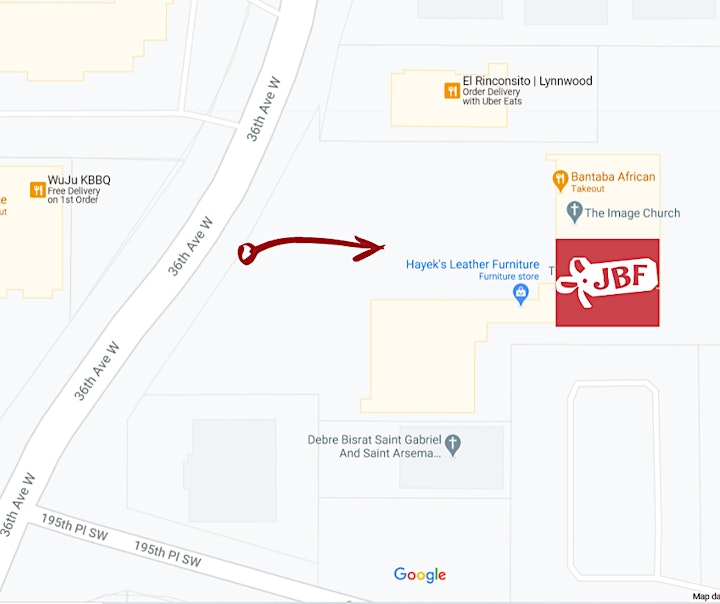 JBF Lynnwood/Mill Creek is committed to continue our community tradition to affordably help our area families clothe and entertain their kids. We understand that kids grow fast and families need JBF now more than ever!
Our new location is at the space Formerly known as The Image Church in Lynnwood (located in the strip mall next to Hayeks Furniture).
We will be limiting the amount of shoppers in the building at one time. Please pick your shopping day, then choose your arrival time window! Once inside, you can shop as long as you like!
Saturday Early Prime Time | Oct. 17 | 9am-12pm - $15.00
Saturday Prime Time | Oct. 17 | 1pm - 9pm - $10.00
Sunday Community Presale | Oct. 18 | 9am - 7pm - $5.00 (Each ticket purchased will receive $5 JBF Bucks upon entry)
Monday | Oct. 19 | Closed
Tuesday General Admission | Oct. 20 | 12pm-8pm - Free
Wednesday General Admission | Oct. 21 | 9am-8pm - Free
Thursday General Admission | Oct. 22 | 9am - 8pm - Free
Friday General Admission | Oct. 23 | 9am - 4pm - Free
Friday 50% OFF Presale | Oct. 23 | 6pm - 9pm - $5.00
Saturday 50% OFF Sale (final day) | Oct. 24 | 8am - 3pm - Free
COVID precautions that you see when you go to the grocery store, plus more: staggered entry (timed shopping tickets), spacious layout (maximum social distance), required face masks, hand sanitizing stations, frequent sanitizing of high-touch surfaces and restrooms. Your family's health is our #1 priority! ❤️
In moving forward with our sale during this pandemic- we will be adjusting a few things to ensure the safety of our families and shoppers!
FAQs
Are masks required?
Yes, in order to comply with Snohomish County masks or face shields will be required by customers.
Will there be a capacity limit?
Yes. We will be operating at the retail phase capacity requirements. You will notice when choosing your shopping day, you will also choose an entry time.
Do I need to have a ticket?
Yes and no. Shopping reservations will allow you to enter during your reserved time. If our capacity is full, this reserved ticket will also get you in first, when we can allow another shopper in without needing to wait (if our capacity is full). Think of your ticket as a "fast pass" like they do at Disney. :)
Do I need to print my ticket(s)?
No, you may show on your smartphone.
Are children allowed?
Adult shoppers only, if possible. If you must bring a young child, please keep them in a carrier, wagon or stroller. Children over the age of 2 must wear a face covering.
What can/can't I bring to the sale?
Wagon, Laundry basket, stroller - to hold all your amazing finds while you shop! (we will still have JBF shopping bags for you to use while shopping as well.)
Bring reusable shopping bags (as we are going bag-less) to carry all your great deals home!
Bring a water bottle and snacks if you plan to power-shop.
Bring your kids' sizes and a traced cut-out of your child's footprint to be sure clothing and shoes will fit properly.
Bring a budget! Save up and buy everything your kids need for the next 6 months!
What is the refund policy?
There are no refunds on tickets. All sales at the event are final. No refunds or exchanges.
We accept cash, VISA, Mastercard, Amex and Discover at the sale.