Sign up for a drop off time and complete the consignor waiver. This is where you will complete your Consignor Waiver and choose your d
About this event
Description
Consignors - you need to complete your Consignor Waiver (questions on this EB ticket) and choose your drop-off time. 
All you need to do is:
1 - Click the "Register" button above. 
2 - Checkout - this will take you to the area to select a time and complete the waiver.
3 - Choose a drop-off time & complete the waiver. Select only one drop off time!
*** If you are helping during one of the drop off shifts please still select a time either before, during or after your shift. If it is during your shift you will take a break to do your drop off and then we will ask that you stay extra or come early to make up that time.
4 - Drop-off at the time you chose. Please plan on 30 minutes for drop off, or more if you are bringing more than 200 items!
5.  If you are bringing more than 300 items, you may not drop off in the last two hours of either drop off day.
Fall 2021 Consignor Drop-Off: Once you select your 'ticket' you will have the opportunity to choose your drop-off time on Monday, Sept. 20th from 2-8:30pm and Tuesday, Sept. 21st, between 9am-1pm. Remember to keep your tagged items organized for easy drop off. Clothing and shoes should be organized by gender and size and consignors will place these items on the rack. Other items will be dropped in the following zones:
1. Baby Equipment/Large Items
2. Toys/Sporting Equipment
3. Puzzles, Games, Arts & Crafts
4. Accessories (Feeding, Bathing, Potty, Bedding, Room Decor, Carriers)
5. Books, Media
More Information:
For a complete event schedule and more details go to our website - annarbor.jbfsale.com
Have questions? Email Sarah at sarahgarot@jbfsale.com or Anne at anneseyferth@jbfsale.com
We're looking forward to seeing you!
Sarah & Anne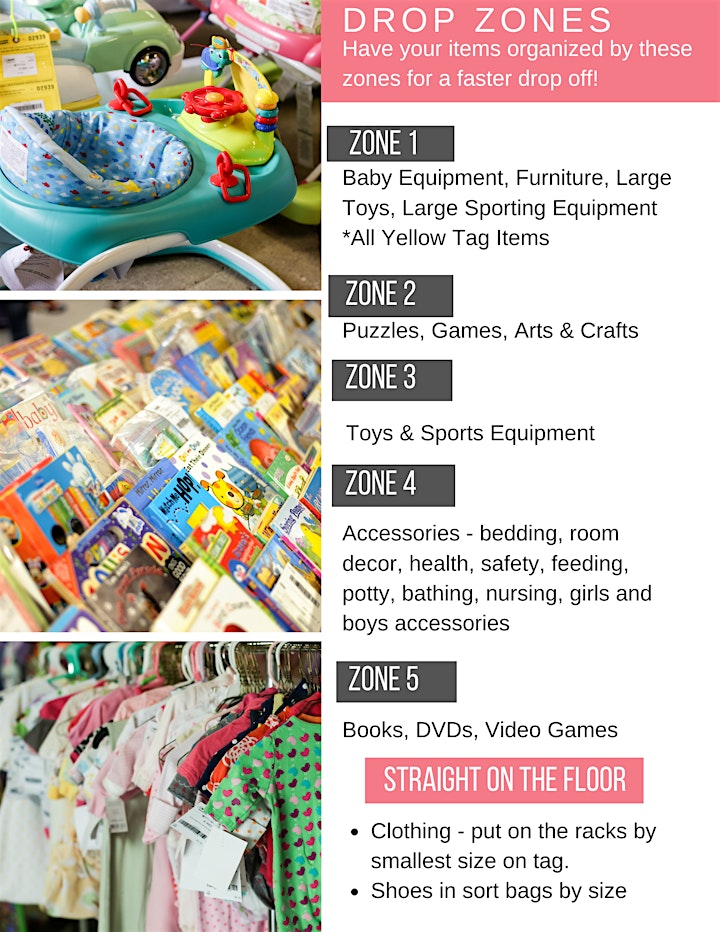 Organizer of JBF Ann Arbor Drop Off Appointment and Waiver
Just Between Friends is a twice a year consignment sale where local families come together to sell what they no longer need. It's organized like a store for easy shopping, and it has everything you need for a growing for a growing family from clothing, shoes, toys, books, baby equipment and more. Shop great deals, all in one place!