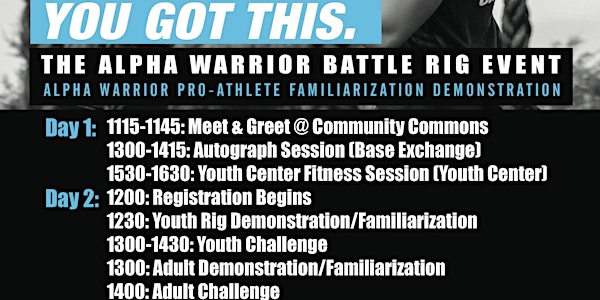 JBA Alpha Warrior
When and where
Location
Community Commons 1442 Concord Avenue Joint Base Andrews, MD 20762
Description
JBA Alpha Warrior: FREE Community Event
Come out and try your luck on the battle rig from Alpha Warrior. Meet and greet celebrities Barclay Stockett and Kevin Klein. They will demonstrate the battle rig for youth and adults. After the demonstrations the challenge is on. Do your best.
The first 50 participants to register online will receive a FREE t-shirt.
- Youth Rig is designed for ages 4 - 12

- Youth 12 years and younger and minimum 5' tall can participate on the
Battle Rig with Parent/Guardian present

- 13 and above can participate on the Adult Rig regardless of height
There is a liability waiver that MUST be filled out before participating.
Adults pickup, fill out and return waiver to the Tactical Fitness Center, youth pickup, fill out and return waiver to the Youth Center starting 7 May.