About this Event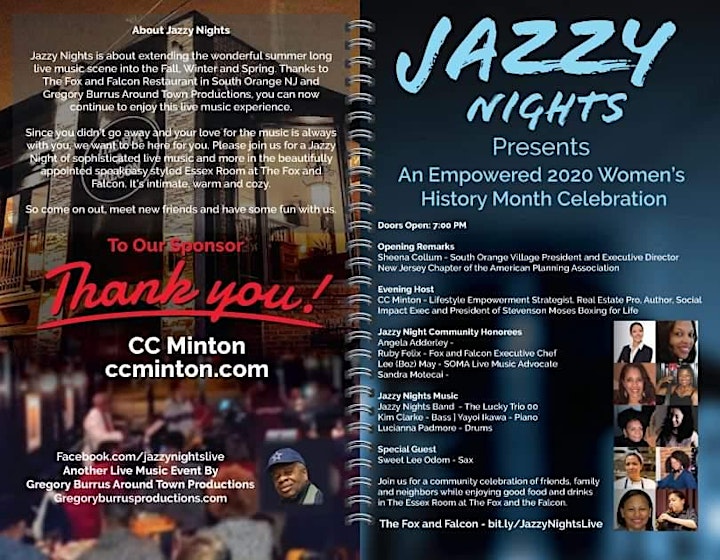 Presenting Jazzy Nights in South Orange, NJ
Please join us for a Jazzy Night of sophisticated live music and more in the beautifully appointed speakeasy styled Essex Room located in the very stylish South Orange restaurant - The Fox and Falcon Restaurant.
We are also very happy to announce that Jazzy Nights is part of the 18th Annual Lady Got Chops Festival. Even more happy to announce our music will be led by the Founder of the Lady Got Chops Festival and Internationally Acclaimed Bassit Kim Clarke, along with Broadway Drummer Lucianna Padmore and international touring pianists Yayoi Ikawa and joining us will be Saxophonist Sweet Lee Odom. This all star cast will be swinging hard with some serious music all night..
All are welcome to come join us as Jazzy Nights Presents an Empowered 2020 Womens History Month Celebration. Come have fun with us as recreate some of the summer as we move thru the fall and into the jazzy smooth nights of winter in the inviting and warm cozy confines of The Fox and Falcon's Essex room. No Cover, Free Parking, 2 Drink or Food Order Minimum.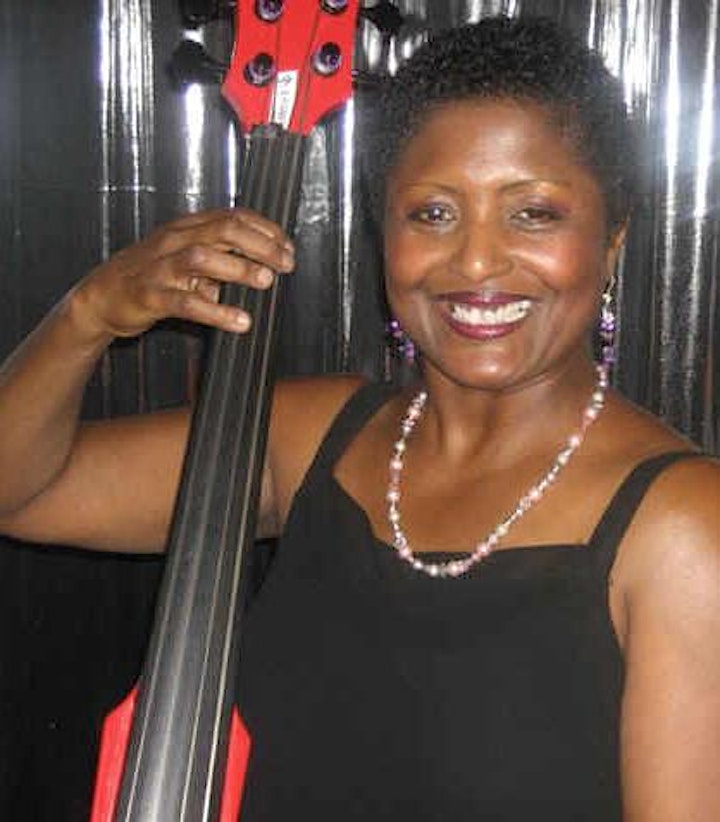 Kim Clarke
New York-based Kim A. Clarke is an internationally acclaimed multifaceted bassist, composer and educator, who counts her father, Henry Clarke, and her late Guyanese-born grandfather, trombonist/bassist Henry "Hy" Clarke, Sr., as her personal jazz heroes." Kim plays the Acoustic Bass, Electric Upright and four and five-stringed Electric Bass Guitar. Her electric Bass playing has been described as soulful, funky, rich & tight.
Beginning in 2002 Kim co-produced the "LADY GOT CHOPS Women's Month Jazz Festival" with the owners of the Jazz – Brooklyn's Newest Jazz Cafe, Lillithe Myersand her daughter Tiecha Merritt. Since the cafe's closure in 2009, Kim has organized the 2010 to 2020 festivals. The festival included a dance troupe in 2010 and had been renamed the LADY GOT CHOPS Women's History Month Music and Arts Festival. It is still a grassroots venture.
----
For more than 20 years Kim has performed with some of the world's leading jazz musicians around the globe. Her heritage, education and training have also contributed to her success. Through a series of scholarships from the National Endowment for the Arts she was able to study with Ron Carter, Lyle Atkinson, and Barry Harris at the Jazzmobile Program. She later attended and still studies with jazz master Dr Barry Harris.
While at City College, Kim bought an acoustic bass from a fellow student. This bass, a turn-of-the-century German flat-back bass was one of the first used in a radio recording in the United States. Kim holds B.A's in Communications and Music from City College and Long Island University, respectively, and is a 3-time recipient of the coveted NEA Jazz Study Fellowship.
Kim's first international tour experience was to Guyana in 1975 with the National Black Theatre of Harlem's show Soul Journey into Truth. Soon thereafter, she joined the Yusef Lateef Quartet for a two-month tour of the West Coast. She later became the house bassist for the Jazz Cultural Theater's "Art Blakey Breakfast Jam" where she was performed with a large number of jazz notables such as Philly Joe Jones, Eddie Harris, Tommy Flanagan, C Sharpe, Joe Jones Jr., Clifford Barbaro, Charlie Rouse, Walter Davis, and then up and coming artists such as Rodney Kendrick, Kuni Mikami, Craig Haynes and Vince Herring. She also was the house bassist in NYC and Brooklyn Jazz Clubs notably The Blue Note and Pumpkins.
Throughout her career, Kim has had the opportunity to work with other leading names in the jazz world. Among them are sax men Joe Henderson, George Braith, Charles Davis, Jimmy Heath and Branford Marsalis; trumpeter Lester Bowie; Arvell Shaw – Louis Armstrong's bass player; drummers Art Blakey and Louis Hayes; pianists Dr Billy Taylor, Gilly Coggins, Bertha Hope, Geri Allen, Danny Mixon, Enos Payne (Guyanese educator), George Gruntz and Rachel Z; vibraphonists Lionel Hampton and Bryan Carrott; gospels Edwin Hawkins, Pop Stars: Cindy Lauper, Robert Palmer; bluesman Screamin Jay Hawkins; vocalists Teri Thornton, Sheila Jordan, Leon Thomas, and Andy Bey; poets Trazana Beverly, Ntozake Shange and Sekou Sundiata. She has also performed with tap dancers Tina Pratt, Roxanne Butterfly and recorded with and has arranger's credits on a song written by Rapper/Actress/Singer Queen Latifah.
In addition to being a jazz musician, Kim is an accomplished funk bassist, and for many years she was the bass player for the innovative jazz/funk/fusion band Defunkt. She has recorded 11 albums with the band.
Kim's press exposure includes 1990 entry in the Who's Who In the Performing Arts,, Bass Player Magazine, Guitar Player Magazine, Germany's Jazzdimensions Online Magazine, a number of European magazines and several books on Women in Jazz. She also was photographed in the late 1980's historic Jazz Musicians on the Roof Project and was one of the Michael Locker's New York Jazz Musicians Project in 2002.
Kim is actively engaged in paying homage to the women of jazz and nurturing the current and emerging generation. She is particularly proud of the work with the Kit McClure Big Band (Kim has been a member since 1986) to honour the International Sweethearts of Rhythm; this band has recreated and released the album The Sweethearts Project. She is also actively engaged with a group of female musicians that she describes as the "notables on the other end of the link." These include "alto saxophonists Tia Fuller and Lakecia Benjamin, and fiery drummer Kim Thompson who is currently performing with master Jazz pianist Kenny Barron and the phenomenal guitarist Mike Stern as well as Jazz String Quartet Sojourner, cellist Akua Dixon and Sherry Maricle and the Diva Big Band."
Kim's career demonstrates a commitment to excellence – a quality she acquired from her grandparents and parents. She remains interested in Guyanese culture and society and advises Guyanese musicians to be focused, control their egos and to remember there is always something new to learner
https://guyanesegirlsrock.com/guyanese-heritage-kim-a-clarke-internationally-acclaimed-jazz-bassist/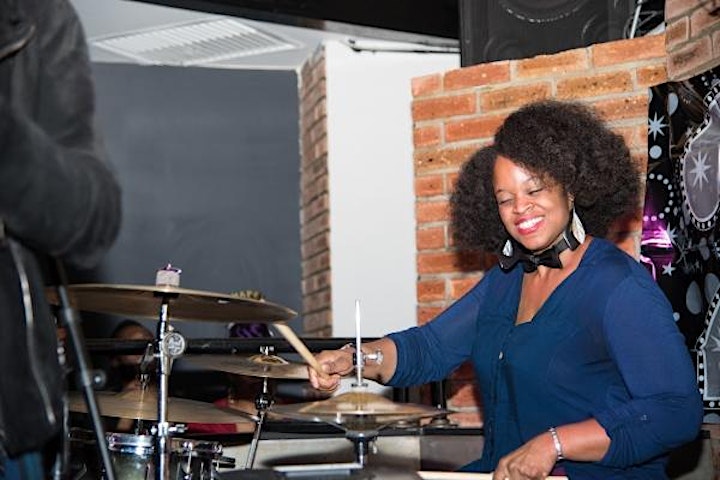 Lucianna Padmore
Bronx New York Native Drummer Lucianna Padmore has been praised by Modern Drummer magazine for the "Deep grooves and serious fusion chops." She has been playing the Drums since the age of nine. Her musical playing styles range from Jazz and Hip -Hop, to Funk and Rock Fusion. Lucianna is an alumnus of LaGuardia High School for Music and the Performing Arts as well as the New School University. While in school, she received awards from Jazz at Lincoln center and BMI for outstanding soloing /jazz improvisation. An active drummer on stage and in the studio, Lucianna has been involved in many different projects in the New York scene. Miss Padmore currently plays in the rock fusion band Stratospheerius with electric violinist Joe Deninzon, appearing on their last two CD's,"Live Wires" and "Headspace" as well as their latest release "The Next World".
She also plays with the Primordial Jazz Funktet, and on their current album, "We are Here". Lucianna plays in the new york based Japanese Lead group called Neo Blues Maki. Neo Blues Maki is a modern Nyc influenced take on traditional Japanese Incca Music. Miss Padmore also does Jazz outreach and education in elementary and high schools in the NewYork City Area. To keep Jazz Music as well as Music Appreciation Alive! Performing highlights include performances with Jazz tuba player Bob Stewart. opening for performing with or on the same bill with such names as Chico Debarge, Amel Larrieux, Kelis, James Spaulding,Shirely Horn, Bertha Hope, Mimi Jones, Pat Tandy Jimmy Heath, Clark Terry, Quincy Jones,Sun Ra Archestra, Josh Rosemen Quintet, Oscar Peterson trio, and the Lincoln Center Jazz Orchestra, to name a few. Lucianna has toured in Austria, Italy, Germany, Switzerland, Spain, Morocco and Haiti, as well as in and around the U.s.
Lucianna was featured in a book about drummers called "Sticks and Skins". Miss Padmore is also a endorser of Soul Tone Cymbals.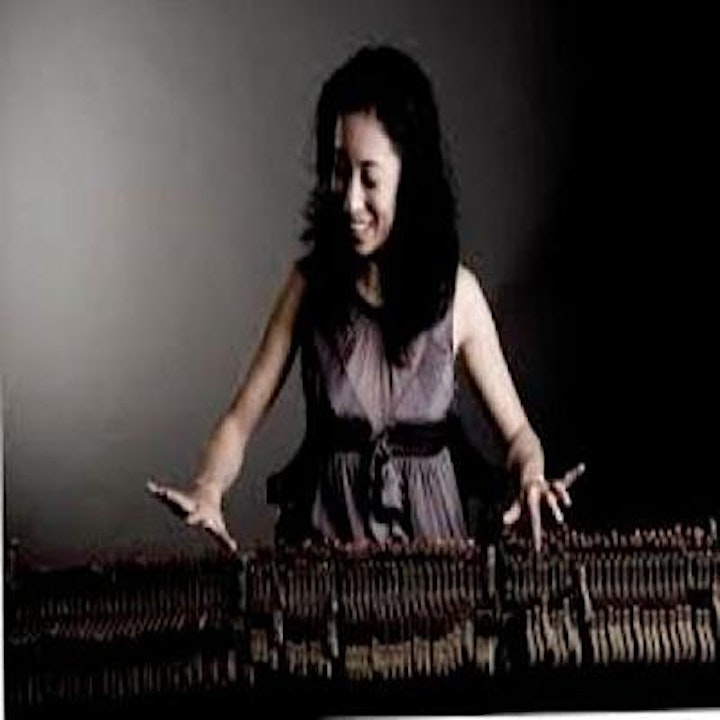 Yayoi Ikawa
"Yayoi is a wonder, than comes along very rarely in each generation. A big intellect, with a big emotional spectrum, and totally unique sound... She can do anything she thinks or feels" Gil Goldstein (arranger/pianist) Born in Tokyo, Japan, and raised musically in New York, Yayoi Ikawa is a pianist/composer/ arranger currently living in Brooklyn, New York. Yayoi attended The New School University where she received the Henry and Gill Block scholarship. Being exposed to diverse music scene in New York, Yayoi started to work as a sideperson in Jazz, Gospel, Latin, R&B and hip hop groups since the early stage of her career. After completing her studies at New School, Yayoi was a faculty member at the International Jazz and Dance Academy in Slovenia along with her mentor Reggie Workman in 2003 and 2004.
After recording a straight ahead jazz piano trio on Nippon Crown release "Angel Eyes" in 2004, she self produced "Color of Dreams" displaying her original compositions. Yayoi has toured nationally as well as internationally with her groups, and appeared International Jazz festivals in Japan, Italy and Costa Rica. While working towards her master degree at NYU, Yayoi's orchestra work for film was premiered at Lincoln Center in 2007. In 2008, Yayoi started "The Bridge Project" to create musical dialogue between New York and Tokyo musicians in an experimental environment.
Yayoi has worked with such artists as Reggie Workman, Michael Carvin, Howard Johnson, Lenny Pickett, Frank Lacy, Butch Morris, Emeline Michel, Daniel Bernard Roumain, Blitz the Ambassador etc. She co-leads an improvisational duo Go-Zee-Lah with a vocalist Kyoko Kitamura.
Yayoi was a music coordinator at St Paul Baptist Church in Montclair NJ until 2013. She also holds a bachelor's degree in International Studies from International Christian University in Tokyo, Japan.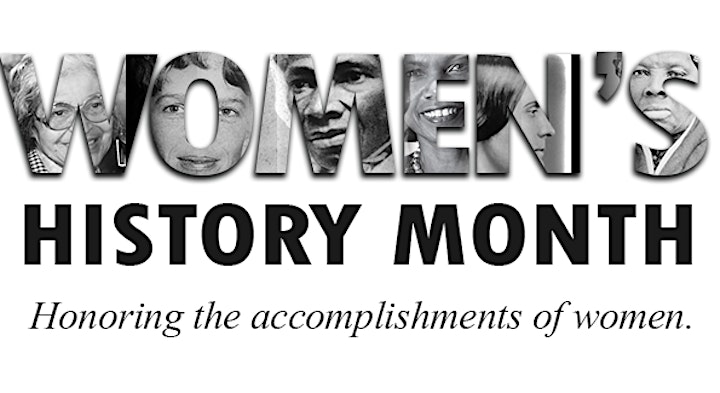 Jazzy Nights Joins Lady Got Chops Festival for an Empowered Women's History Month Celebration 2020 (WHM2020). Co-hosting the night's events will be CC Minton, the Lifestyle Empowered Group Leader and CEO of CCMinton. This Womens History Month Celebration will honor very special empowered women that contribute to our local community.
Keeping Entrepreneurship Alive - Angela C. Adderley
Keeping the Food Alive - Ruby Curtis- Felix
Keeping Live Music Alive - Lee Boz May
Keeping Public Education Alive - Sandra Mordecai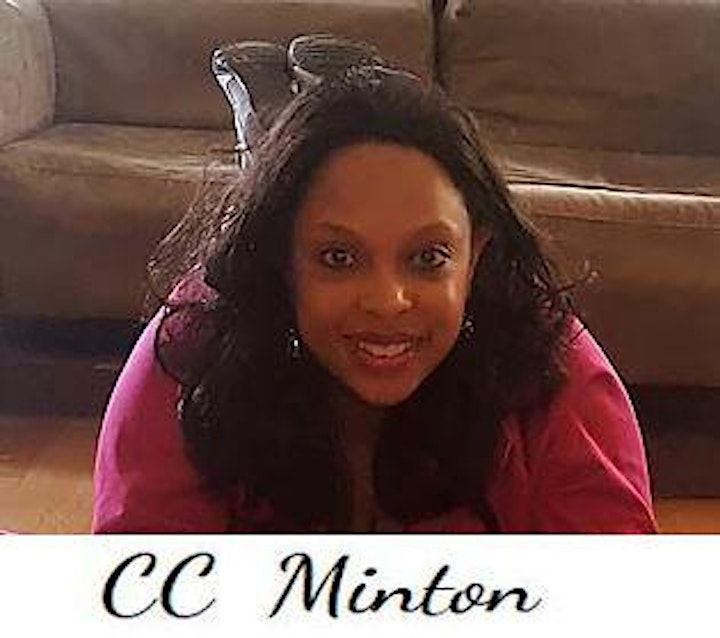 CC Minton - CoHost
CC Minton is a Lifestyle Empowerment Strategist, author, media contributor, and Founder of The Lifestyle Empowerment Group and President at Stevenson and Moses Boxing for Life.
A President's Council on Fitness, Sports & Nutrition Community Leadership Award recipient, CC Minton is the Founder of the Lifestyle Empowerment Group and drives the lifestyle brand which focuses on real estate, investing and empowering people. Along, with a team of passionate professionals, the group meets the health and lifestyle goals of individuals and communities.
Her various projects include working with the Office of First Lady Michelle Obama, Whole Foods Market, NY/NJ Superbowl organization, Apollo Theater, Olympic Day Committee and Harlem World Magazine. She spent time honing her skills as a brand ambassador, fundraiser, and fitness instructor.
CC Minton is the President of the Board at Stevenson Moses Boxing for Life where she provides strategic leadership by working with the Board and other management to establish long-range goals, strategies, plans, and policies. She oversees the organization and strategically guides the development of the organization and develops community-based programming.
Stevenson and Moses Boxing for Life was founded by the 2016 Olympic Silver Boxing Medalist/Professional Boxer Shakur Stevenson, former Olympic and NJ Hall of Fame Boxing Coach Wali Moses and Robyn Moses.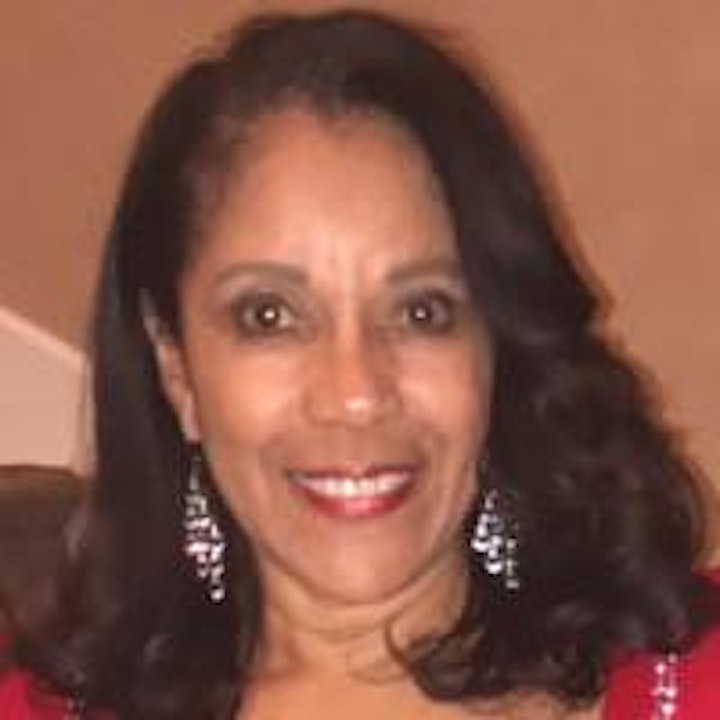 Honoree - Angela C. Adderley
Angela Adderley has been an entrepreneur in the fast food industry for over twenty five (25) years. She currently owns and operates seven McDonald's franchises in Northern and Central New Jersey with over 350 employees. Prior to becoming a McDonald's Franchisee, Angela was employed at IBM in Poughkeepsie, NY and Boca Raton, FL for ten (10) years. While at IBM, she worked as a Financial Analyst, and finished up her career as an Accounting Manager.
Angela is involved in the communities where she does business. She supports the schools by hosting Ronald McDonald shows (healthy eating, bullying, and fire safety), McTeacher's Night, and sport teams sponsorships. She has also hosted juvenile diabetes awareness programs at her restaurants. Angela is very passionate about her charity of choice – Ronald McDonald House Charities (RMHC) where she served as a board trustee for eight years. She has supported the charity as well as the Ronald McDonald Houses via 5K annual "Walk with Ronald" at Six Flags, scholarship fundraisers, and sponsored community organizations who have applied for community grant through RMHC. Additionally, Angela is an advocate for young entrepreneurs. She was a sponsor and attended the "I Have A Dream Youth Entrepreneur Summit" at the White House in 2016.
Angela has received numerous awards and accolades over the years. Her success at McDonald's has been because of her great employees. The infrastructure she has built through training and development of her staff (from crew to mid-management), has garnered her the recognition of seven "People First" awards in the last ten years. She also received the prestigious Ronald Award (An Operator who has made outstanding contributions to the development o f the McDonald's brand), Chamber of Commerce –Community Distinction Award, North Jersey Chapter of Jack and Jill – Outstanding Service Award, Distinguished Mother of the Year award, FAMU- Distinguished Alumni Award. Angela was just awarded (2020) from McDonald's Corporation the Fred L. Turner Golden Arch Award. This award recognizes the top 1% of Owner/Operators around the world who delivers a superior customer and employee experience while passionately giving back to the community.
She currently holds membership in Jack and Jill of America (Life Member) as an Associate member, Florida A&M University National Alumni Association (Life Member) – NJ Chapter, Alpha Kappa Alpha Sorority, Inc. (Life Member) – Beta Alpha '77, Black McDonald's Operators Association (Treasurer), Women Operators Association, RMHC (Treasurer) and St Paul Baptist Church (Montclair, NJ).
Angela has a B.S. in Accounting from Florida A&M University class of 1979 and a MBA in Finance from Florida Atlantic University in 1988.
Tallahassee, Fl and currently resides in West Orange, NJ with her husband, Nathaniel Adderley and her son Elijah. She also has a daughter Alexa who resides in NYC.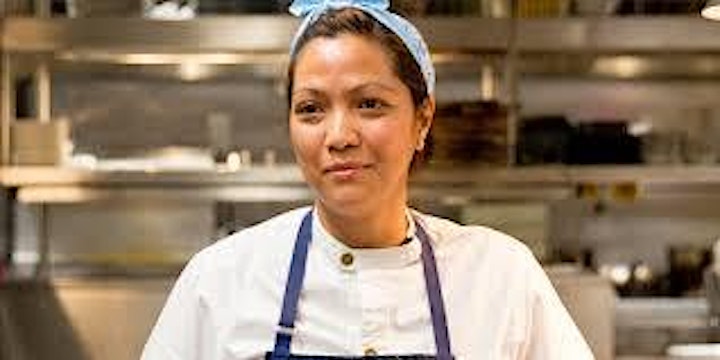 Honoree - Ruby Felix-Curtis - Executive Chef
Alongside owner and South Orange resident David Massoni, The Fox & Falcon's executive chef, Ruby Felix-Curtis serves up a clean, modern dishes reflective of its seasonally driven, locally sourced menu that residents of South Orange and the surrounding communities have come to enjoy since its inception in fall 2018.
As one of New Jersey's few female chefs, Ruby Felix-Curtis' simplistic approach and finely-honed technique has served as her calling card within the culinary community. Rather than chase trends, Felix-Curtis is steadfast in her approach and belief that the basic tenets of cooking - salt, fat, acid, heat - when used correctly, churn out loud flavor, regardless of what corner of the globe serves as the dish's origin.
Ruby brings a wealth of culture and knowledge to The Fox & Falcon. Drawing from her upbringing in the Philippines and professional experience – having worked in several notable kitchens including NYC's The Standard Grill & Má Pêche and Jersey City's Thirty Acres and TALDE, Felix-Curtis is constantly experimenting with new flavors and ingredients to appeal to a wide range of people and palates, keeping the restaurant's menus fresh and relevant.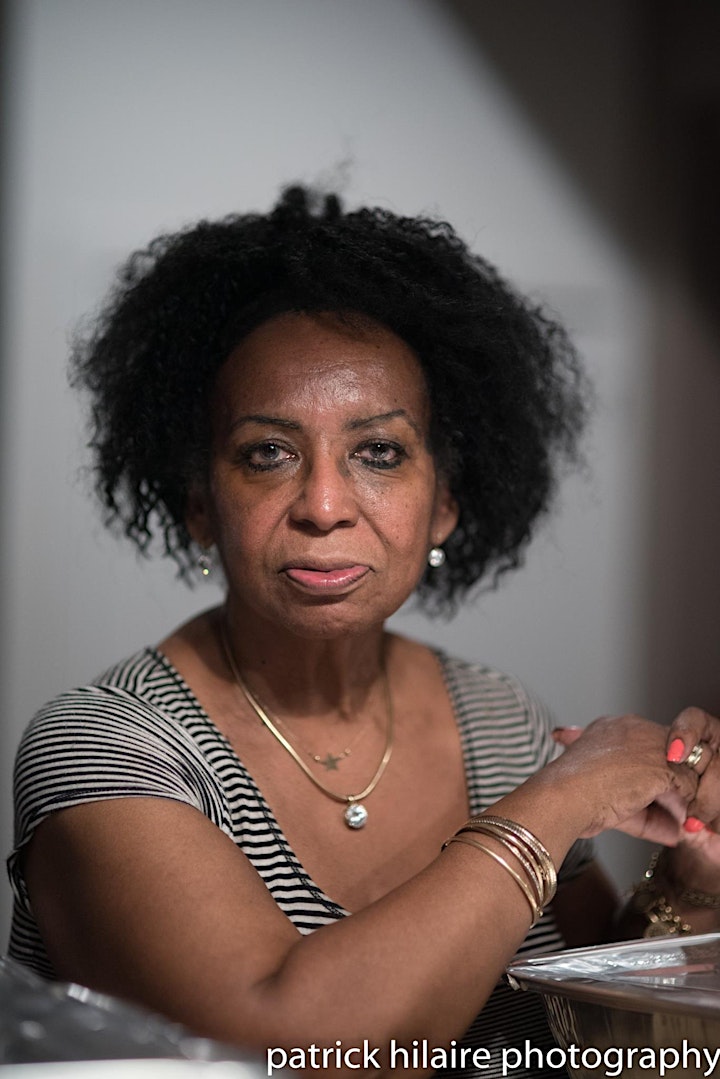 Honoree -Lee - Boz - May
Lee Boswell May - Live Music Advocate - Wife of prolific bassist Earl May (RIP) who studied under Charles Mingus and played locally with Miles Davis, Lester Young, Gene Ammons, Sonny Stitt, and Mercer Ellington. Lee May today keeps the Jazz alive via her roles in Jazz Vespers at Newark's Bethany Baptist Church, in Maplewood 4th of July festival, in support of Downtown After Sundown Series and as stage manager of the 24 Hours of Music Jamboree.
Honoree - Sandra Mordecai
Sandra Mordecai - A Public Education Advocate with a mission to strengthen Public Education and has spent 10 years as Vice President of the West Orange Board of Education. Board Member, Essex County Chapter of Jamaica Organization of New Jersey. She has participated in both West Orange and Montclair Conversations on Race programs, received the Kwanzaa Award of Excellence and the Women's History Month Award for Outstanding Service to the West Orange Public Schools and Community.
About Jazzy Nights
South Orange NJ has live music scene that for a small town has a wonderful season of live outdoor music that runs from May thru September in various venues all over town. While Jazz is our love, Jazzy Nights is not only about extending the wonderful South Orange Live Music Scene which truly does runs all summer, but should continue int the fall and spring.
So Jazz Nights is not just jazz but all flavors of live music along with the mission of keeping the community of live music lovers entertained throughout the year. Since you didn't go away, and your love for the music is always with you, we want to be here for you. Thanks to Fox and Falcon, we get a chance to explore this opportunity.
So no matter where you are, we hope you come on out and join us, meet old and new friends and have some fun with us in the speakeasy style Essex Room of the Fox and Falcon restaurant. It's warm and cozy so join us.
South Orange New Jersey Live Music Recap - Enjoy