Description
Come anytime between 6 and 10PM. NO tickets sold at the door. N.B.: only EVENTBRITE ticket holders will have access to the Jazz & Wine reception in the Sunset Room + be able to reserve seats for the special dinner created by The Bel-Air restaurant.

CHECK OUT THE PHOTOS OF OUR PAST EVENTS.
JOIN OUR GROUP ON FACEBOOK FOR THE LATEST UPDATES.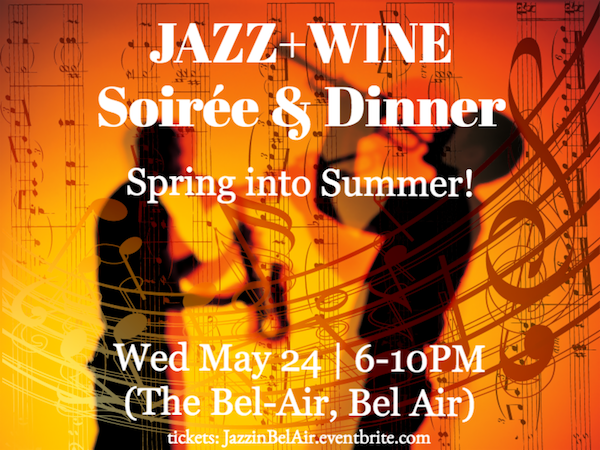 Susan Disney & Larry Nicola with The Bel-Air and Jean-Baptiste Dhalluin with Los Angeles Wine Tasting invite you to a top-notch soirée of jazz music, wine and food in Bel Air. Rendez-vous in the luxurious Sunset Room for a perfect #AfterWorkLAWT atmosphere on the outdoor terrasse, with breathtaking views on the Getty Center. Mix & mingle, relax and escape from it all! press on The Bel-Air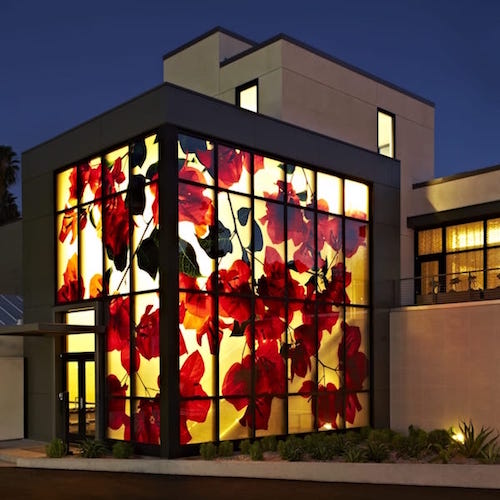 Renowned Jazz Guitarist and Santa Monica resident David Marcus will play smooth jazz sounds with the unique fuse elements drawn from the legacies of Wes Montgomery, Joe Pass, and George Benson. Performing classic and contemporary songs, David engages the audience with subtlety, sensitivity and sublime sophistication. Jon Alvarez, considered one of the "young lions" in today's LA jazz scene, accompanies on bass.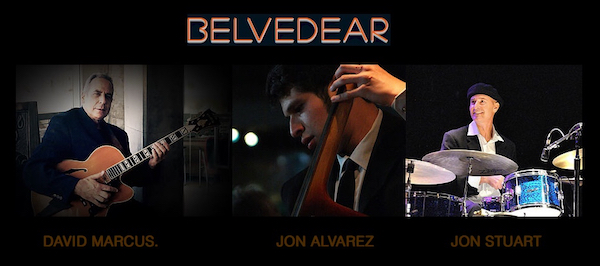 EVENTBRITE TICKET INCLUDES
+ jazz performance 6 to 10PM in the Sunset room (2nd floor, exclusive space for our group)

+ complimentary tray-passed gourmet bites (6 to 7PM) including: Vodka Cured Salmon, Pumpernickel Crositini, Caper Dill Aioli, Escabeche, Crispy Duck Taquito, Ancho Chiles, Maple Glaze
+ special prices on drinks (wine, beers, cocktails) and appetizers

+ access to restaurant for the special $40 prix-fixe 3-course dinner (7 or 8:30PM)... see menu below (RSVP as you purchase your ticket on eventbrite)
+ a perfect mingling and networking #AfterWorkLAWT atmosphere with other Angelenos at a great venue
+ $25 of Free Ride Credit with Lyft (new users only - see details below ***).

EVENTBRITE TICKET DOES NOT INCLUDE WINES, DRINKS OR DINNER.
$40 PRIX-FIXE DINNER MENU (+ tax and gratuity):
- 1st COURSE: Gnocchi, Morel Mushrooms, Champagne Crème
Or Spinach Salad, Chèvre, Applewood Bacon, Grapefruit, Anisette Vinaigrette
- 2nd COURSE: Grilled Scottish Salmon, Potato Leek Galette, Chive and Wasabi
Or Pommery Crusted ½ Range Chicken, Pomme Frites
Or Guinness Braised Short Ribs, Spring Slaw, Cilantro, Charred Serranos
- 3rd COURSE: Red Peach, Rhubarb Cobbler, Pecans, Vanilla Gelato
Or Gooey Chocolate, Caramel, Chocolate Cookie Crust, Blueberries, Crème
APPETIZERS FOR SALE IN SUNSET ROOM (each $15):
- Vodka Cured Salmon, Pumpernickel Crositini, Caper Dill Aioli, Escabeche
- Crispy Duck Taquito, Ancho Chiles, Maple Glaze
- Grilled Shrimp Cocktail, Bel-Air Cocktail Sauce
- Grilled Pizza, Zuchinni, Black Cured Olives, Crispy Garlic
- Hoisin Marinated Skirt Steak, Chimichuri
- Pastry, Baked Brie, Peaches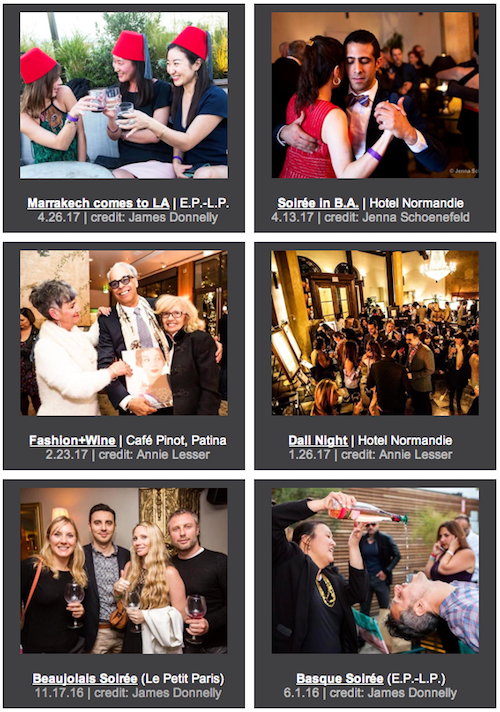 MUST BE 21 AND OVER TO ATTEND. EVERY GUEST'S ID WILL BE CAREFULLY VERIFIED UPON CHECK-IN. ABSOLUTELY NO EXCEPTIONS. PLEASE ENJOY RESPONSIBLY.
DRESS CODE - Important: Business/Upscale Casual, Cocktail Chic. NO T-Shirts. NO Sneakers. Jacket Recommended for Men. Dress Shoes.
Check out thebel-air.com for more details about this amazing venue!
*** Don't worry about taking your car... and take Lyft to the hotel! Your ticket includes a $25 credit for new users with code LAWINE. Lyft is a mobile app that lets you request a ride from a fully-vetted, hand-selected community of drivers at the push of a button. For this soiree attendees, Lyft has kindly offered $25 of free credit (first users only). Just download the Lyft app and enter LAWINE under settings to take a free trip on us.
Ticket Policy: All sales are final. NO CREDIT. NO REFUNDS. A name change however can be done anytime until the event starts.
Please contact us with any questions: afterwork@lawinetasting.com