Description
Jazz973 Presents Whitney Marchelle Sextet at Clements Place Jazz
Come enjoy a very special Jazz973@Clements Place performance that closes out our 2019 Women's History Month Celebration with Whitney Marchelle and her all-star musicians.
---
Whitney Marchelle Jazz Vocalist
Whitney Marchelle Jazz vocalist and pianist is like Obie Wan & the force a Jazz Jedi Knight. A Zelig, cryptic musically. Scorched soulful, Scats fiercely!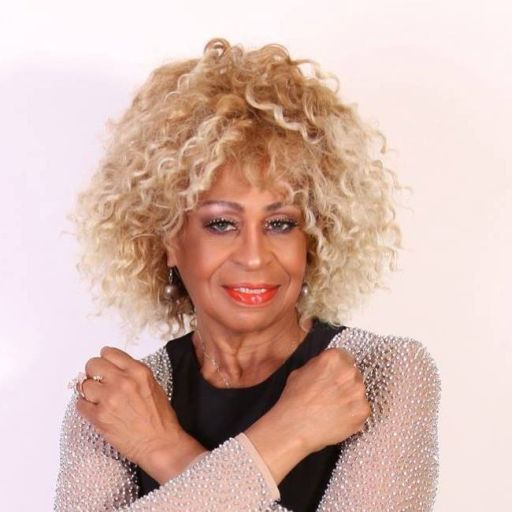 Blujazz artist Grammy Voting Member Whitney Marchelle Jackson is an Internationally distributed recording, songwriter, educator, performance artist in Jazz, Pop, and Blues. She has received awards in performance, songwriting and Life Achievement. Performs at 5 Star Hotels, Festivals, Carnegie Hall, NYC Blue Note, The Velvet Note, Russian Samovar, Ginny's, Mist Harlem, Minton's, Apollo, United Nation Events, Dusit Dubai, Japan, Singapore, Paris, Off-Broadway, Commercials, World Cup, and Award and tribute shows!
Plays piano Abbey Lincoln's Throw It Away: and Softly As The Morning Sunrise https://www.youtube.com/watch?v=AXJNcnpaWlY https://www.youtube.com/watch?v=pmnWG7aXAn8 Articles in Jazztimes, Jazzis, NYC Times, City Newspaper, Maxx Myricks's Maxx House NYC Hot House. Alpha Phi Delta, LA Weekly, Has received active radio airplay. Performances with: Opened for KISS, Bill Withers. Worked or recorded with: Wycliffe Gordon, Clark Terry, Wayne Newton, Eddie Henderson, Quincy Jones, Herbie Hancock, Dee Bridgwater, Winard Harper, Patience Higgins, Norman Connors, Curtis Lundy, Frank Lacy, Dezron Douglas, Lonnie Plaxico, Camile Gainer, Tia Fuller, Swiss Kiss and more.
In 2010 Marchelle performed at Eastman in Rochester NY playing piano and singing for the Women in Jazz Music Festival teaching a jazz vocal Clinic under Dr. Derrick Smith of Eastman with was aired on channel 8. Whitney Performed at the African American Festival with Tia Fuller which her segment was televised on channel 13. Marchelle performed with bassist Sabu Adeyola and quartet at the Pine Grill Jazz Festival Reunion in Buffalo 2010 and 2015 Lewiston Jazz Festival. Spike Lee's produced STATE FARM commercial. Guest at the Killbourne Hall at the Xerox Rochester Jazz festival 2010 when called up on stage with the African Bassekou-Kouyate & Ngoni Ba group where they traded impromptu jazz & blues licks and received a standing ovation 2010. In 2008 a scheduled performance with the Musician Educators Big Band under the direction of Howard Potter for the Rochester Jazz Festival.
Numerous International Hotels: Radisson, Harrah's, Hyatt, Hilton, Dusit Dubai Hotel, La Vila in Paris, Satin Doll and more in Japan. Billboard Entertainment Award show (background vocalist w/ lead), Atlanta Jazz Festival, Eddie Durham Festival, Kansas City Jazz Festival, Rochester Jazz Festival, Jazz In July Festival, Budweiser Festival. Dee Dee Bridgewater graced Marchelle's stage while performing with the Mustafa Orchestra at the Art Deco Festival in Florida (was in Jazziz ). The IAJE (big band in Atlanta GA), Band, several Presidential, Olympic, and Grammy private events. Harlem Gospel Choir. Singapore-Lighting of the Olympic Torch Festival, Balloon Festival Sentosa Island. Whitney Performed the World -Cup for the Polo Association in Bethpage. aired live international TV. Whitney also made a guest appearance with Dave Bergers jazz band at Jazz@lincoln Center. She performed The Star Spangled Banner at the Chris Evert Tennis Classic. Opened for KISS, Bill Withers, Donny Hathaway(with sister Joanne Jackson at Oil Can Harry's in Canada Witches Brew), Tommy Banks Show, Tonight Show Hosted By Don Rickles, Tony Bennet several same billing w/ Wanye Newton, Fox Theater, Civic Center, NYC Aaron Davis Hall Theater acting/singing. Flushing Town Hall opening for Fathead Neuman, ABC Superstars in Hawaii, Ilikai Hotel, Lenox Lounge, Rochester's NY Memorial Art Gallery w violinist Auga Davenport, Memorial Art Gallery w/Wycliffe Gordon & friends. Previously DISTRIBUTED BY CITY HALL RECORDS NATIONALLY Award recipient international recording singer/songwriter is based out of New York City , Patience Higgins- soprano sax, Eric Durham - guitar (son of Eddie Durham), Eddie Davis - trumpet, Sylvia Cuenca - drums, Kofie Burbridge - flute, Grammy Award Winner Wynton Marsalis' own Walter Blanding Jr. - arrangements & sax, Dan Nimmer - piano, and Barry Sames - piano among others.
WHITNEY MARCHELLE HAS A LOT TO BRING TO THE TABLE. A poet, theater & television actress but mainly a singer of 3 1/2 octaves with the ability to read music, attending numerous schools and Universities including New School University, D.M.A.C.C. Yamaha School Of Music, Kauffman School Of Music and Eastman just to name a few. WHITNEY MARCHELLE instructs clinic's of Jazz Vocals & Basic Theory all over the world including BERKLEE Conservatory(Japan), Wellington Schools (Dubai), Sojourner House , School 46 ROC,Eastman, U of R University Whitney grew up listening and listens to Nancy Wilson, Ella, Sarah Vaughn, Carmen, Nina Simone, Billy Holiday, Aretha Franklin, Mahalia Jackson, Bonnie Raitt, Chaka Khan, Barbra Streisand, Eddie Jefferson, Mel Torme, Pavoritti, Jon Hendricks, Ellington, Sinatra, Mark Murphey, Monk, Armstrong, Stevie Wonder, Abbey Lincoln, Ray Charles, B.B. King, Natalie & Nat Cole, Clifford Brown, Clark Terry, Celia Cruz, Loretta Lynn, Herbie Hancock, Miles Davis,Wynton Marsalis,Leona Horne, Shirley Horne,Coltrane, Pharaoh Sanders and many more..
Lakeshia Benjamin sax
Lakecia Benjamin is a Vandoren artist. Charismatic and dynamic saxophonist/bandleader Lakecia Benjamin's electric stage presence and fiery sax work, has shared stages with Stevie Wonder, Alicia Keys, The Roots, Macy Gray, and many others, brings the soul and funk up to a fever pitch in a show that's guaranteed to keep crowds dancing day or night.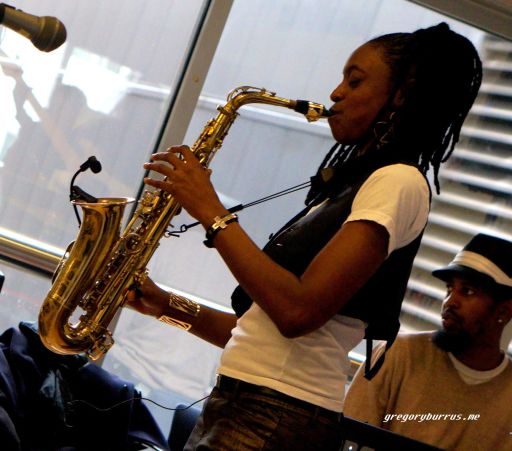 Charismatic and dynamic saxophonist/bandleader Lakecia Benjamin's electric stage presence and fiery sax work, has shared stages with Stevie Wonder, Alicia Keys, The Roots, Macy Gray, and many others, brings the soul and funk up to a fever pitch in a show that's guaranteed to keep crowds dancing day or night. Though her own music with her band Lakecia Benjamin and Soul Squad are immersed in the vintage sounds of James Brown, Maceo Parker, Sly, and the Family Stone and the Meters as well as classic jazz, Benjamin's soaring, dancefloor-friendly grooves take the classic vibe to a whole new level. The constant throughout it all is Benjamin's summery, sultry alto saxophone, adding something special on every cut - be it a smoldering late-night ambiance, an erudite, forceful jazz intensity or the tight funk multi-horn harmony sections that pepper the proceedings throughout.
A streetwise New York City native born and raised in Washington Heights, Lakecia Benjamin has become one of the most highly sought-after players in soul and funk music. She first picked up the saxophone at Fiorello LaGuardia High School for the Performing Arts, after which she joined the renowned jazz program at New York's New School University. By that time, she was already playing with renowned jazz figures like Clark Terry and Reggie Workman, which led to gigs and tours with a wide array of artists such as Rashied Ali, the David Murray Big Band, Vanessa Rubin and James "Blood" Ulmer. With her deep jazz roots, she was soon in demand as an arranger and horn section leader, landing stints with such acclaimed artists as Stevie Wonder, Alicia Keys, Macy Gray, the Roots, and Anita Baker.
Currently, Benjamin is a featured musician for Gregory Porter as well as a featured musician and arranger for comedy star Craig Robinson and the Nasty Delicious. (Robinson, best known for his work on TV's The Office as well as such popular films as Pineapple Express and Hot Tub Time Machine, tours regularly with the Nasty Delicious band serving as the main foil in his popular comedy act). Benjamin has also had the honor of performing at the White House at President Obama's inaugural ball. She's performed on four continents and her extensive recording credits include saxophone and arrangements for Santigold, Maurice Brown, the Clark Terry Big Band, Krystle Warren, and Talib Kweli, among others.
Shirzette Tinnin drums
She's a jazz-trained drummer whose influences range from Art Blakey to Sheila E. It was after seeing Sheila E. on TV, at age 4, that Shirazette decided that she wanted to play drums.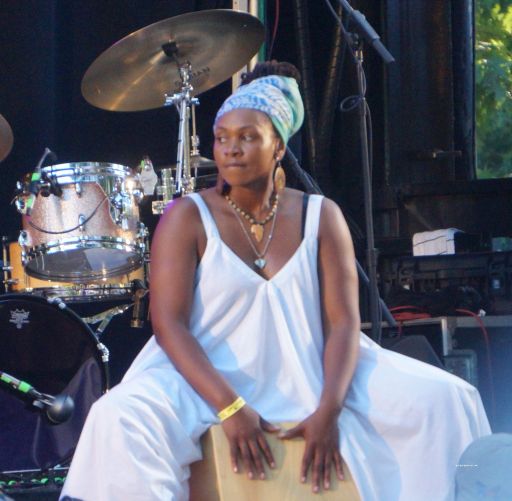 Drummer, educator, clinician, author and health coach, Shirazette Tinnin was born and raised in North Carolina. As a child, she would travel with her parents listening to them sing in large Southern Gospel groups up and down the east coast. Due to her musical family and surrounding peers, her initial gospel influences eventually grew and branched out into jazz, soul, and many other styles of music. From the time that she was 4 years old, she knew that she would play the drums. As she grew older, Shirazette would come to share the stage with national and local acts such as Melva Houston, Joe Robinson, The Solos Unit, Lyfe Jennings, and Rehab before attending college.
As her time in Illinois went on, her stage performances grew to include greats such as Jimmy Heath, Slide Hampton, Renee Baker, and many others. Shirazette also began her international travels to Spain and Peru while at Northern Illinois University, accompanying various artists. While in Peru she discovered her love for Cajon and was inspired her to write a song that eventually was included on The Liberace Jazztet album release, "Equity." Shirazette's love for Cajon and world music followed her as she moved from Illinois to New York City in 2009, ultimately becoming the resident drummer at Tutuma Social Club with the internationally acclaimed Gabriel Alegria Afro-Peruvian Sextet.
Today, Shirazette is now an in-demand drummer in New York City. She has recently been on tour with Tia Fuller at The Umbria Jazz Festival, Molde Jazz Festival and the Turkish Ambassadors in D.C., as well as leading her own group, The Shirazette Experiment Core-Tet, which has performed both in New York City and overseas. In addition, Shirazette is performing and collaborating with various artists such as Orrin Evans, Tom Browne, Mimi Jones, Pauline Jean, Donald Malloy, Camille Thurman, and many others. She strives to keep the motion of jazz music progressive in all of her endeavors.
Shamie Royston piano
"Shamie continues to be a leading force and new voice in the jazz world."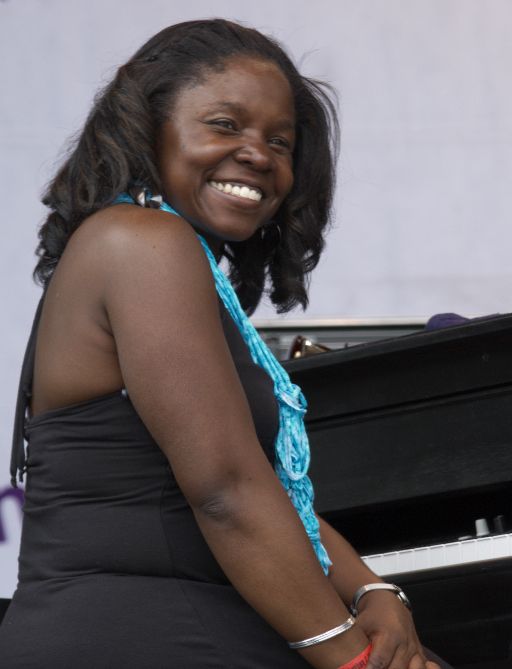 Born in Denver, Colorado, Shamie Royston, pianist, composer and educator is a unique musician in her own way. Shamie's exquisite style of piano playing combines a traditional and contemporary sound embodied by a soulful spirit. Receiving a Master's Degree from the University of Denver, where she was awarded top honors, Shamie Royston was and continues to be highly respected for her musical compositions. She has composed and arranged works for trumpeter Sean Jones, vocalist Dianne Reeves, pianist Geri Allen, saxophonist Tia Fuller, and many other prominent musicians. Shamie was also commissioned to arrange her original works for the Jazz Philharmonic at the Penfield School District in New York, Berklee College of Music in Boston, Metro State College in Denver, and the Colorado Music Education Association Conference. Shamie also participated in the First Annual Composers Symposium Concert at Berklee School of Music in Boston where her original compositions were performed alongside with trumpeter/composer extraordinaire Terence Blanchard, pianist/composer Geri Allen, and award-winning composer Maria Schneider.
Since moving to New Jersey, she has been a steady member of the Tia Fuller Quartet, and has played with and recorded with many other great artists such as Christian McBride, Lonnie Plaxico, Ron Miles, Ralph Peterson, John Pattuci, Terri Lyne Carrington, Sean Jones, Toshi Regan, Allison Miller, and many others. She has toured Europe and the United States with her fiery, yet soulful piano playing and has played at many of the top jazz venues and festivals in the world.



Endea Owens bass
Endea Owens is an heir to a great tradition, but there's nothing old fashioned about her. "I feel like to really keep jazz going, we have to believe in this music," she said. "And we have to keep it relevant."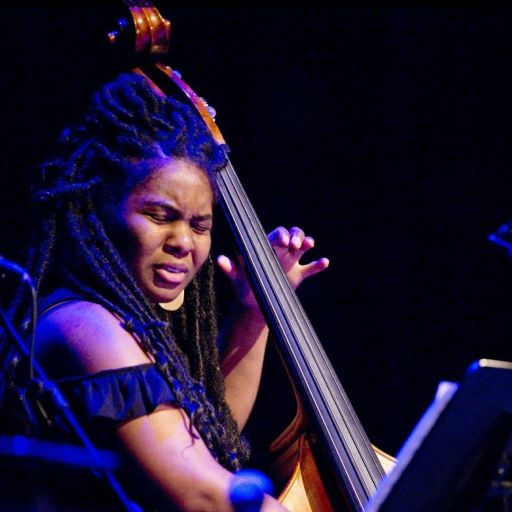 Lincoln center's emerging artist of 2019 and Detroit native Endea Owens is a vibrant up and coming bassist. She has been mentored by the likes of Marcus Belgrade, Rodney Whitaker, and Ron Carter. she has toured and performed with Jennifer Holliday, Jazzmeia horn, Dee Dee Bridgewater, Steve Turre, and Lea DeLaria.
Owens' has written compositions for the Lansing film festival and has been a featured artist at Spelman College and in Montreal. Endea has done music exchange programs in Cuba and Trinidad and Tobago and has performed in London, India, Australia, Ukraine, South Korea, and many other countries.
Along with being featured in the documentary happy on the ground: 8 days at Grammy camp, Endea has been featured on abc7 news (New York) with Sandy Kenyon, as well as abc7 "here and now". These episodes aired in over 6,500 taxis in the New York area. She has also been featured on "the indie beat" with the Manhattan neighborhood network. This year Endea graced the cover of Japan's "the Walker's" magazine and was featured in the Wall street journal and Billboard magazine.
James Gibbs trumpet
James Gibbs III Newark born, Irvington raised Trumpeter studied Jazz at the former New Brunswick Jazz Institute of New Brunswick, and then later under the legendary Trumpeter, Composer, and Producer Donald Byrd at Delaware State University.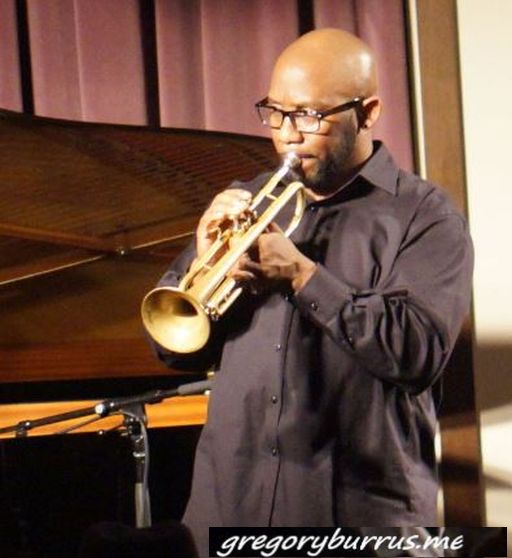 He has been performing professionally for at least 20 years and has recorded on over 30 records to date, and 4 records as a bandleader. He is also the founder of his latest band the Brick City Soul Collective. They perform over 100 shows a year since establishing themselves in 2014. His current members include Mike Parker (keys), Kevin Bowden (drums), and Cliff Kee (Bass). James has toured and recorded with many very known artists and still does to this day but wants to establish himself as an artist and bandleader. Feel free to check out his web link at www.reverbnation.com/Jamesgibbsandfriends. And you find him on Youtube and on Facebook under James Gibbs III.
James Gibbs III who recently worked and toured with 8 times Grammy nominated singer/songwriter Joe Thomas for four years, was born in Newark and raised in Irvington New Jersey. He began playing the trumpet at the age of 14 began his jazz training at The New Brunswick Jazz Institute under instructor and legendary organist Radam Schwartz.

James performed his first professional show on December 12, 1994, for the annual WBGO Jazz membership party and Gala at The Five Spot jazz club in New York City where he was discovered by the late great jazz singer, arranger, composer, bandleader, and actress Dr. Betty Carter.
James performs many styles of music from Jazz, Rock, R&B, Gospel, Latin, Reggae, Classical, Brazilian, and many other ethnics styles like Jewish, Italian, German, Spanish, Mexican, Portuguese, and Asian music...
James has shared the stage with many greats such as: John Lamb (bassist from Duke Ellington's Orchestra), Rufus Reid (legendary bassist), Buster Cooper (trombonist from Duke Ellington orchestra) , Mark Whitfield (guitarist), John Lee (bassist formerly from Dizzy Gillespie's All-Star Band), Kenny Drew Jr (pianist), Terrence Blanchard (trumpeter/grammy winning composer in Spike Lee films), Joe Thomas (8 time grammy nominated singer/song writer), Jerry Stiller (Broadway actor, singer and television star), Eric Roberson (grammy nominated singer/song writer), Smokin' Joe Frazier (former heavy weight champion), Roy Hargrove (trumpeter), Wynton Marsalis (trumpeter/music director of the Lincoln Center Jazz Orchestra), Cecil Brooks III (drummer/club owner "Cecils"), Cyrus Chestnut (pianist), TS Monk (drummer/award winning songwriter/composer/son of iconic pianist Thelonious Monk), Joshua Paul Thompson (guitarist/award winning songwriter, composer, and producer), David Pic' Conley (flutist, saxophonist, award winning song writer and producer, founder of the grammy winning R&B Group "Surface") and many others..
Join us, register and come have a guaranteed good time.
#jazz973 #clementsplacejazz #jazzvocalist #gregoryburrusaroundtown #gregoryburrrusproductions