Description
June marks the halfway mark of 2017!!!! Here are three questions for you:
Are you stuck accomplishing that goal you set for this year?

Are you ready to make even more progress towards your business or life goals?

Are you ready to

Jazz Up Your Success

?
If you answered "Yes" to any of these questions, then you are ready to FIND A WIN in your situation!
The Jazz Up Your Success Empowerment Session will leave you with the following tools needed to win in life:
- Analyzing how your problem(s) can be aided with solutions
- Discovering strategies to obtain results for a situation turned sour
- Building the confidence to take the next steps to climb higher in professional and or personal endeavors
Be empowered and JAZZ UP YOUR SUCCESS with a 30 minute empowerment session via phone for $30!
A session valued at $97, can be yours for the month of June for $30 while slots are available!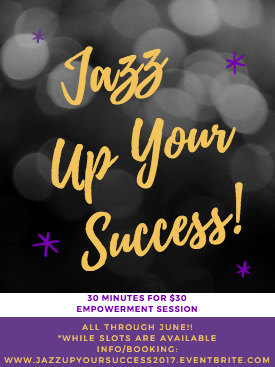 Jasmine Romaine is a Motivational Speaker, Empowerment Coach and Author who specializes in guiding individuals on a journey that will empower and educate many to achieve greatness in their endeavors in life! Her experience in working with a plethora of individuals as well as organizations has allowed her audience to be empowered to win in many issues of life including: self-confidence, sales strategies, communication skills, personal development, and professional development, including but not limited to, leadership and morale within a company.
Contact Jasmine today and schedule your exclusive offer!!!!!!! It's time to JAZZ IT UP!!!!!