Jazz Unlimited of Greater Milwaukee Monthly Open Jazz Jam at 88 Keys Piano Martini Lounge!

Sunday, November 17, 2013 from 12:00 PM to 3:00 PM (CST)
Event Details

Hello Jazz Enthusiasts!
11/17/13 (Sunday): Jazz Unlimited of Greater Milwaukee Jazz Open Jam along with Mary Davis (Keyboard & Vocals), Andrew Wilson (Drums), Bill Martin (Lead Guitar), CP (Vocals & Percussion), and Dave Miller (Harmonica, Vocals, & Guitar) will be Hosting at 88 Keys Piano Martini Lounge: from 12 pm-3 pm, 7211 W. Greenfield Ave., West Allis, WI (414) 257-9490. Doors open at 11 am! There will be a $5 Donation collected at the door. Plenty of free parking! 88 Keys Piano Martini Lounge also has deliciously affordable food, and ample parking in the back! There will be many surprise professional jazz musicians expected to sit-in at this Jazz Open Jam! Come down to listen or play! It is time for all Jazz Unlimited of Greater Milwaukee members and nonmembers to join together and network. If you know of anyone that loves Jazz, Jazz Unlimited of Greater Milwaukee would love to have them as a member! Here is an application: Type My Jazz Unlimited Application Online. Please fill this out, and bring this form along with your check to this event (or Purchase via PayPal)! Let's all get together and celebrate the sounds of Jazz with the Open Jam session. See you there! You certainly don't want to miss this party! Please visit Jazz Unlimited of Greater Milwaukee website at: http://www.jazzunlimitedmke.org for more information. You may also view us on Facebook at: https://www.facebook.com/pages/Jazz-Unlimited-MKE/153096068104354! If you are already signed up on Facebook, then please go to https://www.facebook.com/pages/Jazz-Unlimited-MKE/153096068104354 and "Like" us! You may also connect with us on G+ (Google Plus). See you at the Jazz Open Jam on November 17th, 2013!
Thank You!
Dave Miller
(414) 375-9895
David@DavidMiller.us
When & Where

88 Keys Piano Martini Lounge
7211 West Greenfield Avenue
Milwaukee, WI 53214


Sunday, November 17, 2013 from 12:00 PM to 3:00 PM (CST)
Add to my calendar
Organizer
Tom Radai and David J. Miller
*Tom Radai is the longest surviving Blues agent/Mgr.in the USA. The multiple WC Handy/ KBA recipient, European Music Award and National Leadership Award winner, has been in business longer then anyone still active in the Blues Scene. Tom has said that his curiosity about Blues culture peaked when he started hanging out at Maxwell Street in the early 1960's and meeting some of the people who were eventually to become his clients. His love for the music came at an even earlier age when most teenagers were interested in other things. Tom Radai's roots in the Blues are long and deep. Initially launching his career in booking and management in 1964 with his first client, Otis Spann. Tom soon added to his talent roster the likes of Johnny Young, Eddie Taylor, Johnny Littlejohn and Charlie Musselwhite from 1968 to 1979. Tom Radai's Blues Management Group soon became notorious for the 'Blues All Star' packages he toured world-wide. One such package based out of Chicago teamed Jimmy Rogers and Eddie Taylor, Detroit Jr./Johnny 'Big Moose' Walker, Wild Child Butler, Sam Lay, Bob Anderson and Lucile Spann. A few years after this package toured the legendary Jimmy Rogers became a full time client which lead to a relationship lasting nearly 25 years, which included engagements with the Rolling Stones and Eric Clapton, numerous national television appearances, and a monumental recording on Atlantic Records.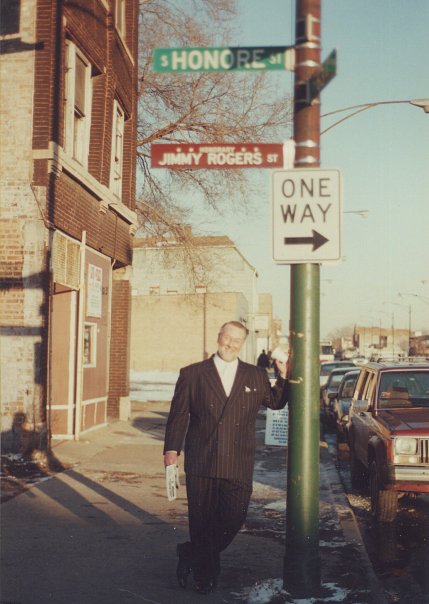 On January 8, 2001, Tom Radai was instrumental in re-naming the South Honore Street in Chicago "Jimmy Rogers St". A 'West-coast AllStar' package that Tom organized in the late 1970's included the legendary George 'Harmonica' Smith teamed with the great Phillip Walker plus a second young harmonica genius by the name of William Clarke. In addition to his Blues credentials, Tom has promoted Rock & Blues concert series that included The Grateful Dead, Quicksilver Messenger, and Canned Heat. Tom Radai's talent roster had included: The Phillip Walker Band, The Jimmy Rogers Legacy (tribute to Jimmy Rogers.) Eddie Taylor Jr., Steve Guyger, plus 'The NEW Legends Of Blues AllStars' (Eddie Taylor Jr., Steve Guyger, Bob Stroger, Billy Flynn and 'Piano Willie'). In addition The NEW Legends Of Blues Duo with Steve Guyger and Billy Flynn. Tom has been a tireless advocate for Traditional Blues, one reason why over 75% of his talent roster have stayed for an unprecedented 15 to 25 years. He is still doing business in the USA, Canada, Europe. Tom can be reached at: The Blues Mgt Group -2413 South 51st St. Milwaukee Wisconsin 53219 USA ph:414.321.0188 http://blues-management.com
David J. Miller  is a multiple genre Harmonicist, Vocalist, Guitarist, Teacher, Promoter, President of Jazz Unlimited of Greater Milwaukee, and Owner. Dave Miller teaches beginning to advanced harmonica, beginning voice, and basic blues guitar. David was introduced to the harmonica back in 1972 by his late father at the age of eleven years old. Dave's dad was his mentor, but his other influences also include: Charlie Musselwhite, James Cotton, Billy Branch, Little Walter, Big Walter Horton, Sonny Boy Williamson, Junior Wells, to name just a few. David Miller has appeared throughout the Midwest. Some of the venues included the Wisconsin State Fair, Summerfest, Sherman Fest, as well as various Chicago clubs. Miller has played with Billy Branch, the legendary Aaron Moore, Willie Kent, Billy Flynn, Aron Burton, and Johnny Rawls. The Dave Miller Band provides a high energy eclectic repertoire from Rock to Blues. The members of the band are as follows: David J. Miller (harmonicist, vocalist, & guitarist), Bill Martin (lead guitarist), Hal Miller (bassist), and Andrew Wilson (drummer). The Dave Miller Band is all professional and highly experienced musicians, eager to satisfy the fans all the way to the venue owners. David Miller Live Music Promotions can fulfill any venue with virtually any genre. Dave Miller also works with the legendary Tom Radai in booking other venues. For inquiries or bookings; Email: David@DavidMiller.us, Call: (414) 375-9895, or Web: https://DavidMiller.us!  See also https://DavidMiller.us/PromoPack!
Jazz Unlimited of Greater Milwaukee Monthly Open Jazz Jam at 88 Keys Piano Martini Lounge!