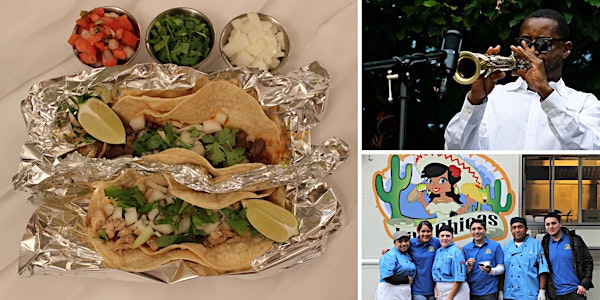 Jazz Performance with Lee Robinson & ISKA on Thursday, July 20th 6pm-8pm
Location
The Artsmiths of Pittsburgh
1635 McFarland Road
Pittsburgh, PA 15216
Description
Back for another exciting night, Lee Robinson and ISKA will be performing jazz live in the Koolkat Café on Thursday, July 20th from 6pm to 8pm. Tickets for this July 20th performance are $12 in advance, and $15 at the door. BYOB. Food will be available for purchase from Las Chicas food truck from 5:30pm to 8pm in the Artsmiths' main parking lot. The store and foodtruck are open to the public. This performance sold out last month so get your tickets early. Seating is limited to 55. Koolkat Café doors open at 5:45pm.
Note: There is also a performance on Thursday, July 13th.

Lee Robinson has been an active participant in the Pittsburgh Jazz Scene for over 35 years. Lee has performed in several R&B show bands and jazz ensemples. Gentle Persuasion, Band of Angels, and the annual GNP Group Gathering at Waynesburg University just to name a few.
In 1979, ISKA became the first jazz quartet led by Lee. They went on to record a live session at The Balcony in 1987 entitled "Motif". Current ISKA band members include: Ben Broshe, Lucas Bowman, John Korpial, Subha Das, Ryan Salisbury and Aidan Epstein, Brian Stahurski and Eli Naragon. This performance will include Lee Robinson on saxophone, Ben Brosche on keyboard, Eli Naragon on bass, and Subha Das on drums.
As a music/artist experimenter, Lee has collaborated with poets, actors and visual artists for a variety of exciting projects. He appears as a street saxophonist in the movie, The Cemetary Club. His original music appears on the PBS Documentary, JOBS: A WAY OUT.
His performances, (whether solo, duo, or trio) have given generations of listeners a broader appreciation for music. With the musical talents of his group "ISKA" they provide powerful performances what transport their listeners on a musical journey through jazz styles of contemporary funk, classical and original compositions.
CANCELLATIONS: Tickets cannot be cancelled or refunded once purchased.
This event is BYOB. Las Chicas foodtruck will be onsite for purchase of delicious mexican food from 5:30-8pm. The Koolkat Café will also have a variety of coffees, teas, and dessert items for purchase.
--
For more information about Lee Robinson and Iska visit:
http://www.leerobinsonmusic.com
http://www.facebook.com/4LRMusic
--
For more information about The Artsmiths of Pittsburgh, visit:
http://www.ArtsmithsPGH.com


For more information about Las Chicas Foodtruck, visit
www.laschicas.com