Location
The Mill Stage at Golden Belt
800 Taylor Street
Durham, NC 27701
VrroomVIP Upclose and Personal takes their JAZZ Experience outside, with their first outdoor concert
About this event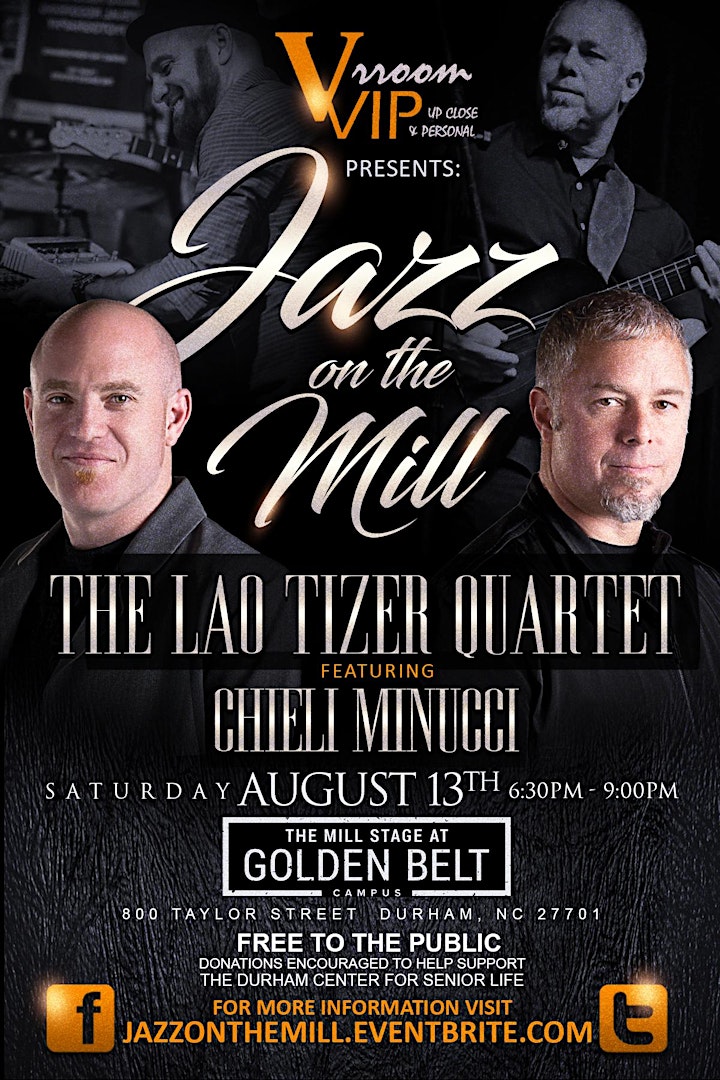 Note: This outdoor VrroomVIP JAZZ Experience is FREE and opened to the public. Don't forget to bring your lawn chairs
Donations are encouraged.
__________
Part of the 2022 VrroomVIP JAZZ Experience series....
The Lao Tizer Quartet featuring Chieli Minucci
Chieli Minucci
Three-time Emmy-winning and Grammy® Award-nominated guitarist and composer is the leader of the Grammy-nominated contemporary jazz group SPECIAL EFX, which formed in 1982.
Also known as a composer for television and film, Minucci was nominated for 10 Daytime Emmy Awards and has won 3, in 1998, 2007, and most recently in 2008, for his eclectic compositional work on CBS's The Guiding Light. He has written music for well-known programs such as Good Morning America (theme), Bloomberg Radio (theme), Access Holly-wood, The 700 Club, and others. He has written music for well-known programs such as Good Morning America (theme), Bloomberg Radio (theme), Access Holly-wood, The 700 Club, and others. He also contributed music to the sound-tracks of Bowfinger (1999), Legally Blonde (2001). and Panic (2000), as well as most recently to 'Lifted' (2007).
Minucci composed and produced the soundtrack for the Broadway Across America/Nickelodeon live stage productions of the hit TV series, Dora the Explorer ('Dora's Pirate Adventure', 'The City of Lost Toys' and currently 'Return to the City of Lost Toys') which are currently touring interna-tionally. He also wrote and recorded original songs for the live stage production of Thomas & Friends Live™, (both 'Thomas Saves The Day!' and most currently, 'A Circus Comes to Town')
... read more
_____
Lao Tizer
With more than five years since their last release, The Lao Tizer Band has taken the time to grow in every aspect. An updated larger band is exploring some new methods on their upcoming CD/DVD combo, Songs From The Swinghouse: recorded live in just three days at Conway Studios in Hollywood, the band explores three cover tunes with vocalist, a first for the group, alongside original instrumental tracks, bringing them to new heights of excellence and exuberance.
Featuring a thoughtful and at times surprising choice of tracks, while adding to an already stellar lineup of players with the addition of a seasoned vocalist, this is an album that has set a new path for the band and its dedicated fans. Songs From The Swinghouse features eight blistering original instrumentals and three iconic classic rock songs with reimagined arrangements. "We've never done anything with a vocalist and we've never done any cover songs, so this is the first time that I decided to delve into that realm, to basically expand the scope of our music," says Tizer. Critically acclaimed music-film director, Andy LaViolette (Snarky Puppy, Bokante, David Crosby, etc), documented the entire session in a simultaneous, 8-camera HD video shoot for the included DVD.
From the 2007 album Diversify, which showcased the multi-faceted richly textured musicality of an already celebrated career, to 2009's Passages in which the keyboardist and composer focused on a minimalist expression of his musical journey in a virtually solo piano recording with the barest of accompaniment, and then back to a pulsating full band on the 2012 release Downbeat, this ensemble of world-renowned musicians has taken Tizer's vision to a new level on the latest album. The jazz and world-fusion group now adds rock to its repertoire with a sizzling new collection of eleven songs.
Hailing from Boulder, CO, with a career that now spans nine albums over nearly a quarter of a century -- he was a teenage prodigy -- Tizer is the son of hippies with a Russian-Jewish background, and the mix of that ethnic family heritage, parental new age influence and growing up with the sights and sounds of '80s and '90s pop culture (alongside the music of the '60s and '70s he heard from his parents) have brought him to a place in his artistic life where he was ready to embrace a wider range of influences and stretch himself and his players to pull off such an ambitious project ... read more
Note: This outdoor VrroomVIP JAZZ Experience is FREE and opened to the public. Don't forget to bring your lawn chairs
Donations are encouraged.
Want more? Click here for additional upcoming VrroomVIP JAZZ Experiences
                                                    #vrroomvipjazzfest
___________________________________________________

Consider making a donation.
VrroomVIP Upclose & Personal is a proud supporter of our community and, as part of our VrroomVIP Giveback campaign, this year we are giving support to the Durham Center for Senior Life (DCSL). A portion of every donation will go toward the DCSL. We will present the DCSL with a check from all VrroomVIP Giveback campaign funds collected, on stage, the final night of our Grand Finale (Sat Oct 8th). An absolutely great way to enjoy Live Jazz and support our community at the same time.
Simply click the Register button above to donate.
To learn more about the Durham Center for Senior Life visit -> https://dcslnc.org/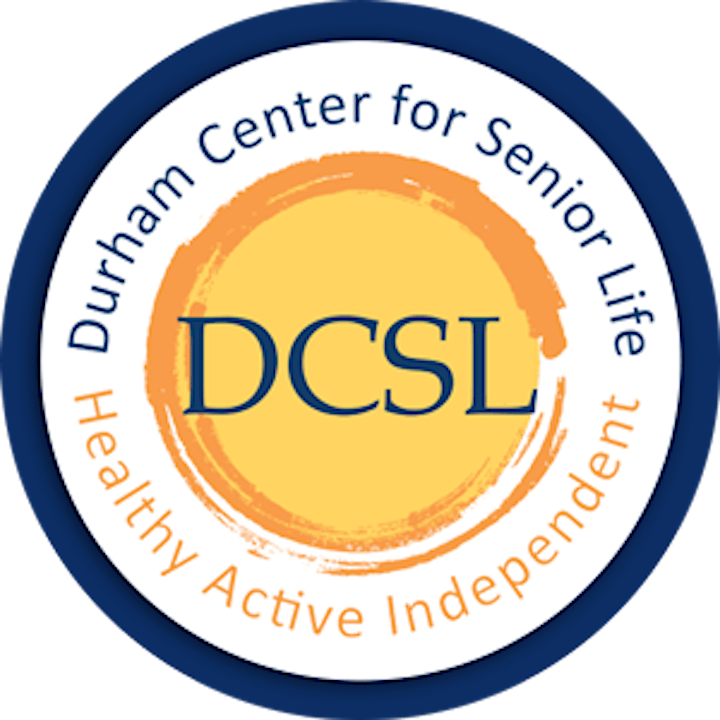 ___________________________________________________
Special thanks to the Golden Belt...
the campus for the Arts, for their amazing partnership and support. To learn more about the Golden Belt and The Mill Stage visit https://www.goldenbeltarts.com/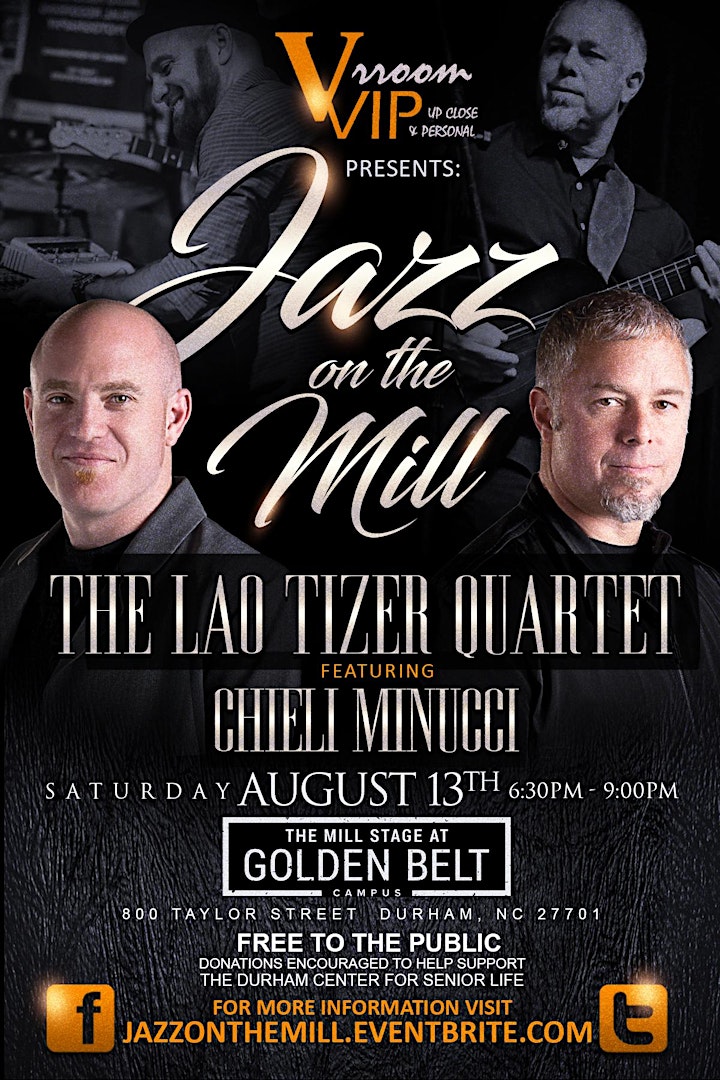 The Lao Tizer Quartet featuring Chieli Minucci
Lao Tizer - keys
Chieli Minucci - guitar
Cheikh N'Doye - bass
Joel Rosenblatt - drums