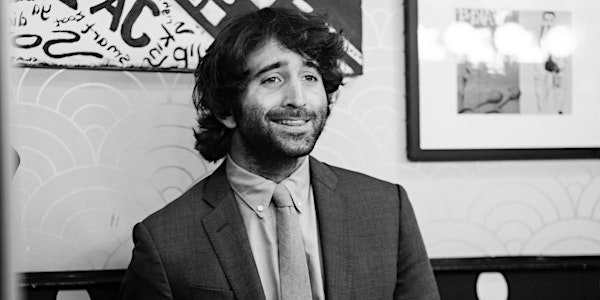 Jazz & Comedy w/Joe Alterman & David Perdue
Location
Eddie's Attic
515 B North Mcdonough Street
Decatur, GA 30030
Joe Alterman at Eddie's Attic in Decatur, GA!
About this event
Joe Alterman
Atlanta native Joe Alterman expresses a certain upbeat naivete, with a broad smile and bright eyes that make you feel welcome. One would not guess that this is a man hailed by greats; Ramsey Lewis describes his piano playing as 'a joy to behold', Les McCann states 'As a man and musician he is already a giant'. Journalist Nat Hentoff championed three of Alterman's albums, as well as his writing (Joe wrote liner notes to three Wynton Marsalis/JALC albums, calling one of Joe's columns "one of the very best pieces on the essence of jazz, the spirit of jazz, that I've ever read, and I'm not exaggerating."
Joe Alterman began at NYU with a BA and Masters in Jazz Piano, followed by performances with Houston Person, Les McCann, Dick Gregory, and Ramsey Lewis. Downbeat describes his sound as ' rooted in the blues, and with a touch reminiscent of the great pianists of the 1950s—Red Garland, Ahmad Jamal, Bill Evans. It is clear Joe hits all of the necessary points for Jazz critics and fans alike.
But there is more to the story, of course. The twenty-first century has thus far seen yet another transition for this thing called Jazz. In one moment we see the push and pull between tradition and progression, and in another we see Pop and Hip-Hop musicians emulating and sampling. In Joe Alterman we find none of this struggle; the music just sounds good. Our conscious faculties are instantly disabled as we tap our feet, feeling the intent and joy of his playing. An old classic is new when you feel good in the moment.
This fresh and joyful intent is captured on Joe Alterman's new release The Upside Of Down. Taken from two live shows at Birdland in November 2019 and February 2020, the album reminds us of a not-too-distant time when we gathered and danced. Joined by Nathaniel Schroeder on bass and Marlon Patton on drums, Alterman cruises gently and delightedly through timeless selections from Les McCann, Oscar Peterson, Henry Mancini and more, with some of his compositions in the mix.
David Perdue
David Perdue is an Atlanta comedian who has appeared on Kevin Hart Presents: "Hart of the City" on Comedy Central, "Uproarious" on FuseTV, & Unprotected Sets on EPIX. David is also an actor appearing in "Love Is..." on OWN and "Bobcat Goldthwait"s Misfits and Monsters" on truTV. He appeared as one of the 12 most talked about comedians in Atlanta on the first digital cover of ComedyHype magazine. David was selected by Creative Loafing as one of Atlanta's "People to Watch" in 2017. He has been selected to perform in comedy festivals all across the country & has taped for Kevin Hart's LOL Network at the prestigious Just For Laughs Comedy festival is Montréal, Canada. David co-hosts the hilarious sports/comedy podcast called "Forth and Ten" hosted on ForthDistrict.com, as well as the political/comedy podcast "The Confused Caucus" and is a co-producer of the Atlanta favorite 1AM Secret Show. He is a co-producer/ co-creator of the powerful stage show "Double Consciousness" with award winning poet Adán Bean. In 2022 David was selected as an Arts & Social Justice Fellow at Emory University in addition to a 2022 Climate Comedy Cohort created & directed by Generation180 & the Center for Media & Social Impact's Good Laugh Initiative. As you can see David is many things but most importantly he is NOT a former US Senator.