Looks like this event has already ended.
Check out upcoming events by this organizer, or organize your very own event.
Jazz Artists on the Greens 2012, TRINIDAD

Saturday, March 24, 2012 at 4:30 PM (ADT)
Event Details
Advance tickets for Jazz Artists on the Greens 2012, TRINIDAD are available NOW online above. Paper tickets will go on sale on Monday, March 5, 2012, at the following locations in Trinidad and Tobago:
Ticket Outlet

Location & Address

Contact Number

Bewil & Co. Ltd.

5-7 Philips St., POS

(868) 624-4206

Stecher's Mall Outlets

Long Circular Mall, St. James

(868) 628-0987

Kanhai Raghubir Jewellery

13 Eastern Main Road, Curepe
Trincity Mall, Trincity
(868)-663-1672
(868)-640-2522

House of Chan

Emerald Plaza, St. Augustine

(868) 645-0347

The Medical Dispensary

Main Road, Chaguanas

(868) 665-5889

Off The Wall Records

Gulf City Mall

(868) 652-6524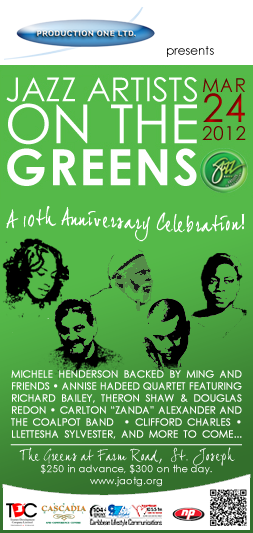 Leaning towards the Caribbean Jazz idiom for inspiration, Jazz Artists on the Greens has grown into the largest Caribbean jazz event in Trinidad and Tobago with the potential to expand further. On March 24 the event will celebrate its tenth anniversary, a milestone in the entertainment industry locally and regionally which points to its validity as an entertainment option here.
As with previous editions, the 2012 event promises a powerful mix of contemporary Caribbean jazz styles, delivered by some of the most talented performers to grace our stages. This year's line-up includes Dominican cultural ambassador Michele Henderson; London-based Trinidadian pannist Annise Hadeed and his group comprising bassist Douglas Redon, guitarist Theron Shaw and drummer Richard Bailey; Carlton "Zanda" Alexander and The Coalpot Band; the charismatic, lively and eclectic jazz stylings of songbird Llettesha Sylvester and Clifford Charles launching his new CD, "Songs From Deep Within." The audience is in for a delightful treat.
Founded in 2003, Jazz Artists on the Greens™ has grown from strength to strength, ever widening its base of regional performers and its audience. As it evolves in the new decade of the 21st century, its initial purpose of exposing as many new patrons and young musicians as possible to jazz has been expanded to include becoming a major platform for the expression of Caribbean jazz artistes, based locally, regionally and internationally. The high demand by artistes for spots on the show will allow for the inclusion of surprise guests to be confirmed closer to the date.

The event is again being hosted at the spacious accommodation at the bucolic Greens at Farm Road in St Joseph. This well-lit, secure facility also offers adequate off-the-road parking for patrons' vehicles. Click here to Read JAOTG Policies and Important Information. Suffice it to say, with the increased options in the marketplace for live music lovers, Production One Ltd has focused on the improvement of the concert experienced for the patron and artiste from production value to marketing opportunities. Apart from the idea that jazz can be listened to on mats, blankets and lounge chairs while sipping wine and consuming tender victuals, the "atmosphere of lavish escapism" attendant on the various jazz festivals in the Caribbean including Tobago, has not taken hold on the Greens. This informal setting has helped remove much of the mystique that seemed to surround the genre.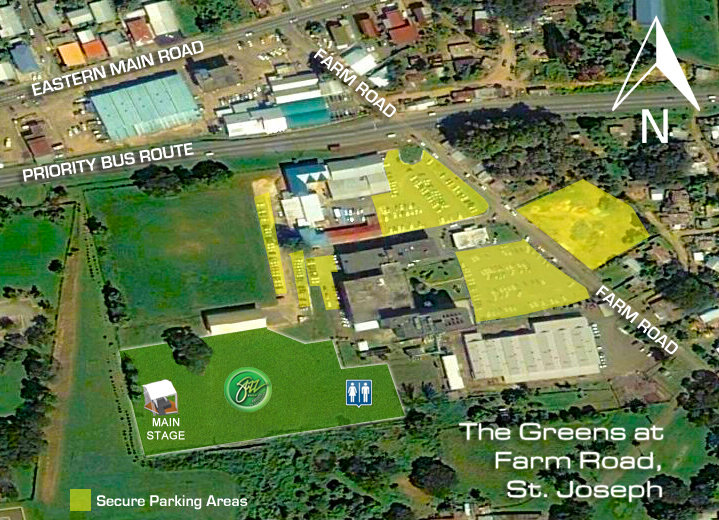 The slow-growth organic model of a Jazz Artists on the Greens™ is a winning template as opposed to the hit-and-run approach of Plymouth. Jazz Artists on the Greens™ is the signal event that begins a jazz season in the Caribbean preceding Tobago and St Lucia by days and weeks, respectively, and it allows us to hear the possibilities of jazz transformed from the American response to the blues, with improvisation into a renewed inversion of Caribbean rhythms on improvised melodies. Over the years the producers of this signal event successfully created a true festival atmosphere, by offering space to concessionaires who offer food, drinks, CDs, musical instruments, festival memorabilia and give-aways. For 2012, the range of festival-related concessions and paraphernalia includes local jewelry, painters/artists, other food caterers, leather craft and musical instruments. Over the past nine years, the event has received glowing reviews in the press and encouraging responses from its many patrons who have been attending in increasing numbers and anticipation is rife that 2012's production will continue in this vein of success.
NOTE: PLEASE PRINT YOUR RECEIPT FOR ONLINE TICKET PURCHASES AND BRING WITH YOU TO THE GATE. NO RECEIPT, NO ENTRY. Tickets purchased online will not be mailed; hardcopies will be available at the gate and will only be released to the purchaser upon the presentation of proper picture ID.
Organizer
Production One Ltd. is a company committed to the top quality production of high-profile concerts and to expanding the audience for jazz, and other live music in Trinidad and Tobago and the wider Caribbean. This will be achieved not by compromising the music but through a dynamic and highly visible marketing strategy and by developing the public's trust through a commitment to quality. In addition to fulfilling the role of a traditional concert promoter, we also specialize in providing opportunities for sponsorship by adding value to events through sophisticated marketing, advertising, design, public relations and production of collateral media.