Description
All guests must be age 21+ with valid identification, there are no exceptions.
Jazz and Gem Stones Penthouse Event
Monday, April 18th 6pm-10pm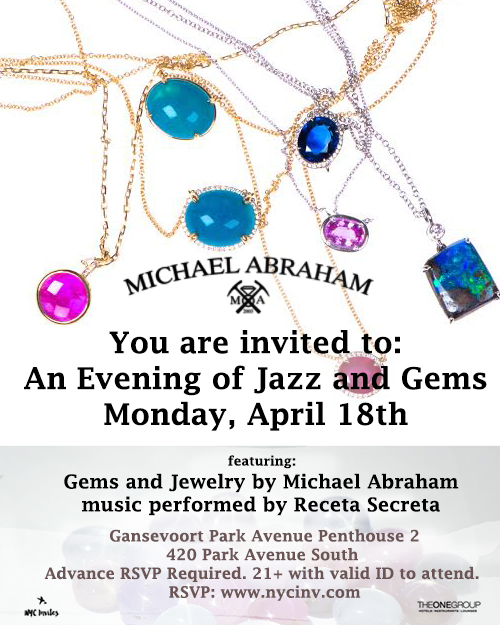 Mingle with Manhattan's most beautiful young professionals for a one evening only Jazz and Gem Stone event with a performance by the Receta Secreta band and Gems and Jewelry presented by international gem stone hunter (and native New Yorker) Michael Abraham for a dynamic skyline event. Admission is complimentary. 21+ to attend. Kindly RSVP.
Doors open at 6pm
Dress code: business / chic
Venue Address:
Gansevoort Park Avenue, Penthouse 2, 420 Park Avenue South
-Penthouse 2 incorporates both indoor lounge space and poolside terrace. Rain or shine this will be a spectacular evening.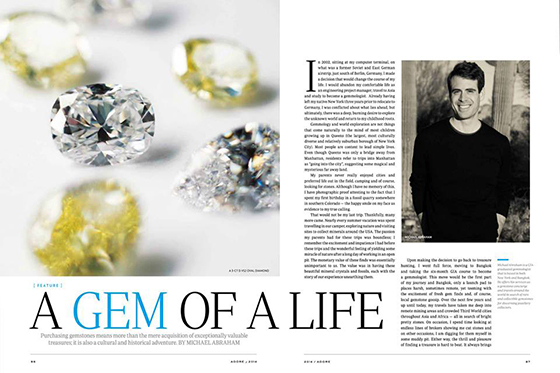 Michael Abraham's background in gems started at an early age. His parents, avid mineral collectors, brought him on their domestic adventures in search of earths treasures. Some of his earliest memories involve helping his parents dig, sift, and break rocks, all for the pursuit of beautiful crystals. His parents collected minerals purely for hobby, but growing up in an environment, with gems and minerals to play with, planted the seed of a future career.
After graduating from NYU –Stern School of business, and then spending a few years working in aerospace in Germany, Michael moved to Bangkok to begin his life in gems. He completed his GIA graduate gemologist (G.G.) in 2003, and then began working with stones. Being in Bangkok, one of the great gem cutting centers in the world, expanded his horizons as to the gems he had learned about.
Since becoming a gemologist, Michael has traveled the world in search of stones for his jewelry collections, private clients, and the wholesale trade. He is currently based in New York, but continues to travel regularly to far flung places around the world, in search of precious gems.
Organizer of Jazz and Gems - NYC Penthouse Event
Exclusive events in NYC  PLUS the causes you care about – right here, in The City you LOVE.
We find, curate, and create exclusive social event experiences: charity galas, rooftop brunches, sunset cocktails and live jazz, fashion events, art gallery openings and more.
We are passionate about bringing together fun, charitable, dynamic people in relaxed settings to connect, exchange ideas, and to share new experiences! Meet and mingle with old friends and new and experience The City you LOVE in new ways!
Membership is currently open and complimentary.  
Join us!  
Copyright 2009-2015