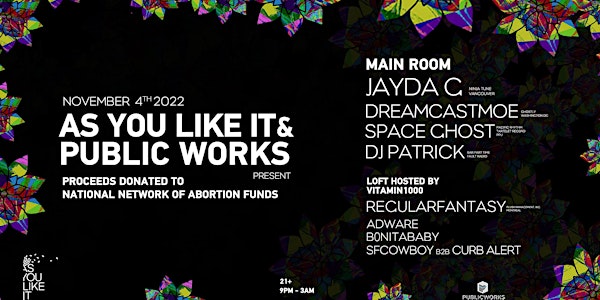 Jayda G, dreamcastmoe and Regularfantasy presented PW and AYLI
Jayda G, dreamcastmoe and Regular Fantasy presented by Public Works and As You Like It
When and where
Location
Public Works 161 Erie Street San Francisco, CA 94103
Performers
Headliners
More Performers
Dreamcastmoe
Regular Fantasy
DJ Patrick
Spaceghost
About this event
Friday, November 4th, 9pm - 3am
Full Space / 21+ / Limited Capacity
LINEUP:
Main Room
➩ Jayda G
➩ dreamcastmoe
➩ DJ Patrick
Loft
➩ Regular Fantasy
Vitamin1000 Artists:
➩ Adware
➩ Curb Alert b2b sfcowboy
➩ b0nitababy
━━━━━━━━━▲━━━━━━━━━
JAYDA G BIO:
Jayda G will release her debut album "Significant Changes" via Ninja Tune on 22 March 2019, having risen steadily through the dance music underground thanks to her infectious energy, vitality, rhythm and boundless enthusiasm. Musically it's a blend of vintage drum machine funk drawing heavily on Chicago's house blueprint – a natural progression from a string of EPs both solo and alongside her friend and mentor DJ Fett Burger (Sex Tags Mania), often appearing on the Freakout Cult label the two ran jointly until 2018 and most recently her newly minted JMG Recordings imprint. She has also recently remixed Little Dragon. Renowned for her high-energy performances as a DJ, the past 12 months have seen her play London's formidable Printworks venue alongside the likes of Marcellus Pittman, Moodymann and Omar-S, be invited by The Black Madonna to play at her Warehouse Project takeover, and Berlin's iconic Panorama Bar, as well as festival appearances at Field Day, Kala, Melt!, AVA and the xx's Night And Day to name a few.
DREAMCASTMOE BIO:
dreamcastmoe is the recording project of singer, songwriter, producer, and DJ Davon Bryant, a lifelong resident of Washington, DC. His music moves freely between moods and modes, hypnotic, romantic, traversing electronic, R&B, funk, soul, and hip-hop -- Resident Advisor dubs it "soulful, cross-genre dance music." This ability to adapt and finesse, to twist in different directions while staying true and coherent in vision, can be traced to his home city and its complex cultural history. "Most black kids in DC don't ever get to this point," he says. "This is what I am making this music for, in the DC tradition of soul and empathy and love that is rooted in this city. My music is for real people dealing with shit every day." A versatile, modern artist and collaborator, dreamcastmoe has thrived in the underground since his first uploads to Soundcloud and Bandcamp in 2017 and subsequent releases with labels like People's Potential Unlimited, Trading Places, and In Real Life Music. Bryant's laid-back personality, emotional honesty, and infectious energy shine through his work and how he talks about it, as Crack Magazine notes in their 2021 Rising feature: "a steady combination of confidence, creativity, and calmness." He grew up playing drums in church; he's worked dead-end jobs, had ups and downs, even sold off all his gear one time, but never stopped reinvesting in himself. He is quick to praise his co-producers, rattle off influences -- the visual feel of NBA 2K, the comedic timing of Bernie Mac, the savvy legacy of Duke Ellington, for starters -- and credit resourceful DC breakouts like Ankhlejohn that showed him the roadmap. His voice, a steady instrument, seemingly connects it all, capable of slow falsetto flow, swaggering talk-rap, and outright croon. His storytelling style is choppy yet fluid, like a mixtape, which is how Bryant sees his new 2-part project, Sound Is Like Water, arriving in 2022 on Ghostly's International's freeform label, Spectral Sound.
REGULAR FANTASY BIO:
Regularfantasy (Olivia Meek) is a multidisciplinary visual and musical artist, producer, DJ and event organizer who's been steadily crafting her signature sound since her first record, Slow Release (2013).
As a trailblazer for women and non-binary DJs in the Vancouver dance music scene, Regularfantasy has made a name for herself at the dawn of the so-called 'Canadian Riviera,' delivering a steady progression of instantly recognizable and lush vocal house productions.
Rising from artist-run spaces and events such as Deep Blue, Sunset Terrace and Dyor – the DIY vibe is at the core of Regularfantasy's sound, experting in a balance of nostalgia and dance floor romance.
Olivia has released on labels Mood Hut, Heart to Heart, Pear, Banoffee Pies, Sisters of Sounds, On Loop, Soothsayer, Specials Worldwide, including several releases on her own label, Plush Records or known as Plush Management Inc., a collaborative project with co-found and producer, D.Tiffany.
━━━━━━━━━▲━━━━━━━━━
When you purchase tickets to this event you'll automatically be signed up for LOCAL 161, our SMS community where you'll get special invites + guestlist + other perks as a thank you for your support. You'll receive about 4 messages per month, message and data rates may apply, and you can text STOP to cancel at any time.