Jaycees Scavenger Hunt

Saturday, March 24, 2012 from 10:30 AM to 3:00 PM (EDT)
Event Details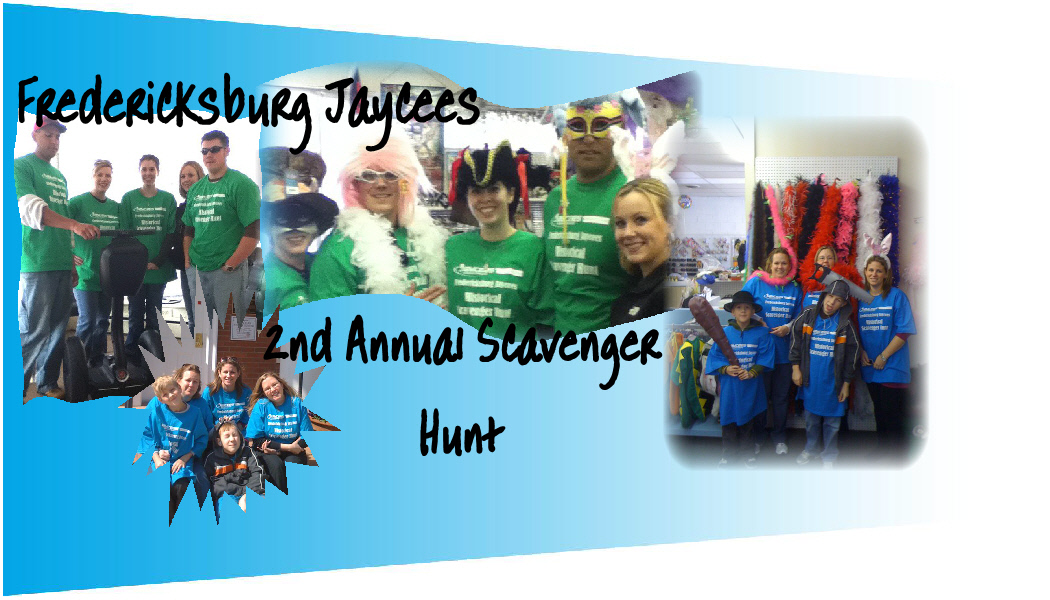 The treasure lies at the end of your journey. 
Join the Fredericksburg Jaycees in their 2nd Annual Scavenger Hunt around the Fredericksburg Area.  Meet us at the Greene Turtle at 10:30 am on Saturday, March 24th in the parking lot for your clues, rules, and t-shirts for your team. 
The hunt will launch promptly at 11 am and end at 2 pm at the Greene Turtle.  There will be prizes for the winning team and a guarantee of 3 hours of fast-paced fun.  One requirement is that you bring a camera to capture proof of your finds!  Not only that, you will have a lifetime of fun photo and memories you can share with your family and friends.
When & Where
1 Towne Centre Boulevard #2100
Fredericksburg, 22407


Saturday, March 24, 2012 from 10:30 AM to 3:00 PM (EDT)
Add to my calendar
Organizer
About Us
Mission Statement
The mission of the Fredericksburg Jaycees is to empower young people. We are a people-development organization that seeks to create positive change in our organization, our community and ourselves. Everything we do must encourage young people to become members and to take full advantage of our world-class fellowship, community service and leadership training opportunities.
Vision Statement
The vision of the Fredericksburg Jaycees is to be the organization of choice for young adults to contribute to the advancement of the global community by providing the opportunity to develop the leadership skills, social responsibility, fellowship and entrepreneurship necessary to create positive change.
The Jaycees Creed
The concepts and beliefs of the Jaycees organization are embodied in the Jaycee Creed, written by C. William Brownfield:
We believe:
That faith in God gives meaning and purpose to human life;
That the brotherhood of man transcends the sovereignty of nations;
That economic justice can best be won by free men through free enterprise;
That government should be of laws rather than of men;
That earth's great treasure lies in human personality;
And that service to humanity is the best work of life.
About Us
We are the Cure for the Common Social Life
The greatest friendships develop in our organization. Whether we meet for drinks and dinner, go tubing down the Rappahannock River, sing karaoke, or catch a movie, this is a good group of people to do it with. From picnicking to black-tie dinners there is something for everyone.
We are a Leadership Development Organization
The Fredericksburg Jaycees builds tomorrow's leaders with the focus on self-growth for our members. The way this is accomplished is through a hands-on approach to running projects that enhance the local members' communities.
We are a Community Service Organization
The Fredericksburg Jaycees offer many programs and ideas that support and benefit the community. The local community dictates where the area of emphasis needs to be focused (i.e. helping disadvantaged youth, food drives, building homes). Our organization provides support and training materials so that the programs can run effectively.