Jayanthi Kumaresh Veena Concert

Saturday, April 13, 2019 from 4:30 PM to 7:00 PM (EDT)
Event Details
Sruti is proud to present a Carnatic Veena Concert by Jayanthi Kumaresh, accompanied by Jayachandra Rao on the Mridangam and  Pramath Kiran on Tabla
About Jayanthi Kumaresh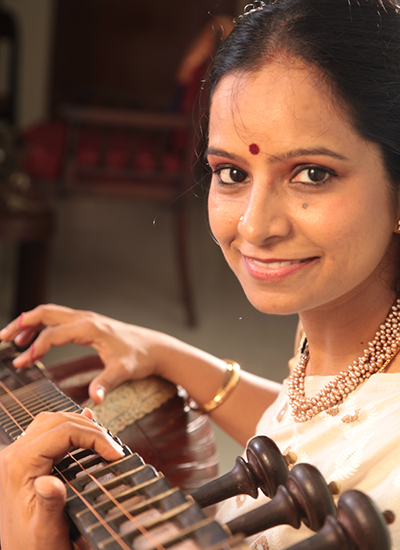 Dr. Jayanthi Kumaresh is India's torch bearer worldwide for Saraswati Veena, the National Instrument of India. An artiste, collaborator, composer, researcher, creator, pioneer, and educator – Dr. Jayanthi's life achievements over 30 years, truly embodies the rich musical heritage of India – making her one of the legendary Veena masters that India has ever produced.
A sixth generation musician, she began playing the Veena since age of 3 and is one of the youngest veena artistes to receive the A-TOP grading, the highest from All India Radio.
Apart from several prestigious venues and festivals in India, Jayanthi has performed at several international festivals such as San Francisco Jazz Festival, Darbar festival, Queensland Music Festival, Darwin Music Festival, Adelaide Music Festival and at prestigious venues such as U.N, New York, Palladium, Indiana, Theatre de la Ville, Paris, Northwest folklife festival, Seattle.
She has received many awards in India including "Sangeetha Choodamani", "Kalaimamani" by the Government of Tamil Nadu, "Veena Naada Mani", "Kala Ratna", "Sathyashree", "Gaana Varidhi", is a seven-time recipient of The Music Academy, Chennai's "Award for Veena" to name a few.
A collaborator, she has performed with legends such as Tabla Ustad Zakir Hussain, Violin Maestro Shri. R. Kumaresh and has presented the Saraswathi Veena with the British Philharmonia at Royal Festival Hall, London.
Her innovations in her field are immense. For the first time, one artiste and one instrument created a symphonic effect with seven different Veena layers coming together meaningfully (without any other instrument), Jayanthi's much acclaimed album "Mysterious Duality" is a path breaker.
A pioneer, Dr. Jayanthi is the founder of the Indian National Orchestra(INO) that features 21 star musicians from all over India, in a first of its kind National Orchestra for Indian classical music.
A researcher, she holds a Doctorate for her work on "styles and playing techniques of the Saraswati veena" and conducts workshops and lecture demonstrations around the world.
She has composed for many musicals and dance productions. Her Thillanas, Varnams and Raga based melodies have been featured in many of her albums.
Jayanthi has recorded for world renowned Labels such as Times Music, Music Today, Sa re ga ma, Sense World and Home Records.
The niece of Violin Legend Sri Lalgudi Jayaraman, Jayanthi attributes what she is today to her maternal aunt and guru, Smt.Padmavathy Ananthagopalan, whose training helped Jayanthi evolve as an artiste. Her mother Smt. Lalgudi Rajalakshmi first introduced her to music and she is also fortunate to have trained later under Veena Virtuoso Dr. S. Balachander.
Blending the traditional and the innovative in her music in terms of content, technique, virtuosity and expression, Jayanthi seeks to express the true voice of the veena, which transcends the boundaries of language and region.
About Jayachandra Rao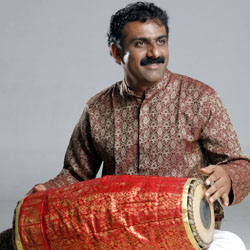 A unique pearl explored in the deep oceans of musical art. An expressive artist who dedicated his life to the world of rhythm is Mridangam Vidwan Sri K. U. Jayachandra Rao. He is a person of fine aesthetics and precision. His devotion to the art and persistence towards perfection has taken him to the posse of elegant artists. His poise attitude and electrifying magic on stage mesmerizes his audience. It seems like rhythm resides over his palms. Jayachandra Rao, a Master's degree holder in M.Sc. (Bio Science), hails from a family of musicians. His father, Prof. K. Raghavendra Rao, is an accomplished flautist and his mother K. R. Prema Rao is a violinist. Jayachandra started learning Mridangam at the age of 5 under Vidwan Trichur E. P. Narayan Pisharady and later received advanced training under the tutelage of Palakkad T. R. Rajamani, son of legendary Mridangam Maestro Palakkad T. S. Mani Iyer. He has learnt flute from his father and is working towards achieving a higher melodic virtuosity. Jayachandra's wife Kanchana S. Shriranjani is a well known classical singer.
 About Pramath Kiran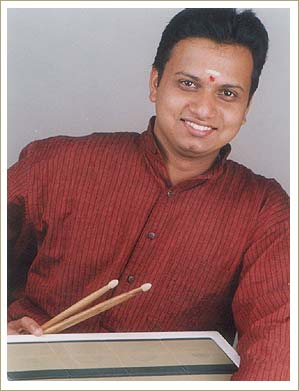 Pramath Kiran a well know percussionist from South of India hails from a family of artconnoisseurs .His musical carrier took off at a very young age , getting trained in Indian Classical music.
Pramath learnt Tabla ( Hindustani classical music ) under great tabla maestro Pt. UdayrajKapoor . Later he was trained by Vidwan . Anoor Ananthakrishna Sharma who blessedhim with art of playing Morching ( Jaws harp ) in traditional Carnatic style .Pramath Kiran is know for his traditional and intricate style of playing these instrumentswith a blend of modern accompaniment techniques.
He extended his musical horizons in world music endeavours by playing several worldpercussions like Djembe , Congas and Cajon in there respective traditional styles.Pramath became the foremost artist from south india to introduce Afro cubanpercussions and rhythm structures into traditional Carnatic style.Pramath Kiran has collaborated with several world renowned artists like Dr. M.Balamuralikrishna , Violin Maestro Dr. L Subramaniyam , Santoor Maestro Pt.Shivkumar Sharma and Pt . Rahul Sharma ,Violin Duo Ganesh Kumaresh , ChitraveenaRavikiran ,Violin Maestros Mysore Nagraj and Dr.Manjunath , Pt . Purbayan Chatterji,Veena Maestro Dr. Jayanthi Kumaresh , Shankar Mahadevanji , Hariharanji , VijayPrakash , Pt.Yogesh Samshi , Pt.Shubhankar Bannerji to name a few in severalmusicfestivals across India and globally.As a sort after percussionist Pramath has worked as a session artist in scoring film musicwith several south indian music directors like Hamsaleskha , Upendra Kumar , PraveenD Rao , Gurukiran , Anup Selen to name a few as a rhythm programmer and livepercussion composer.Pramath Kiran is the founder member of LAYATHARANGA , one of India's top worldmusic bands featuring Indian and world percussion.
He is also part of Cakrafonics , which features Kannada poetry in south asiancontemporary music.These bands have produced many singles and albums which are very popular amongstthe youth .Laya Digi ( Music recording studio ) is the brain child of Pramath . It is one ofBangalore's biggest facilities in live recordings and post production.He has performed and recorded with several Jazz musicians like Louis Pragasam( Malaysia ), Spinifex Orchestra ( Holland ), Amit Heri , Asaf Rabi ( Israel ) , LeszekHefi ( Poland ), Bartek ( Poland ) , Keith Peters , Gino Banks , Ossam Essaldin ( USA ) ,Gorge brooks ( USA ) , Polish Philharmonic Orchestra ( Slopsk, Poland )to name a few.
He has toured several countries like UK , USA , Australia , Poland , Germany,Netherlands , Luxembourg , Denmark , Norway , France , Switzerland , Singapore ,Malaysia , Middle East and many more .
When & Where

Community Music School
775 W Main St, Trappe, PA 19426
Trappe, PA 19426


Saturday, April 13, 2019 from 4:30 PM to 7:00 PM (EDT)
Add to my calendar
Organizer
Click here to subscribe to our text messages.
SRUTI The India Music and Dance Society is a non-profit 501(C)(3) organization based in the Philadelphia region and founded in 1986. Sruti's principal mission is to promote and present Indian classical music and dance. In addition, SRUTI seeks to educate the Philadelphia community at large about Indian arts.