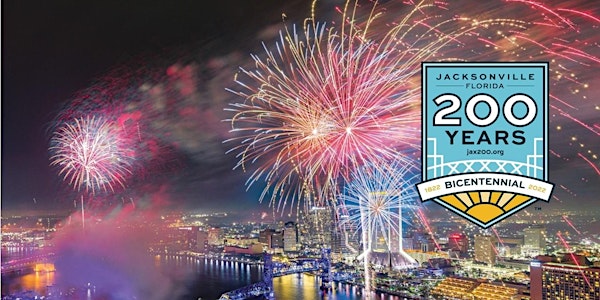 Jax200 - Jacksonville Florida Bicentennial Celebration
Location
Downtown
135 W Monroe Street
Jacksonville, FL 32202
Bicentennial Street Festival & Fireworks
About this event
A city only gets one bicentennial. Jacksonville deserves a moment to reflect on its first 200 years and look ahead to the next 200.
Laura Street Live! Noon to 5 p.m. Performances and other family-friendly programming in James Weldon Johnson Park, including performances by John Lumpkin Jazz band, LPT Afro-Cubano salsa band, Jacksonville Children's Chorus and more; exhibits, booths, vendors, food trucks, historical re-enactors, Children's Art Wall, historic tours, and more along Laura Street
3 p.m. Opening Ceremony with performance by Jacksonville Children's Chorus, reading of original charter, reading of Mayoral Proclamation and more
4:15 p.m. Parade from James Weldon Johnson Park down Laura Street to Riverfront Plaza
5 p.m. Live Music, Multiple Bands: Let's Ride Brass Band; The Honey Hounds; Love and Theft For a VIP concert experience (tented front of stage seating, food, bar, performer meet and greet), go to jax200.org/events/.
9:04 p.m. Headliner Band: Flipturn
10:15 p.m. Fireworks Display
Sponsors include The City of Jacksonville, the Cultural Council of Greater Jacksonville, Downtown Investment Authority, Downtown Vision Inc., JAX Chamber, Northern Trust, Suddath, Perdue, North Florida Sales, Republic National Distribution Company, Marks Gray PA, Wingard, Haskell, AdLib Tours, Farah and Farah, Wells Fargo, Erik Wahl Artist, VyStar Credit Union. Participating arts organizations include the Jacksonville Arts Guild, The Art Center Cooperative, Jacksonville Public Library, Cummer Museum of Art & Gardens, Museum of Contemporary Art, Duval County Public Schools