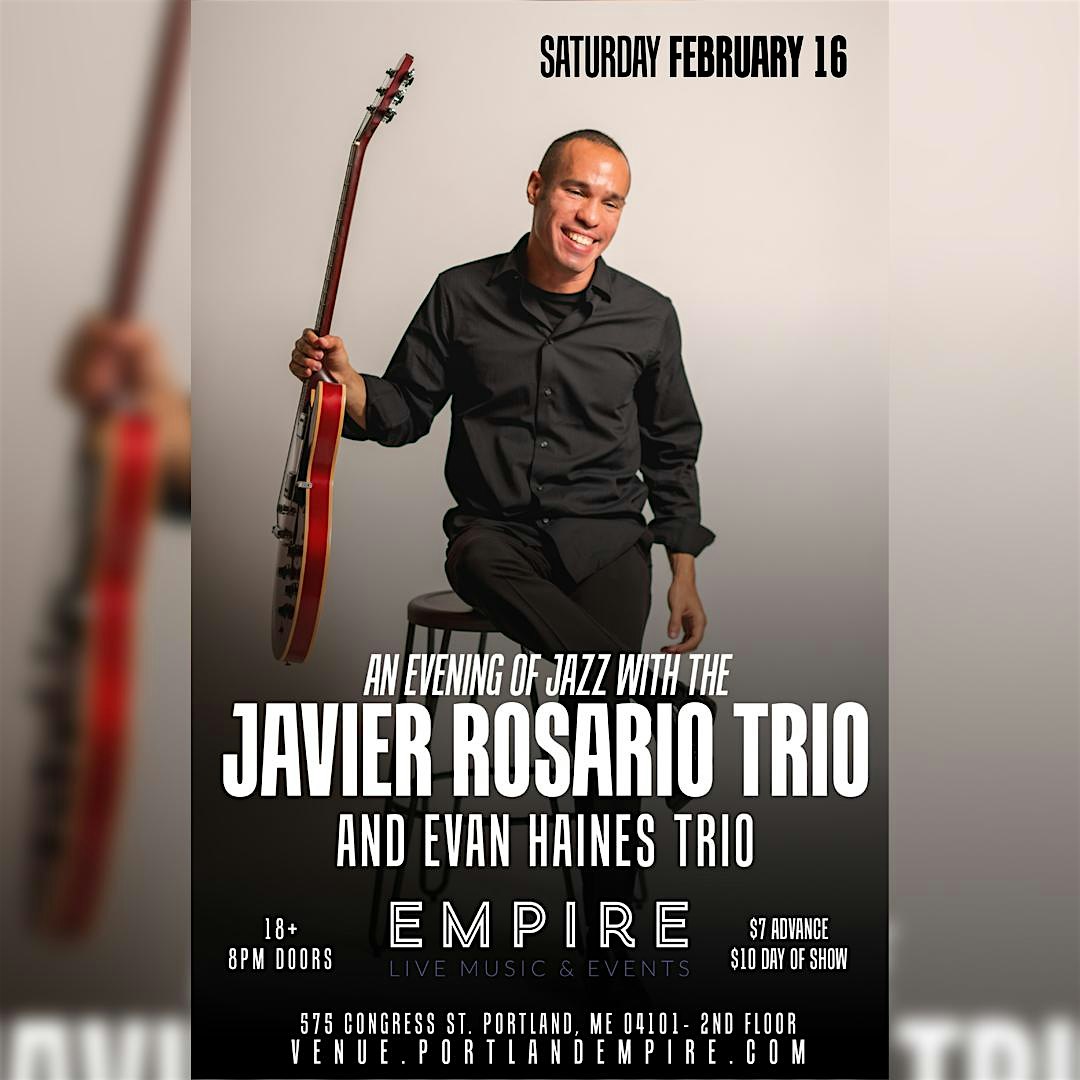 About this Event
Javier Rosario Trio
Virtuoso guitarist, Javier Rosario is the first ever
Michel Camilo Scholarship winner. The scholarship was an initiative of
the Dominican born, Grammy Award winning pianist. It has been the
first scholarship of its kind in the history of the Dominican
Republic, where Javier was born in Santo Domingo. In 2006, Javier
attended Berklee College of Music under the full scholarship,
graduating with the highest ratings ever given to a guitarist. In
2009, he performed at the Berklee Jazz and Blues Guitar Night: a
concert which only featured the very top players of the entire school.
In 2010, Javier decided to further his studies at the Longy School of
Music of Bard College with a Master's degree. There he was
acknowledged by his guitar teachers as possibly the highest level
guitarist ever to enter the jazz program.
Among some of the musicians Javier has performed with are: Joe Lovano,
John Lockwood, Matt Savage and Vardan Ovsepian, Jeff Galindo and Phil
Grenadier. Javier is one of only a few Dominicans who have performed
at the world famous Blue Note jazz club in NYC as part of their
Emerging Jazz Series. He has also performed at the Casa de Teatro Jazz
Festival, A-Town Jazz Festival, Strand Theater, Massachusetts' State
House, St. Botolph Club, Berklee Performance Center, Beehive and Beat
Hotel jazz clubs. Currently, he is a faculty member at Community Music
Center of Boston and The Learning Project. He is also a traveling
performer and recording artist.
https://www.javierrosarioguitar.com/
Evan Haines Trio
Evan Haines is a multifaceted guitar player based in the northeast. Since he was 10 years old, his unique approach to playing and composing has led him to many fantastic places performing in venues around the country as well as recording in studios in Nashville and New York. Evan has performed with Sarah McLachlan, Sir James Galway, John Popper, Lisa Fischer, Matthew Morrison, Loreena McKennitt, Hayley Westenra, Pete Kilpatrick, Lexi James, Tim Janis, Chuck Winfield, and many others. Currently focused on his solo works, he is constantly evolving and developing his craft, exploring new sounds and textures in his home studio. His latest release, recorded in Portland, Maine, explores the world of western film music and, using traditional instrumentation, weaves a tapestry of cinematic beauty that will leave you feeling transported.