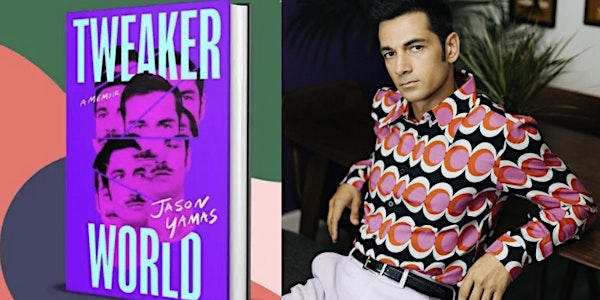 Jason Yamas with his gay memoir Tweakerworld
Tweakerworld is a journey into the sprawling ParTy n' 'Play (PnP) subculture of the Bay Area's gay community.
Date and time
Friday, June 30 · 7 - 10pm PDT
Location
Fabulosa Books 489 Castro Street San Francisco, CA 94114
About this event
After Jason's world falls apart in LA, he moves to Berkeley for a fresh start with his kid brother. Just one problem: his long-closeted Adderall addiction has exploded into an out-of-control crystal meth binge. Within weeks, Jason plunges into the sprawling ParTy n' 'Play (PnP) subculture of the Bay Area's gay community. It is a wildly decadent scene of drugs, group sex, and criminals, and yet it is also filled with surprising characters, people who are continually subverting Jason's own presumptions of the stereotypical tweaker.
Soon Jason becomes a dealer on the pretense of researching this tweaker world for a project that will carry him, like a life raft, back to the shores of a normal life. But his friendly entrepreneurial spirit and trusting disposition disarm clients and rival dealers alike. The money begins to roll in as demand increases to frightening levels. Suddenly, Jason is in control of the entire crystal meth market for San Francisco's gay community, even as he finds himself nodding off behind the wheel of his car, or walking down the sidewalk. As friends and family work frantically to steer him towards recovery, Jason resists, chasing something else: a sleepless nirvana fueled by sex, drugs, and the Tweakerworld.
Jason Yamas is a queer writer producer, director, and actor. With the publication of Tweakerworld, he intends to shine a bright light on the worsening epidemic of crystal meth in the LGBTQ+ community. He holds a BFA from NYU's Tisch School of the Arts and is currently working on his first novel. You can find him on Instagram @jasonyamas. He lives in Los Angeles and is represented by Laura Usselman at Stuart Krichevsky Literary Agency.
About the organizer
Our author readings are free to attend, and all of our events are fun social experiences, where you'll meet sweet smart folks.