Description
Do you want to live a life of abundance and freedom?
Join Jason Silva on October 17th to explore the nature of our current reality through Wonder and Awe! Create Abundance in your life by tapping into flow states, exploring cutting edge technologies of ecstasy and creation, and connect with the global community of seekers!
___________________________________________________
We live in an era in which humanity never experience this level of technological capabilities or possibilities…
We live in an era of humanity that has never seen this level of prosperity…
We live in an era of humanity that has never seen such an abundance of opportunity…
Yet, never in recorded history have people been less joyful, less optimistic and more anxious than they are right now.
Let's flip the script and live into the world of abundance around us!
___________________________________________________
If you are a seeker looking to experience the fullest life, access the future through technology already available to you, and continuously grow by reaching inside then you MUST join Jason Silva and learn how to
~ Improve your productivity, creativity and wellbeing through AWE & Wonder
~ Tap into your flow state to innovate and create YOUR Life
~ Be more confident and attract aligned and empowering people into your life
___________________________________________________
About Jason Silva: Hack your Reality in Kelowna
This unprecedented live experience by Emmy-nominated and world renowned storyteller, filmmaker, speaker and futurist Jason Silva helps conscious change-makers create abundance in their lives by hacking their reality to experience an ecstatic existence in new and liberating ways.
Come connect with a larger community of like-minded people seeking freedom, purpose and a life of abundance.
Learn practical ways in which cutting-edge, exponential technologies and society of the future is already available to you.
Improve your productivity, creativity, and well-being through awe, wonder, and tapping into your flow state to innovate and create your life.
___________________________________________________
AGENDA:
11AM-Noon: ~ VIP Registration
Noon - 1:30PM ~ Lunch with Jason Silva (VIP Ticket Holders)
12:45-1:15PM ~ Regular Ticket Holder registration
1:30PM ~ Jason Silva Welcoming Address
2:00PM - 2:40PM ~ Chantelle Adams: The Power of Storytelling + Courage to Ignite a Movement
2:40PM - 3:00PM ~ Meytiwee: Scorpion in my Bed
3-3:45PM: Constance Kellogg ~ The AWE to be found within the body
4-4:45PM Dr. Mark Holder ~ The Science of Happiness
5:00PM - 6:00PM ~ Hack your Reality with Jason Silva
6:00pm - 6:30PM ~ Questions and Answers
6:30pm - 7:30PM ~ VIP Meet & Greet with Jason Silva
___________________________________________________
SPEAKERS:
Chantelle Adams
Chantelle Adams is a Professional Speaker, Speech Stylist and Courage Igniter. Throughout the past 5 years she has delivered over 800 speeches and added more than 6 figures to her business through speaking. Now she teaches heart centred, change-makers how to turn their message into a movement to make a massive impact in the world.
Chantelle is also all about helping women get their brave on in life and biz. She definitely walks her talk as she has been crossing her fears off her fear list over the last 5 years including, jumping out of an airplane and falling 10,000 feet to raise $10,000 to build a school in Nicaragua while getting 60 change makers to co-author a book, The Courage to Fly, and share their stories of courage with the world. She has started her global movement, The Courage Collective, with over 100 collective circle leaders in more than 6 countries from around the world who are all leading, living and loving courageously. And she has founded the Day of Courage where she is dedicated to having 1 million fears faced, 1 million stories of courage shared and $1 million donated to charities. You can join her in getting your brave on at: www.chantelleadams.com or www.thedayofcourage.com
The Power of Storytelling + Courage to Ignite a Movement
Chantelle will dive into the power of story and help you to find the golden threads that lead you to the work and impact you are meant to create in the world. She will help you move beyond fear and turn your message into a movement that leads to aligned action + aligned abundance. She will give you the keys to live, love and lead courageously while creating a massive positive change in the world all through the power of your story and being courageous enough to share it!
Meytiwee
Meytiwee is a healer, teacher, published writer and international speaker. Her profound background as Eckhart Tolle's private assistant and consultant to Mooji, assisted her in all that she offers. Meytiwee's extended time living as a monk-nun at a jungle temple, in Northern Thailand, enriched her wisdom to blend the Eastern knowledge with the Western lifestyle. Meytiwee's Art of Healing is offered through Light, Sound and Movement Therapies. She has a meditation centre in downtown Kelowna called "Sahaja Blessings".
Meytiwee will be giving an inspirational talk titled the Scorpion in my Bed

Constance Kellogg
We're excited to present Constance Kellogg, founder and publisher of Namaste Publishing (The Power of Now, Stillness Speaks and A New Earth) as an AWE inspiring speaker for this event.
Constance met Eckhart Tolle in 1997 and at her invitation to him he led her and 8-10 others in Inner Body Meditation for over a year. This "sacred sitting", which she calls it, started well before Eckhart asked her to be his publisher. Constance agreed and the result is that The Power of Now, Stillness Speaks, and A New Earth came into being and spread widely across our planet.
Constance has an extensive background in teaching, facilitation, and speaking. Over the past 20 years as Founder and Publisher of Namaste Publishing, she has introduced a wide range of spiritual books to the world. She brings to her own highly experiential approach to Inner Body Meditation a 20-year background with three spiritual teachers: Eckhart Tolle, Barry Long (deceased) and Joel Goldsmith (deceased).
Of these three, her "root" teacher for inner body meditation is Eckhart Tolle. Constance's 45 minute presentation from 3-3:45PM with be:
"The AWE To Be Found Within the Body"
When we come to realize the powerful and loving intelligence that we hold within our body, we can truly only be in AWE. Through putting our focused attention inside the body, we can ignite the consciousness that is already within it. When we come to experience through Innerbody Meditation that the body is our portal to returning to our true divine nature, we can only fall into gratitude.
This Keynote will introduce the Awe to be found within the body and attendees will be facilitated through an initial experience of igniting the consciousness within it.
Dr. Mark Holder
Dr. Holder earned his Ph.D. at the University of California at Berkeley. He then completed his postdoctoral training at the Brain Research Institute at UCLA where he conducted brain transplants to reverse impairments caused by brain injuries. As a professor at Memorial University of Newfoundland, he studied how natural chemicals, 200 times the strength of heroin, were released when people ate chocolate chip cookies. During this time he worked as a Biological Consultant with the NutraSweet Company to determine whether aspartame is safe for pregnant mothers and their offspring. He also spent a research sabbatical at the University of Hawaii swimming with dolphins in studies of their language and creativity.
Dr. Holder is now an Associate Professor at the University of British Columbia where he studies the science of happiness. He leads a research team that is identifying factors that contribute to happiness in children (e.g., temperament, social relationships, spirituality and religion) in Canada, India and Zambia. His team is also investigating strategies to enhance happiness in children and adults, and the links between personality disorders (e.g., psychopathy) and happiness.
Dr. Holder is an award winning teacher and researcher. He recently gave a TEDx talk entitled "Three Words that will Change your Life". He regularly gives keynote addresses and workshops on happiness in the workplace and in one's personal life. Dr. Holder frequently appears on television and radio, his research has been featured in prominent international newspapers and magazines from four continents, and he has published over 70 papers including two recent books on positive well-being.

Dr Mark Holder's presentation: THE SCIENCE OF HAPPINESS
Medicine and psychology have traditionally focused on dysfunction and illness (i.e., what is wrong with you and how do we fix it). Recently, science has placed an increased emphasis on positive well-being (i.e., what is right with you and how do we promote it). Join Dr. Mark Holder as he outlines his research, and the research of his colleagues, on evidence based ways that work (and don't work) to increase long-term happiness. Share a laugh while learning scientifically proven methods to increase your happiness and the happiness of your friends, colleagues, students and family.
So, if you've ever questioned the nature of reality or wondered about how to hack your thoughts so that they serve you to become the best version of yourself, then we invite you to join Jason Silva and your tribe in Kelowna on October 17th.

Where: Summerhill Pyriamid Winery
Who: You and other flow seekers from around North America.
Summerhill Winery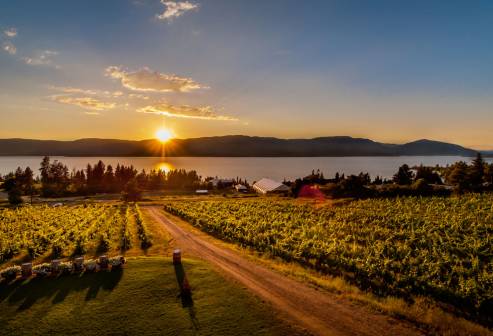 No refunds. Seats are first come first served in each section.