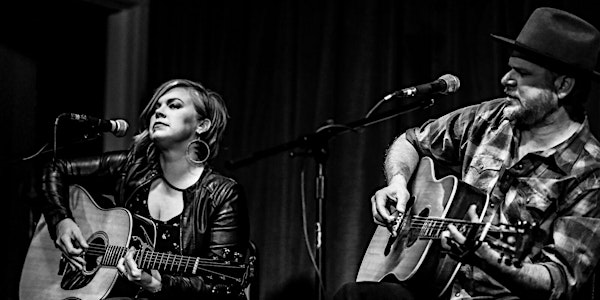 Jason Eady & Courtney Patton
Presented by The Crimson Moon
Sales Have Ended
Ticket sales have ended
Thanks for your purchase and continued support of live music. When you purchase seats to a show your table has a dinner reservation time assigned that begins before the concert time. We ask that patrons please arrive at the dinner reservation time if they would like to dine at the concert. This prevents people from having to talk loudly over the music to order food once the concert has begun. Dinner reservation times can be found on your ticket. Once the show begins only appetizers and desserts will be available
Event Information
Performers
Jason Eady
Courtney Patton
Location
The Crimson Moon
24 Park Street North
Dahlonega, GA 30533
Sales Have Ended
Ticket sales have ended
Thanks for your purchase and continued support of live music. When you purchase seats to a show your table has a dinner reservation time assigned that begins before the concert time. We ask that patrons please arrive at the dinner reservation time if they would like to dine at the concert. This prevents people from having to talk loudly over the music to order food once the concert has begun. Dinner reservation times can be found on your ticket. Once the show begins only appetizers and desserts will be available
A must for Texas country fans!! Jason and Courtney are amazing as solo acts but together a true powerhouse of country songwriting.
About this event
Since the 2005 release of his debut album, Mississippi-bred singer/guitarist Jason Eady has brought a rare balance of unguarded honesty and poetic sophistication to his songwriting. With his catalog spanning from blues-infused Americana to bare-bones remaining of classic country, Eady's seventh full-length takes on a looser, livelier, more groove-driven sound than ever before.
But while I Travel On brims with a feel-good spontaneity, the Fort Worth-based artist continues to instill each song with the subtle insight and emotional depth that makes his music so powerful.
The follow-up to his 2017 self-titled effort, I Travel On marks the first time that Eady's recorded an album with his road band—a lineup whose rhythm section is made up of musicians from an R&B/roots background, and whose lead players hail from the bluegrass world. With Grammy Award-nominated duo Rob Ickes and Trey Hensley joining them in the studio, I Travel On wholly captures the unbridled energy and kinetic camaraderie that the band's recently displayed in their relentless touring and in sharing stages with the likes of Sturgill Simpson.
Courtney Patton is a storyteller.
She's also a mother, a wife, a producer, a singer, a songwriter, a tour-van driver and a musician- as well as a world-traveler when she's out on tour throughout the continental U.S., Canada and Europe. But to anyone lucky enough to be sitting in the audience while listening to her expansive Texas twang belt out her version of deep and soulful country music, she's a storyteller. In a musical era in which clichés and bravado are mistaken for bold noteworthiness, there is something far more brave in peeling back highly personal and emotional open-book songs and delivering them with sensitivity and sentiment. Patton does just that. She is the consummate storyteller in her music. Heartache isn't just described, it is tangibly felt.
Following her previous solo albums, Triggering a Flood (2013) and So This Is Life (2015), and her acoustic collaborative project with her husband and fellow Texas troubadour Jason Eady, Something Together, (2017), Patton has drawn on true life day-to-day autobiographical life experiences and released her third album, What It's Like To Fly Alone, earlier this year.
She's shared the stage with leading lights of the country-folk scene including Walt Wilkins, Bruce Robison, Jamie Lin Wilson, Cody Jinks, Sunny Sweeney, Brennen Leigh and Drew Kennedy. Musicians on her latest project include musical talents such as Chip Bricker, piano player with Gene Watson's highly acclaimed Farewell Party Band, Austin City Limits Hall Of Fame member Lloyd Maines on pedal steel, Heather Stalling (wife of Texas troubadour Max Stalling) on fiddle, and Jamie Lin Wilson (The Trishas) and Dan Tyminski (Alison Krauss & Union Station) on background vocals.
Performers
Jason Eady
Courtney Patton
Date and time
Location
The Crimson Moon
24 Park Street North
Dahlonega, GA 30533
Refund policy