Jason Calacanis Founder Office Hours
About this event
Office Hours is a 1:1 session where 7 founders will have the opportunity to share their most difficult challenges and brainstorm how to solve that problem with Jason Calacanis in front of a live audience.
Typically these sessions are reserved for Jason's portfolio companies only, but he has decided to open it up to the public.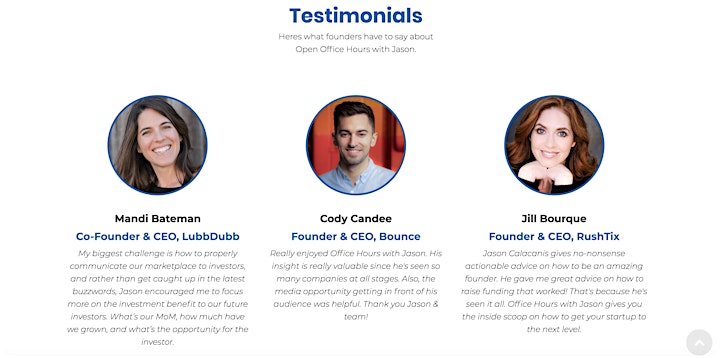 Date: Wednesday, March 4th
Time: 9:30am-12:00pm
Where: Shell Auditorium | McNair Hall, Rice University
**Please Note: Address for GPS directions: 1900 Rice Boulevard, Houston, TX 77005.
AGENDA:
9:00am-9:30am | Registration
9:30am-9:35am | Welcoming Remarks, Harvin Moore, President of HX
9:35am-9:40am | Nathan Shull, Director of KPMG US Welcomes Jason Calacanis
9:40am-10:00am | Jason Calacanis Opening Remarks
10:00am-10:10am | Topper Luciani, CEO and Founder of Goodfair
10:10am-10:20am | Katharine Forth, CEO and Founder of Zibrio
10:20am-10:30am | Amy Gross, Founder and CEO, VineSleuth Inc
10:30am-10:40am | Panos Moutafis, CEO and Co-founder, Zenus
10:40am-10:50am | Safir Ali, Co-founder and CEO of Hamper
10:50am-11:00am | Dyan Gibbens, Founder and CEO, Trumbull Unmanned
`11:00am- 11:10am | Ksenia Yudina, Founder and CEO, UNest
11:10am- 11:15am | Closing Remarks, Harvin Moore, President of HX
11:15am-12:00pm | Networking
MORE ON JASON CALACANIS
Jason Calacanis is a technology entrepreneur, angel investor, and the host of the popular podcasts This Week in Startups and Angel. As a "scout" for top Silicon Valley venture capital firm Sequoia Capital and later as an angel investor, Jason has invested in 200+ early-stage startups including 7 "unicorns" (billion-dollar valuations). His book "Angel: How to Invest in Technology Startups: Timeless Advice from an Angel Investor Who Turned $100,000 into $100,000,000" was published by HarperCollins in July 2017. He lives in San Francisco, California.
MORE ON THE HOUSTON TECH RODEO
We are excited to share with you #HTXTechRodeo! Houston Exponential is here to corral multiple events to spur innovation & tech in Houston, TX. There will be activations across the city to multiple segments inside the tech ecosystem.
Each day we will highlight themes such as Founders Roundup, Angel 101, Tech Talent, and Women in Tech. Sunday, March 8th is International Women's Day, and we will be celebrating it with events focused on women throughout the week! A unique opportunity to access all things Houston and Tech.
DIRECTIONS/PARKING
From U.S. 59
From Rice Boulevard, take Entrance 20 and turn right at the second stop sign, Laboratory Road; McNair Hall will be on your left
The entrance to the Central Campus Parking Garage will be on your left at the end of McNair Hall
Proceed to Main Level
From University Boulevard
Take Entrance 8 and turn left at the James A. Baker Institute for Public Policy
Turn left at the next intersection
McNair Hall will be on your left
You will see the entrance to the Central Campus Parking Garage on your left at the end of McNair Hall
Proceed to Main Level
Parking Rate: $6/hour - $12/day maximum
Campus maps are available at: http://www.rice.edu/maps/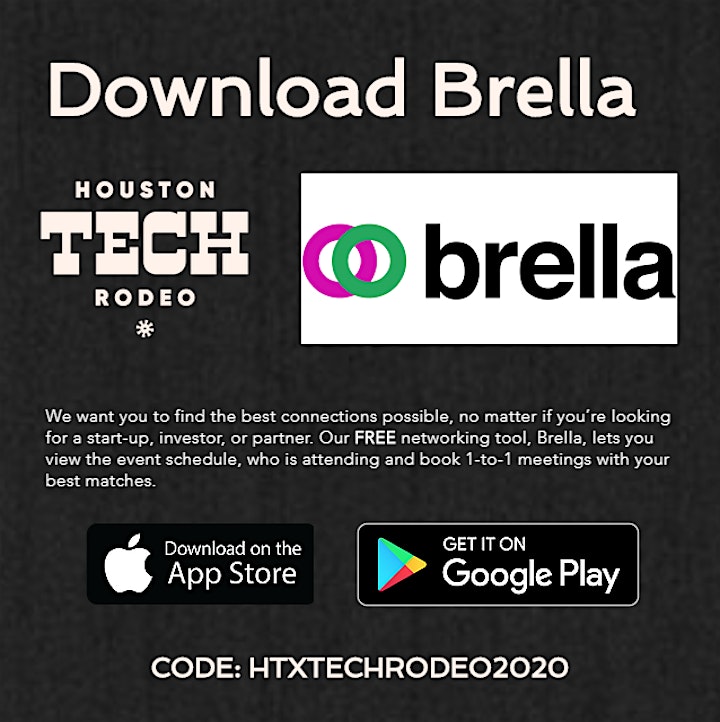 SIGN-UP FOR BRELLA FOR THE BEST POSSIBLE NETWORKING EXPEREINCE AT THE FULL HOUSTON TECH RODEO!
We want you to find the best connections possible, no matter if you're looking for a start-up, investor, or partner. Our networking tool, Brella, lets you view the event schedule, who is attending and book 1-to-1 meetings with your best matches.
1. Sign in to the community by CLICKING HERE and use our code HTXTECHRODEO2020 join us. Complete your profile, select your interests, write a catchy pitch and you're in!
2. Brella's unique matchmaking algorithm will suggest the most relevant connections based on your interests. Booking at least five meetings is a good start!
3. Download the App from the App Store or Google Play.
You'll be assigned a meeting spot once your meeting is accepted. A map of the venue and the networking area can be found in the info tab.
We hope you make the most out of this possibility! If you have any questions about Brella, please contact support@brella.io


Organizer of Jason Calacanis Founder Office Hours