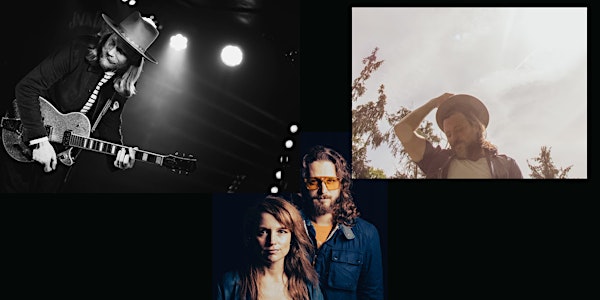 Jarrod Dickenson / Chris Kasper / Electric Blue Yonder
Jarrod Dickenson / Chris Kasper / Electric Blue Yonder
Date and time
Starts on Wednesday, April 19 · 7:30pm EDT.
Location
The Evening Muse 3227 N. Davidson Street Charlotte, NC 28205
Performers
Headliners
Jarrod Dickenson
Chris Kasper
Electric Blue Yonder
About this event
2 hours 30 minutes

ALL AGES

Mobile eTicket
Storytelling is something of a Texas tradition. Tall hats and even taller tales are woven into the fabric of The Lone Star State, and singer-songwriter Jarrod Dickenson can spin a yarn with the best of them. Hailing from Waco, now based in Nashville via Brooklyn, Dickenson spends most of his time on the road bringing his own particular brand of soulful Americana to a wide variety of music loving audiences around the globe.
"His songs carry an independent spirit and grit... a hard-bitten, yet romantic eye that seems bred into Lone Star Songwriters" -Q Magazine
"Jarrod Dickenson's rootsy, broad-ranged Americana draws deeply from tradition while forging all-new sounds." - PopMatters
"His deep, emotional, often luxurious voice envelops songs of love and loss, enticing you into these stories." - American Songwriter
Facebook | Spotify | Instagram
***********
Chris Kasper's newest record, Holysmoke, is a treasure chest unto itself. It's got groove, guts & grace, and is worth its weight in gold. The patchwork of genres that Kasper effortlessly weaves together reveals an even deeper dive into varied influences from rock n' roll and dreamy pop, to junkyard blues and country-folk.
And it all began by the ocean.
In a rented seaside motel, Kasper recalls, "There were these three clocks in the room, all ticking out of time. Before it drove me mad and I had to take out all the batteries, there was a rhythm & a beat that became the base for a melody which I later wrote lyrics for." Others were poems-turned-songs. Some tunes came by way of Nashville dive bars, and more arose in a camper van traveling across West Texas. He eventually made it back to a countryside home outside of Philadelphia and started on production.
Holysmoke has been a long time coming. Although complete, the whole world took a pause during the pandemic, and so it was kept at a low simmer for the sake of the song.
It completes a trilogy, of sorts, with previous releases Bagabones (2012), and O, The Fool (2016). As the final star in a constellation that's bound by lyrical prowess, deep-rooted rhythms, and artful arrangements of strings and melodies, this album shines bright.
If we're living in the land of milk & honey, Chris Kasper's music is an island of coffee & weed!
And at a moment when fresh, timeless art is needed more than ever, his work fills the cup & soothes the soul.
Facebook | Spotify | Instagram
********
A traveling troupe of intrepid space folk explorers, Electric Blue Yonder (EBY) examines the mysteries of the universe and reports their findings through song. Described as "Real American Space Folk," the band draws its inspiration from the psychedelic folk, surf, and cosmic country rock of the 60s and the Space Age prog/art rock explorations of David Bowie and Pink Floyd, all while shifting time to the early roots and parlour style guitar of the 20th century
About the organizer
**IMPORTANT UPDATED COVID POLICY
"WE ASK ALL EVENING MUSE PATRONS TO FOLLOW THE CURRENT CDC GUIDELINES WHEN ATTENDING AN EVENT HERE AT THE MUSE.
IF YOU WERE EXPOSED TO COVID-19 AND ARE NOT UP TO DATE ON COVID-19 VACCINATIONS, STAY HOME AND QUARANTINE. IF YOU ARE SICK OR TEST POSITIVE FOR COVID-19, ISOLATE AND DO NOT ATTEND PUBLIC EVENTS. SINCE CHARLOTTE / MECKLENBURG COUNTY HAS LIFTED THE MASK MANDATE WE THOUGHT WE SHOULD MAKE IT CLEAR THAT WE STAND FOR PERSONAL CHOICE IN THE MATTER. BOTH STAFF AND PATRONS ARE ENCOURAGED TO AND RESPECTED FOR THEIR PERSONAL CHOICE REGARDING THE WEARING OF A MASK. WE CONTINUE TO ENCOURAGE FULL VACCINATION AND AS ALWAYS THANK YOU FOR YOUR CONTINUING SUPPORT AND FOR HELPING TO KEEP OUR VENUE AS SAFE AS POSSIBLE DURING THESE CHALLENGING TIMES."
Everyone must have their State Issued ID scanned at the door. If you are over 21 but do not have a legal ID, we will not be able to serve you adult beverages. For All Ages Shows, there is a surcharge at the door if you are under 21.