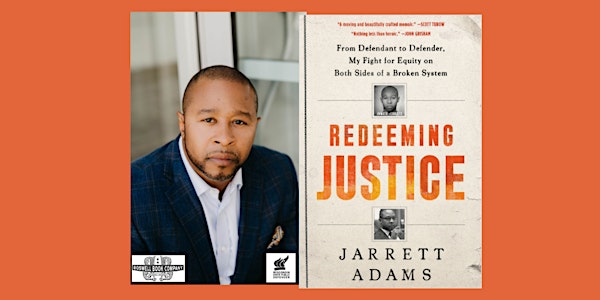 Jarrett Adams, author of REDEEMING JUSTICE - an in-person Boswell event
Jarrett Adams, author of REDEEMING JUSTICE - an in-person Boswell event
Date and time
Starts on Wednesday, July 19 · 6:30pm CDT
Location
Boswell Book Company 2559 North Downer Avenue Milwaukee, WI 53211
About this event
Boswell is pleased to host an event with Jarrett Adams, author of Redeeming Justice: From Defendant to Defender, My Fight for Equity on Both Sides of a Broken System. Cohosted by Wisconsin State Public Defenders.
Seventeen years old and facing nearly thirty years behind bars, Jarrett Adams became obsessed with our legal system in all its damaged glory. After studying how his constitutional rights to effective counsel had been violated, he solicited the help of the Wisconsin Innocence Project, won his release after nearly ten years in prison, earned his law degree, and became the first exoneree ever hired by the Innocence Project as a lawyer. In this illuminating story of hope and full-circle redemption, Adams draws on his life and the cases of his clients to show the racist tactics used to convict young men of color, the unique challenges facing exonerees once released, and how the lack of equal representation in our courts is a failure not only of empathy but of our collective ability to uncover the truth. Redeeming Justice is an unforgettable firsthand account of the limits—and possibilities—of our country's system of law.
From Kirkus: "There is rarely a minute when readers will not want to know what comes next... A consuming tale of a broken legal system, its trail of ruin, and the fortitude needed to overcome its scarring."
Jarrett Adams earned his Juris Doctorate from Loyola University Chicago School of Law in May 2015 and started a public-interest law fellowship with Ann Claire Williams, judge for the Seventh Circuit U.S. Court of Appeals, the same court that reversed his conviction. After working for the Innocence Project in New York, he launched the Law Office of Jarrett Adams, PLLC, in 2017, and now practices in both federal and state courts throughout the country. Adams is also the co-founder of Life After Justice, a 501(c)(3) nonprofit dedicated to preventing wrongful convictions and building an ecosystem of support and empowerment for exonerees.
Click here to order your copy of Redeeming Justice. Signed copies and personalization available on pre-orders. Please note that signed copies will not be shipped until after the event.