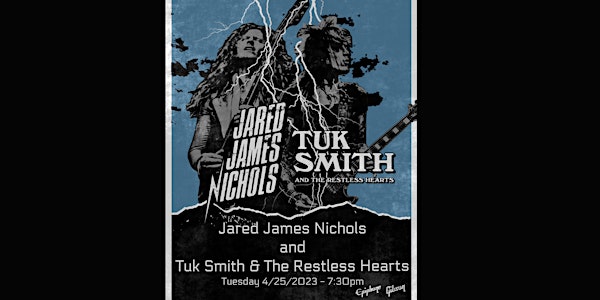 Jared James Nichols and Tuk Smith & The Restless Hearts
Jared James Nichols and Tuk Smith & The Restless Hearts
Date and time
Starts on Tuesday, April 25 · 7:30pm EDT.
Location
The Evening Muse 3227 N. Davidson Street Charlotte, NC 28205
Performers
Headliners
Jared James Nichols
Tuk Smith & The Restless Hearts
About this event
2 hours

ALL AGES

Mobile eTicket
It really doesn't take much…
With nothing more than a Gibson Les Paul slung over his shoulder, a warm amp turned all the way up, and a hot microphone on and ready, Jared James Nichols churns out the kind of rock that rips, roars, and rolls without filter or apology. The Wisconsin-born and Nashville-based singer, songwriter, and guitarist delivers a one-two punch of gritty vocals straight from the gut and incendiary fret fireworks. After earning widespread acclaim from the likes of American Songwriter, Guitar World, Relix, and more, tallying millions of streams, and packing houses at countless shows, he showcases every side of himself on his 2023 self-titled third full-length offering, Jared James Nichols [Black Hill Records].
"You have to strip yourself back so many times to figure out what you're trying to do," he observes. "For me, it was quite simple. As an artist, music is freedom; music is whatever you want it to be. So, I see it with the bumps, the bruises, the crashes, and everything intact. The album is a day in the life with the ups and downs, but it musically rings true to who I am as an artist."
Back in 2015, Jared emerged with his debut Old Glory & The Wild Revival. On its heels, the 2018 follow-up Black Magic yielded the fan favorite "Honey Forgive Me," piling up over 3.8 million Spotify streams and counting. In between showstopping solo shows, he performed alongside icons a la Slash, Billy Gibbons, Zakk Wylde, and even the late Leslie West, to name a few. Guitar World attested, "If you've never witnessed Jared James Nichols onstage, let us say right now: you're missing out, big time." Following the 2021 fan favorite Shadow Dancer EP, he collaborated with both Maggie Rose and Joe Bonamassa in 2022 for revised versions of his song "Threw Me To The Wolves."
Along the way, Gibson formally welcomed him as an official ambassador, plotting the release of several signature Jared James Nichols guitars. Blackstar Amps followed suit and Seymour Duncan also designed a signature pickup to his specification—due out in 2023.
Officially partnering with Gibson was a huge moment in the guitar aficionado's life. Nearly a decade ago, a Les Paul literally landed into the yard of a fan during the biggest tornado ever to impact Washington, IL. The fan shared a picture of the guitar with Jared. "It was one of the earliest known Les Pauls ever created from 1952," he explains. "It was battered and bruised with a broken neck from the tornado, but it was still salvageable." The fan offered to give it to Jared to restore and play. He sent it to one of the world's best luthiers, Joel Wilkins.
"It is a very important piece of musical history as it is a prototype—1 of 25—to the most important electric guitar shape in the world, the Gibson Les Paul," he smiles. "It is one of the most perfect instruments I have ever played. I play it every day, take it on tour, and make music with it all over the world. It's the best way to honor its legacy. I named the guitar 'Dorothy' after the tornado experience."
Fast forward to present time, and after weathering the Pandemic, Jared's long-awaited return to the road would be unceremoniously derailed. About two weeks into a tour with Black Stone Chery in the fall of 2021, he tried to help his band pack up the stage and upon grabbing a road case, he felt a pop in his right arm. What he thought might be a pulled muscle wound up being bone scraping inside his arm. Whisked away to the emergency room, the x-ray showed a chipped humerus bone due to longtime stress fractures. The only solution proved to be emergency surgery with a chance he might never play guitar again or even use the arm.
"After surgery, I found myself with a plate and 16 screws in my arm, completely sidelined, and back home in bed," he sighs. "I did not let this hold me down, and I found myself re-working how to use my right arm to play again within days. If anything, breaking my arm forced me right back to square one and to rebuild into the best possible version of myself I could be."
Busting his ass to restore a semblance of normalcy, he pushed forward and regained use of the arm and his storied guitar proficiency. Going into the next season, Jared made a decision to track his next body of work live, reflecting the spirit of his show on tape like never before. Joined by producer Eddie Spear, the album proudly preserves all of the grit and gusto from the rooms in Blackbird Studios and Sienna Studios where he first cut the tunes.
"It was made live with intention and zero fucks given," he notes. "It wasn't like we could fix the tempos. We didn't use a click track. I wrote a batch of songs to capture everything I'm about. I didn't hold back. I thought of what I listened to growing up, whether it was grunge or blues. We got a little heavier. I made a record to serve as the menu for the live show. There's an element of excitement and danger. It's my version of rock 'n' roll with a little more humanity."
Speaking of, he paved the way for the record with the 2022 release of the hypnotic and hyper-charged "Hard Wired." Born from a jam session with Tyler Bryant and Graham Whitford, the single bulldozed a path for Jared James Nichols with no shortage of raw and raucous six-string bravado.
"Sometimes, a song comes out of nowhere and basically writes itself, and that is exactly what happened with this one," he says. "I immediately knew it was going to be a song I wanted to incorporate into my live set and cut for this record. Lyrically, it comes from a place of self-destruction. You know something is bad for you, but you continue to do it anyway even though the result will be tragic. It's like a stick of dynamite ready to blow, and it encapsulates the mood and tone of this entire record."
On the follow-up single "Down The Drain," vulnerable vocals snake around melodic guitar in ominous fashion. Baring its fangs, it snaps into a chantable chorus punctuated by a wailing lead.
"It's easy to get addicted to a shitty relationship," he reveals. "You know it's going to end wrong, but you can't get out. You're going down the drain. The concept is relatable to everyone, whether it's about a friend or a romantic relationship."
From the jump, the record kicks into high gear with the bluesy wallop of "My Delusion." In between steady tambourine, distortion roars as he confesses, "Your body is my temple, and your heart is my ruin."
"'My Delusion' kept evolving," he recalls. "It was like water starting to boil. By the time you get into the solo and the riff, it's ready to go off the rails. When we stopped after the second take, we were sweating head-to-toe. We knew we got it!"
On "Hallelujah," a flurry of drums gives way to a thick and heavy battering ram of a blues riff only to crash into a rickety bass line and atomic shredding.
"It was recorded balls to the wall," he remembers. "We were like, 'Let's go'. I was channeling all of my heroes. Obviously, the first riff I ever learned was a Black Sabbath tune. It's a fist in the air song."
"Good Time Girl" pays homage to "going out, drinking, partying, and having a good time" over a hummable guitar groove. The record culminates on the emotionally charged "Out Of Time." Jared's Les Paul practically cries out as he says goodbye to his old man with a heartfelt and tearful tribute.
"I lost my dad, and it was the hardest thing I've ever dealt with in my life," he admits. "I wrote 'Out of Time' when I was thinking of him. It's a heavy song. I was crying when I was doing the vocals. It's a different vibe, but it's impactful for me."
By keeping it simple, Jared remains primed to leave his imprint on rock 'n' roll forever.
"I hope you listen to this record and connect to it," he leaves off. "Rock 'n' roll is not always about a throwback. It's fucking 2022, dude. I'm right here, and I'm ready to rip. I'm not trying to be anybody but myself and play the music I love for today. I'm giving you loud ass guitars and no fucks given rock 'n' roll, and I'm loving it."
Facebook | Spotify | Instagram
*********
Tuk Smith & The Restless Hearts
Tuk Smith & The Restless Hearts is an American rock band from Nashville founded and fronted by former Biters leader Tuk Smith, originally from Atlanta, now living in Nashville. The band released their debut single "What Kinda Love" on January 10, 2020 and were also added as an opening act for The Stadium Tour with Def Leppard and Mötley Crüe on the same day. 
Then came the onset of Covid 19. "When the pandemic hit, it was like hitting the reset button on my music career"recalls Tuk, "everything got taken away…album campaign, stadium tour, record deal. The world was in lockdown, and the only way to escape was to throw myself into writing. My thoughts began exploring the past, and the inspiration for the songs just came in tidal waves."
The new collection is a rock 'n roll silver lining that came out of the solitude and reflection of the pandemic. Ballad Of A Misspent Youth is the new single (and subsequent album of the same name) released summer of 2022 on Tuk's new record label MRG, through Virgin Music.
Tuk explains, "I decided to make a rock and roll record for me and what I like because there was no label, there was no committee involved…just me and my stories. I wanted to create a setting and an authentic feeling about everything. I reunited with long time friend Dan Dixon and recorded these songs in his garage studio, and there is a purity to the work that came from all the circumstances of that time."
Growing up as an outsider in rural Georgia, Tuk found solace in hardcore punk acts like Black Flag and The Exploited. From there, Smith branched out into exploring seventies New York bands like The Dead Boys and New York Dolls, which lead him across the sea where he embraced first-wave British acts like The Buzzcocks and the Clash. Smith wasn't just a casual fan of these acts, he was obsessed with them and traced their lineage with fervent dedication. "I was always into the Clash growing up and Mick Jones' favorite band was Mott The Hoople, so through the years I ended up developing a love of the first wave of British glam, power pop and things like that," he explains. 
Soon Smith was forming his own acts, touring relentlessly and building a following with his high-energy live shows, including his tour of duty as lead singer for the Biters, who he fronted for nearly a decade. He offers "Then after being on the road for years, I had a reckoning about where I was at and the future ahead. …I realized the only way to achieve something meaningful was to be a good songwriter…that clicked. I went on a musical diet where I stripped the obscure stuff away, and I really started focusing on the greats. When I started clicking that it was just about the songs, things changed. I had already put my 10,000 hours in the van to play in the dive clubs, but then I put my 10,000 hours into figuring out how to write. I also started working with other songwriters. I humbled myself… it was an education, like going to school."
Tuk elaborates, "I wanted to kind of branch out musically and do different things, and I figured to go solo would be better. My manager actually suggested I call my new band "The Restless Hearts" and that's what he would call me all the time. It was the title of a Biters song that people loved and I'd seen a few restless hearts tattoos at our shows along the way… and so Tuk Smith & The Restless Hearts was born. I was in a period where I changed everything including the way I lived my daily life. I experimented with different ways to tap into positive/creative energy…it was an evolving overall process (and still is)."
Tuk summarizes, "Things used to be about debauchery, and now they're more about dedication. I mean, I was always driven, but I was sometimes focusing on the wrong things. Now I focus on the music and the craftsmanship of writing and producing and performing."
About the organizer
**IMPORTANT UPDATED COVID POLICY
"WE ASK ALL EVENING MUSE PATRONS TO FOLLOW THE CURRENT CDC GUIDELINES WHEN ATTENDING AN EVENT HERE AT THE MUSE.
IF YOU WERE EXPOSED TO COVID-19 AND ARE NOT UP TO DATE ON COVID-19 VACCINATIONS, STAY HOME AND QUARANTINE. IF YOU ARE SICK OR TEST POSITIVE FOR COVID-19, ISOLATE AND DO NOT ATTEND PUBLIC EVENTS. SINCE CHARLOTTE / MECKLENBURG COUNTY HAS LIFTED THE MASK MANDATE WE THOUGHT WE SHOULD MAKE IT CLEAR THAT WE STAND FOR PERSONAL CHOICE IN THE MATTER. BOTH STAFF AND PATRONS ARE ENCOURAGED TO AND RESPECTED FOR THEIR PERSONAL CHOICE REGARDING THE WEARING OF A MASK. WE CONTINUE TO ENCOURAGE FULL VACCINATION AND AS ALWAYS THANK YOU FOR YOUR CONTINUING SUPPORT AND FOR HELPING TO KEEP OUR VENUE AS SAFE AS POSSIBLE DURING THESE CHALLENGING TIMES."
Everyone must have their State Issued ID scanned at the door. If you are over 21 but do not have a legal ID, we will not be able to serve you adult beverages. For All Ages Shows, there is a surcharge at the door if you are under 21.