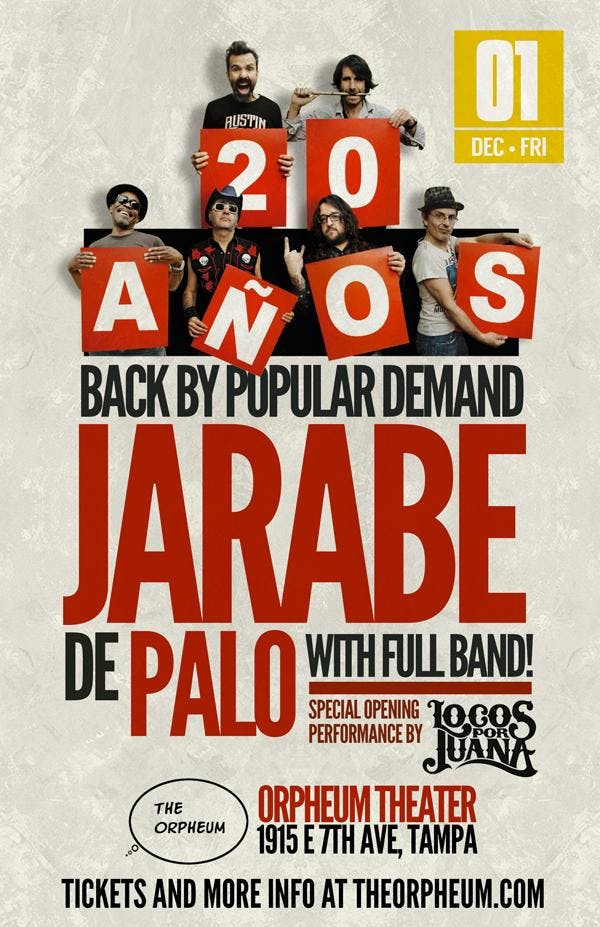 About this Event
2017 Latin Grammy Nominee
JARABE DE PALO
performing with his full band!
Jarabe de Palo was born in Barcelona (Spain) in the mid-1990s. The band's first album, La Flaca (1996), opened up a new chapter in the fusion music scene of that time. In a very short space of time they became one of the most high-profile Spanish groups on the Latin-American music scene. Their unique way of understanding and mixing different styles made them one of the landmark bands in their genre. After La Flaca came Depende (1998), then De Vuelta y Vuelta(2001), Bonito (2003) and so on up to eight original albums and the same number of compilations, all published over the course of just 18 years.
15 nominations for the Latin Grammy Awards and collaborations with artists of the stature of Celia Cruz, Compay Segundo, Pavarotti, Alanis Morrissette, Chrissy Hynde (The Pretenders), endorse the quality, credibility and stature of the band.
LOCOS POR JUANA
Locos por Juana, banda bilingüe nominada a un GRAMMY y a un Latin GRAMMY, es reconocida por sus energéticas presentaciones en vivo y una fusión única de funk caribeño y ritmos latinos y americanos, formada en Miami, FL en el 2000. La banda está compuesta por el vocalista Itawe Correa, el guitarrista Mark Kondrat, el baterista Javier Delgado y el bajista David Pransky. Su sexto disco de estudio, Caribe, editado en octubre del 2016, debutó #14 en las listas de CMJ New World Chart. NPR destacó la canción "Una Foto" en su especial de fin de año, The Ones That Got Away: Music We Missed 2016. La banda fue destacada en el especial de Sirius XM el cual recorrió el álbum Caribe de principio a fin en el canal La Kueva a fines del 2016. Su corte actual, "For The Ladies", junto a Talib Kweli, se destaca en la página principal de iTunes Hot Tracks. El video del tercer corte promocional "Se Fue La Luz" junto al grupo Colombiano ChocQuibTown se estrenó en Billboard, VEVO y Al Rojo Vivo de Telemundo, se destacó en los Lanzamientos Latinos de Tidal y se mantuvo sólidamente durante 12 semanas en el Hits Rotation de MTV tr3s. El segundo corte promocional, "The Cure", junto a la estrella de raggae de Bermudas, Collie Buddz, se estrenó en los Hot Latin Tracks de iTunes. El corte de estreno, "Mueve Mueve" se estrenó en Despierta America de Univisión seguido por el estreno del vídeo en MTV Tr3s destacando también en el blog de entretenimiento del inflcuencer, Perez Hilton. La canción "Caribe" junto a Vaughn Benjamin (Midnite) se estrenó en los Hot Tracks de iTunes.
El sonido de Locos por Juana es un híbrido debido no sólo a la amalgama de orígenes de los miembros de la banda, sino también a la influencia de estilos musicales de diversos países. Correa y Delgado nacieron en Colombia, Kondrat es nativo de Miami de ascendencia colombiana y Pransky de Vermont. El estilo de la banda se caracteriza por sonidos tales como la Cumbia, la Champeta y ritmos afro-colombianos como Mapale y Chande asó como son las influencias musicales de Miami y las islas del Caribe, incluyendo géneros como el Reggae, Raggamuffin y Dub de Jamaica junto al Hip Hop, Rock, Funk; una fusión que Kondrat ha acuñado como "ese swing isleño".