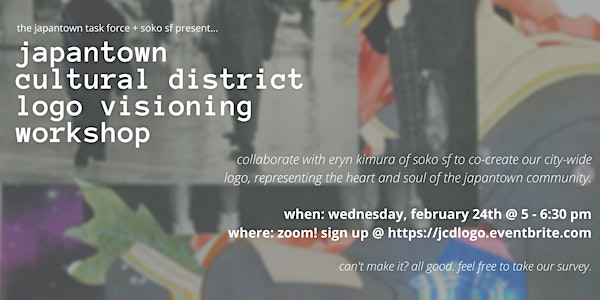 Japantown Cultural District Logo Visioning Workshop
Collaborate with Eryn Kimura of Soko SF to create our city-wide logo, representing the heart and soul of our Japantown Community.
About this event
JCD has partnered with Soko SF, a local lifestyle brand and creative incubator created by Ryan Kimura and Eryn Kimura, to design the Japantown Cultural District logo in collaboration with you, the community.
A little note from Soko SF artist and Japantown organizer, Eryn Kimura:
Each of us boasts our own unique lens, story, truth that are meaningful and powerful in its being. Small yet detail snippets, that when quilted together, create the larger fabric that is Japantown. In so many ways, I am grounded by the idea that people are places and that places are in fact people. People are the place-makers, the culture-creators and -bearers. When Soko SF was hired by the Japantown Cultural District to create a logo, we both agreed that this logo process must be collaborative, as we all are the active architects of the present and future. We look forward to your creative insights and truths.
If you have any questions, concerns or additional feedback, please feel free to email Eryn Kimura at erynyk@gmail.com.