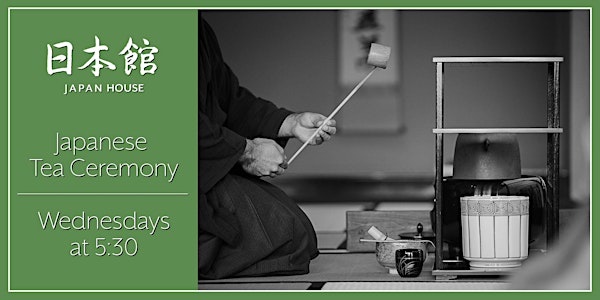 Japanese Tea Ceremony
Join us for a traditional Japanese Tea Ceremony!
When and where
Location
Japan House 2000 South Lincoln Avenue Urbana, IL 61802
Refund Policy
Refunds up to 1 day before event
Eventbrite's fee is nonrefundable.
About this event
Chado, or the Way of Tea, is one of the most ancient and revered arts of Japan and is at the very heart of Japan House. It is a ceremonial way of preparing and serving matcha tea that benefits both the host and the guest through mutual respect, non-verbal communication, and a calmness, or sense of peace, away from everyday life.
There are many different variations of this revered 500-year-old art form. Traditionally, guests sit in the seiza posture on the tatami mats (kneeling with legs folded underneath and resting on the heels). There is also a variety of tea ceremony in which one sits on a chair while drinking the tea called Ryūrei style, or table-style tea ceremony.
Historically in Japan, people didn't use chairs. They sat on the floor for most everything, even to eat meals. The Ryūrei style of tea ceremony was created by Gengensai Seichū (1810-1877), the 11th head of the Urasenke school of tea ceremony, for an exposition held in 1872 in Kyoto. Many foreigners visited Japan at this time, so the government requested that an effort be made to modify the traditional form of tea ceremony as a way of making it more accessible.
The main feature of Ryūrei style is that both host and guests sit on a chair. The seiza posture is no longer used, but utensils are used in the same way as in a normal tea ceremony. Although this one aspect of the ceremony is altered, the Ryūrei style is otherwise the same as a tea ceremony performed using the seiza posture. Even Japanese people, who use the seiza posture much less than in the past, embrace the Ryūrei style of tea ceremony because it places less of a burden on the legs.
We will be alternating weekly between Ryūrei, (sitting on chairs), and sitting traditionally on tatami mats.
Ryūrei style - Seated on chairs
September 7
September 21
October 5
October 12
October 19
November 2
November 16
December 7
Seated on Tatami mats
September 14
September 28
November 9
__________
What To Expect
After a brief tour that includes history of Japan House on the campus of the University of Illinois and information on the tea ceremony, watch as the host carefully and thoughtfully prepares each piece of equipment, chosen specifically for that day and season. Each guest will be served wagashi, a traditional seasonal Japanese sweet, and matcha tea in a unique handmade chawan, or tea bowl. Experience a moment of peace.
Afterward, there will be time for guests to ask questions, as well as to shop from a wall of unique Japanese-inspired treasures that are part of our annual Bazaar sale. Cash and credit cards accepted.
Tea ceremonies will feature a variety of special handmade sweets, or wagashi, using recipes from the cookbook "The Art of Wagashi: Recipes for Japanese Sweets that Delight the Palate and the Eyes" written by Japan House Professor Emeritus Kimiko Gunji. The cookbook will be available for purchase.
Reservations are required, no walk-in's will be allowed. Space is limited to 15.
All guests will be asked to remove shoes upon entering, and to wear fresh, white socks (we have some to lend you if you forget). We ask that legs be covered as is traditional in Japan.
Out of respect for both the tea students and the other guests, we kindly ask that everyone wear a mask while not eating or drinking.
__________