Description
Description
Sushi is hands-down one of the most delicious foods out there, but many may wonder…how do they make it? What are it's origins? How can I make it at home?
What are the other fundamental foods of Japan, aside from sushi, and how do I make those?
We'll answer all those questions, and more, as we're joined by Master Chef Nozu Abe, of NYC's Sushiden and proprietor of NYC's newest Sushi restaurant in the Upper East Side, Sushi Noz.
This class won't cover Americanized versions of sushi like Spicy Tuna rolls or California rolls, but instead, will offer a true look into traditional Japanese sushi.
Additionally, we'll learn to make dashimagi tamago, otherwise known as a Japanese omelette, dashi (Japanese broth), and miso soup.
In this class, instructed by Master Chef Nozomu Abe, you'll learn…
The necessary ingredients required to make sushi

The necessary equipment required to make sushi

How to select sushi-grade fish

The art to selecting your neta (ingredients)

How to properly eat sushi

How to make soy sauce

How to prepare sushi rice

How to make sushi vinegar

How to make a hoso-maki roll

How to make dashimagi tamago (Japanese omelette)

How to make dashi (Japanese broth)

How to make miso soup
Complimentary Japanese beer + sake upon arrival and throughout class.
Recipes of our creations will be available at the class + sent to everyone afterwards.
About the Instructor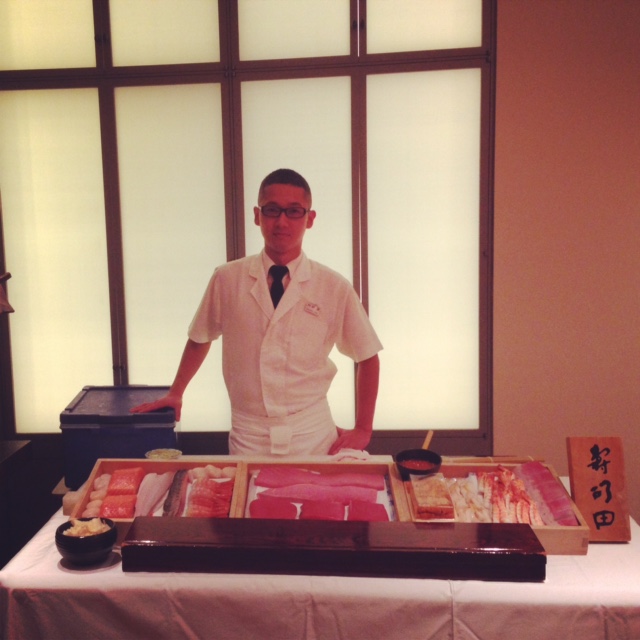 Born in Hokkaido, Japan, Chef Noz was from a very young age inspired by the fresh fish and seafood of his grandfather, who owned and operated a seafood company. This provided him his first experiences with ingredients like uni, salmon roe and king crab, which still stand as cornerstones in his cuisine.
After finishing high school, Chef Noz moved to Sapporo city. He apprenticed at a Sapporo sushi restaurant and furthered his training in the art of sushi. It was during this time that he began to envision himself dedicating his life to the craft. After two years in Sapporo, he moved to Tokyo, epicenter of the centuries-old Edomae style, where he spent four years honing traditional techniques for preparing Edomae sushi's hallmark freshly-caught fish and vinegar-seasoned rice.
Following his tenure in Tokyo, Chef Noz came to New York and worked as a sous chef for Sushiden NY.
Chef Noz's lifelong dedication to quality food has made him one of the world's premier Sushi Chefs. He advanced to the position of Executive Chef in 2012, and is excited to share his cuisine under the aegis of his own establishment
He will be opening his own restaurant, Sushi Noz, in December at 78st and 3rd.
FAQs
Will I get the recipies to try at home?
Yep! All classes include recipies that will be emailed after class.
What can I bring into the event?
Everything you'll need, including kitchen equipment, food ingredients, and supplies, will be provided. Otherwise, please be sure to bring your enthusiasm!
How Should I Dress for the Class?
Wear comfy, closed-toe shoes. If you have long hair, tie it away from your face.
I've Never Cooked A Day In My Life. Is That Ok?
You betcha! All of our events are geared towards all levels. Whether you're a beinner or have been cooking for years, you'll get value out of this class along with making new, awesome friends!
****Note: We are located directly next to House of Brews. Open wrought iron gate and walk down stairs.