Location
NRG Center
1 Fannin St
Houston, TX 77054
Refund policy
Contact the organizer to request a refund.
Eventbrite's fee is nonrefundable.
Experience authentic Japanese culture and cuisine through Japanese Food Expo 2022!
About this event
THANK YOU, WE ARE SOLD OUT!!!
※ Due to the capacity of the venue, tickets will NOT be sold at the event.
We welcome you to the first ever Japanese Food Expo in the great state of Texas!
After multiple years of the Japanese Food Expo in Los Angeles, the team behind JFE will be bringing all the delicious Japanese food to Houston, TX!
The Japanese Food Expo will introduce you to Japan's most popular street food, culture, desserts, and fun for all ages. You'll be able to taste some of the best Japanese food items including Ramen, Takoyaki, Okonomiyaki, Mochi Donuts, Matcha Ice Cream, and more!
Don't miss out on authentic Japanese food & workshops at this year's Japanese Food Expo in Houston, TX.
Check FB EVENT PAGE for daily updates about this event.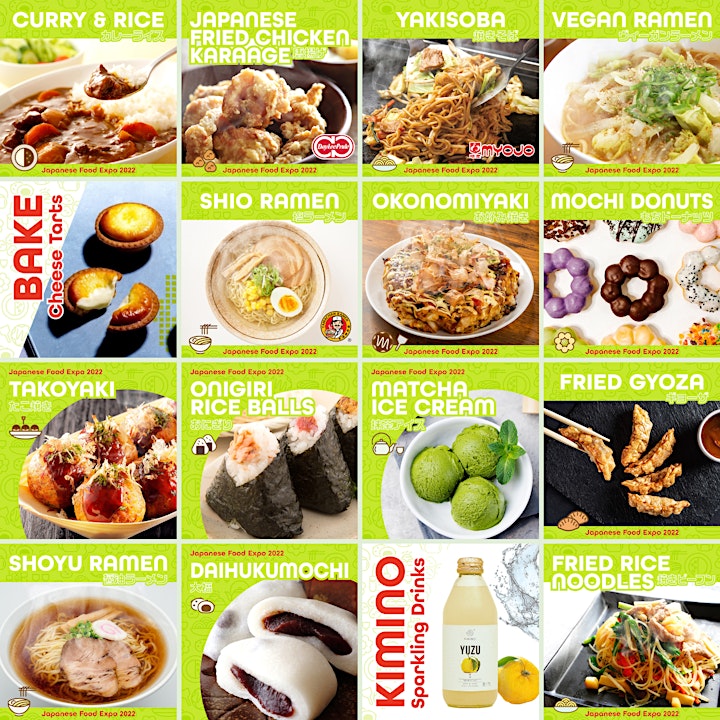 -LIST OF VENDORS-
SHOYU RAMEN
SHIO RAMEN
VEGAN MISO RAMEN
VEGAN SHOYU RAMEN
YAKISOBA
TAKOYAKI
JAPANESE FRIED CHICKEN KARAAGE
ONIGIRI RICE BALLS
OKONOMIYAKI
JAPANESE CURRY RICE
FRIED RICE NOODLES
GYOZA DUMPLINGS
MOCHI DONUTS
DAIFUKU MOCHI
MATCHA ICE CREAM
-VENUE -
NRG Center (E Hall) 1 Fannin St, Houston, TX 77054
- DATE & TIME -
This year there are three time frames to choose from. The food, drinks and cultural experiences will be exactly the same for both time slots. Please note that there is a 1 hour break between the 1st and 2nd time slot; this gives our vendors a quick break and replenish for our 2nd time slot guests.
(1 ticket = 1 time slot entry)
Sat. June 25th 2022
Slot#1: 11:00am ~ 2:00pm
Slot#2: 3:00pm~6:00pm
Sun. June 26th 2022
Slot#3: 1:00pm~4:00pm
- HOW TO GET YOUR TICKETS -
**Admission covers food, beverages and workshops.**
Ticket Pricing:
$50+ fees for adults (Age:13+)
$40+ fees for children (Age: 6-12).
Free for children under 5
*Children will need a legal guardian to enter this event*
As you may see above, there are three time and date slots. All slots will be exactly the same (i.e. food, drinks, experiences) Please double check your time slot before you make your purchase through Eventbrite. You can only attend one of the three time frames per ticket.
You must be a registered ticket holder to attend.
** Purchase your preferred time slot before they sell out!**
FAQ
What can I bring into the event?
Bring your friends and family! Everyone is welcome! Photography is encouraged, so bring your fancy DSLR/mirrorless cameras and your cellphones! If you can help us out, tag us on social media with #japanesefoodexpo2022
What's the refund policy?
Tickets are fully refundable up to 24 hours before the event with an additional fee ($10). Please note the initial Eventbrite fees are non-refundable for all tickets.
Do I have to bring my printed ticket to the event?
Admission requires verification of your confirmation code/barcode which will be emailed to you upon purchase. You can bring your phone/device showing this code, or bring a printout, whichever you prefer. If you are buying tickets for multiple people, please keep in mind each of them will need to check in.
Please see NRG Center's parking info here. Parking Fee: $20
Is this an all you can eat event?
This is technically not an all you can eat event because people tend to pick up as much food as possible and throw away uneaten food. Therefore, in order to minimize food waste, you can eat as much as you want but there is a limit of 1 serving per person every time you line up for a food item.
How can I contact the organizer with any questions?
For ticket related inquiries, the Ticketing Office can be reached at: expo@jfcausa.org. For the organizer, Japan Food Culture Association, please find their website here.
All ADA Service Pets will be allowed on the premises. However, any other pets will not be allowed.
- NOTICE OF FILMING AND PHOTOGRAPHY -
When you enter a Japanese Food Expo ("JFE") event or program, you enter an area where photography, audio, and video recording may occur. By entering the event premises, you consent to interview(s), photography, audio recording, video recording and its/their release, publication, exhibition, or reproduction to be used for news, web casts, promotional purposes, telecasts, advertising, inclusion on websites, social media, or any other purpose by JFE and its affiliates and representatives. Images, photos and/or videos may be used to promote similar JFE events in the future, highlight the event and exhibit the capabilities of JFE. You release JFE, its officers and employees, and each and all persons involved from any liability connected with the taking, recording, digitizing, or publication and use of interviews, photographs, computer images, video and/or or sound recordings. By entering the event premises, you waive all rights you may have to any claims for payment or royalties in connection with any use, exhibition, streaming, web casting, televising, or other publication of these materials, regardless of the purpose or sponsoring of such use, exhibiting, broadcasting, web casting, or other publication irrespective of whether a fee for admission or sponsorship is charged. You also waive any right to inspect or approve any photo, video, or audio recording taken by JFE or the person or entity designated to do so by JFE. You have been fully informed of your consent, waiver of liability, and release before entering the event.
**Must be 21 to consume alcoholic beverages. Please drink responsibly.**