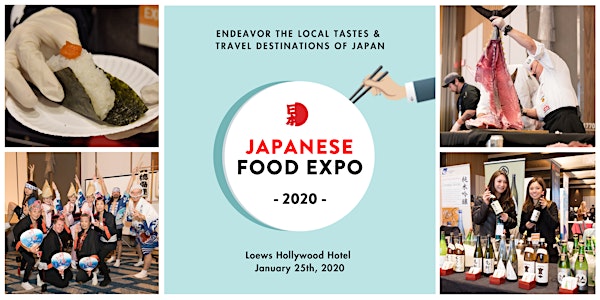 JAPANESE FOOD EXPO 2020
Experience authentic Japanese culture and cuisine through Japanese Food Expo 2020!
When and where
Location
Loews Hollywood Hotel 1755 North Highland Avenue Los Angeles, CA 90028
About this event
- VENUE -
Loews Hollywood Hotel, 2nd Floor
1755 N Highland Ave, Los Angeles, CA 90028
- DATE & TIME -
This year there are two time frames to choose from. The food, drinks, performances and cultural experiences will be exactly the same for both time slots. Please note that there is a 2 hour break between the 1st and 2nd time slot; this gives our vendors a quick break and replenish for our 2nd time slot guests.
(1 ticket = 1 time slot entry)
January 25th, 2020 (Sat)
1:00 PM - 4:00 PM
6:00 PM - 9:00 PM
- Main Stage Schedule -
1:00 PM - 4:00 PM
1:00 pm: Koto (Traditional Japanese Instrument) Performance
1:15 pm: Tuna-Cutting Performance (Presented by: Prime Time Seafood)
2:15 pm: Omurice Demonstration and Tasting (Presented by: JAPAN HOUSE)
2:55 pm: Onigiri Character Bento Competition (Presented by: JFCA / TFT / SCI)
3:40 pm: Onigiri Workshop w/ Yamagata Prefecture Rice (Presented by: Sushi Chef Institute)
4:00 pm: Close
6:00 PM- 9:00 PM
6:00 pm: Koto (Traditional Japanese Instrument) Performance
6:15 pm: Tuna-Cutting Performance (Presented by: Satsuma Blue-Fin Tuna)
7:15 pm: Omurice Demonstration and Tasting (Presented by: JAPAN HOUSE)
7:55 pm: Mega-Roll Creation Performance (Presented by: Sushi Chef Institute)
8:30 pm: Edamame Chopstick Competition (Presented by: Sushi Chef Institute)
9:00 pm: Close
- HOW TO GET YOUR TICKETS -
**Admission covers food, sake/beer, workshops, and entertainment.**
Ticket Pricing:
$80+ fees for adults (Age:13+)
$40+ fees for children (Age: 6-12).
Free for children under 5
*Children will need a legal guardian to enter this event*
As you may see above, there are two time slots from 1pm-4pm & 6pm-9pm. Both time slots will be exactly the same (i.e. food, drinks, performances, experiences) Please double check your time slot before you make your purchase through Eventbrite. You can only attend one of the two time frames per ticket.
You must be a registered ticket holder to attend.
** Purchase your preferred time slot before they sell out!**

*EVERYTHING BELOW IS INCLUDED IN YOUR TICKET*
FEATURING:
Highlight #1: Premium Foods from Japan
Enjoy premium foods brought over from Japan (By Prefecture):
Aichi Prefecture
Fukushima Prefecture
Kagoshima Prefecture
Miyagi Prefecture
Shizuoka Prefecture
*Tuna cutting performance with Japanese Bluefin tuna*
- Everyone will have the opportunity to taste the Japanese Bluefin Tuna.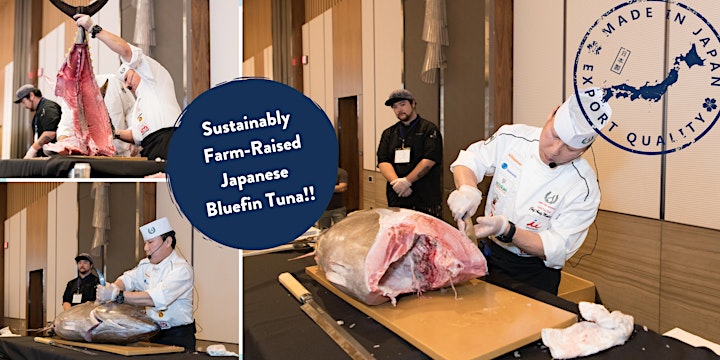 Highlight #2: Japanese Street Food
Experience a Japanese style festival "Matsuri" with various street foods that we will announce soon!
Highlight #3: Sake & Beer Alley (Adults 21+):
Japanese Sake & Beer
20+ Premium Sake Brands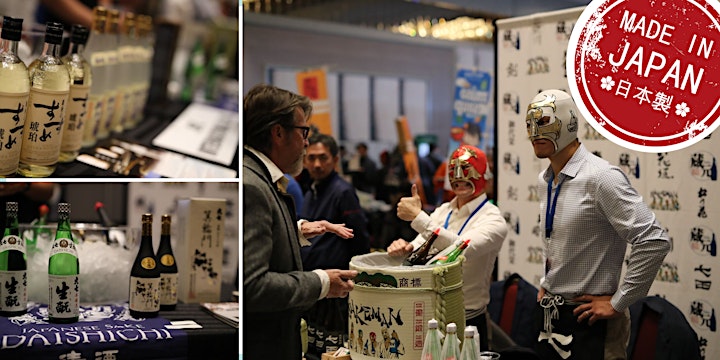 Highlight #4: Sushi Robot
Experience a live demo using Suzumo sushi robots! Many of your local sushi shops use these robots to keep up with your hunger!
*Video Credit: Food Insider
Highlight #5: Japanese Carnival Games (Visit Japan Ennichi)
*Play these games to win Japanese Snacks (dagashi)!*
Japanese Air Rifle Game (Shateki)
Ring Toss Game (Wanage)
Enjoy freshly made Cotton Candy (Wataame)
More to be announced!
Other exciting things you'll enjoy!
50+ Exhibitors featuring various foods, including exclusive foods not yet available in the US
Japanese Food Workshops to create and eat!
Japanese Sweets - Matcha Soft Serve, and more!
Onigiri Rice Balls
Japan Travel Exhibit
Japanese Cultural Performances

Are there ID or minimum age requirements to enter the event?
All ages welcome! However, you must be 21+ to participate in the beer and sake tasting. Don't forget your ID!
How much is Parking?
There will be two options for parking:
Option 1. Self Parking at the parking lot for the Hollywood & Highland Shopping Mall (Please read the details carefully)
- Parking Rates for Self-Parking -
Park for up to 2 hours for $3 when validated by participating shops and restaurants shown below. If you stay the whole duration of your time slot and receive validation, the total cost of parking will be (Validation rate for 2 hours: $3 + Self-Parking Rate for 1 hour: $6 = $9)
Validation available at: Auntie Anne's Pretzels • CaboWabo Cantina • California Pizza Kitchen • Chado Tea Room • Cho Oishi • Dave & Buster's • El Capitan Theatre • Find Your Feet • French Crepe Company • Gateway Newstand • Gifts of Hollywood • Green Earth Cafe • GROM • Guess • Hard Rock Cafe • Hard Rock Cafe Rock Shop • JINYA Ramen • Johnny Rockets • Lucky Snacks • Lucky Strike • Preston's Restaurant (inside Loews Hollywood Hotel) • Sephora • Shoe Palace • Starbucks • Street Churros • Starline Tours • SWEET! • TCL Chinese Theatre (formerly Grauman's) • TCL Chinese 6 Theatres • Trastevere • Victoria's Secret • Visitor Information Center • Wafflejack
*Enjoy a complimentary exhibition and receive parking validation at JAPAN HOUSE on Level 2, conveniently located next to the Academy Awards(R) stairs at Hollywood & Highland near the escalators and elevators connected to the parking garage.
*If you have any questions or concerns about parking, please don't hesitate to contact us through our email displayed at the bottom of this page. We don't want parking to ruin your exciting day at the Japanese Food Expo!
- If you don't receive validation from the participating shops and restaurants, please see below for self-parking rates -
Flat-Rate All-Day: $18 (Parking for more than 3 hours. If you park less than 3 hours, please see rates below)
Up to 20 minutes: $3.00
Each Additional 20 minutes: $2.00 or $6/hour
Daily Maximum: $18.00
Option 2. Loews's Valet Parking: $46 all-day
What can I bring into the event?
Bring your friends and family! Everyone is welcome! Photography is encouraged, so bring your fancy DSLR/mirrorless cameras and your cellphones! If you can help us out, tag us on social media with #japanesefoodexpo2020
What's the refund policy?
Sorry, tickets are non-refundable.
Do I have to bring my printed ticket to the event?
Admission requires verification of your confirmation code/barcode which will be emailed to you upon purchase. You can bring your phone/device showing this code, or bring a printout, whichever you prefer. If you are buying tickets for multiple people, please keep in mind each of them will need to check in.
How can I contact the organizer with any questions?
For ticket related inquiries, the Ticketing Office can be reached at:
expo@jfcausa.org
For the organizer, Japan Food Culture Association, please find their website here.
Guide Pet/Personal Pets
All ADA Service Pets will be allowed on the premises. However, any other pets will not be allowed.
- NOTICE OF FILMING AND PHOTOGRAPHY -
When you enter a Japanese Food Expo ("JFE") event or program, you enter an area where photography, audio, and video recording may occur. By entering the event premises, you consent to interview(s), photography, audio recording, video recording and its/their release, publication, exhibition, or reproduction to be used for news, web casts, promotional purposes, telecasts, advertising, inclusion on websites, social media, or any other purpose by JFE and its affiliates and representatives. Images, photos and/or videos may be used to promote similar JFE events in the future, highlight the event and exhibit the capabilities of JFE. You release JFE, its officers and employees, and each and all persons involved from any liability connected with the taking, recording, digitizing, or publication and use of interviews, photographs, computer images, video and/or or sound recordings. By entering the event premises, you waive all rights you may have to any claims for payment or royalties in connection with any use, exhibition, streaming, web casting, televising, or other publication of these materials, regardless of the purpose or sponsoring of such use, exhibiting, broadcasting, web casting, or other publication irrespective of whether a fee for admission or sponsorship is charged. You also waive any right to inspect or approve any photo, video, or audio recording taken by JFE or the person or entity designated to do so by JFE. You have been fully informed of your consent, waiver of liability, and release before entering the event.
**Must be 21 to consume alcoholic beverages. Please drink responsibly.**