Japan Seattle AI Innovation meetup 9.0 July 26th Columbia Center, Seattle
When and where
Location
Columbia Tower 40th Floor Conference Room 711 5th Ave Seattle, WA 98104
Description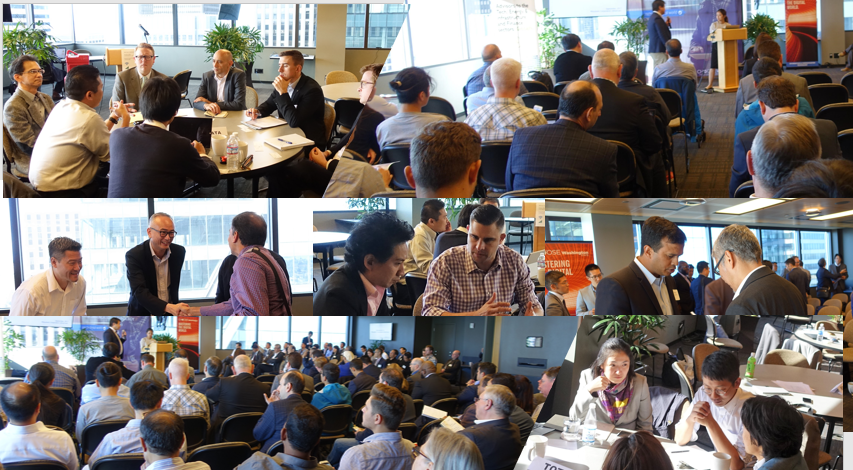 Innovation Finders Capital (IFC), the Washington State Department of Commerce, and Orrick Herrington & Sutcliffe invite you to attend the Japan-Seattle AI Innovation Meetup 9.0.


This is a unique event which all participants are given a chance to meet the Japanese delegation for business talks. Although the theme is AI, we cover all industries and it is not just for entrepreneurs. It is an event which largest platform providers such as Microsoft and Amazon participate as well as around 100 startups of all area and sizes.

Also, Japanese delegation are looking for development service providers as well as tools and development utilities companies as well. And we do have companies from ICT, Chemical, Manufacturing, Trading & Finance and many others coming, even if you are doing innovative composite materials to bit coin startups, do give it a go.
Step by Step Guide
1. Signup early and request one-on-one meetings. Please give brief description of your company and URL
2. We will give the advance list of participants to the Japanese delegations. They will look at your web site and request one-on-one. (These meeting requests goes out 10 days before the event)
3. Come to the Meetup event on July 26th. The Japanese companies will pitch to you, what kind of Innovations they are looking for and how they would like to do business with you.
4. Meet them during the networking session after the Meetup and ask if they would like to meet you on the following day.
5. One-on-one meeting confirmations will be emailed to you the night before
6. Come prepared for the one-on-one meeting on 27th July. If you can give a demo.

This Eventbrite registration is for Pitch + Networking session on 26th July and the one on one on the following day. Both are FREE but I recommend you prepare well in advance.
Again, I cannot stress enough that this is a business development meetup. When you register, please make sure to fill in what kind of technology/product/service you offer and your URL.

1:30 PM: Japan Seattle AI Innovation Meetup 9.0
Location: Columbia Center conference rooms
40th Floor, 701 Fifth Avenue, Seattle, WA

Expected number of participants: 120-150
Event program
1:00 Open
1:30 Opening Remarks by Tom Sato (IFC)
1:35 Welcome Speech by Japanese Consul in Seattle
1:40 WA Department of Commerce
1:45 Orrick Announcement
1:55 Announcement : Innovation Internship for International Students
2:00 IFC Presentation "Innovation Road to Revenue"
2:15 PM Introduction of Japanese Delegation
By Tetsuro Eto, CEO & Managing Partner, Innovation Finders Capital,
2:20 PM Japanese Delegation Pitch
5:00 PM Japanese Style Networking Session
6:00 PM Close

For participants we have these programs for you.

Orrick Seminar: Angel Financing and the Rise of the SAFE
Thursday, July 26 10:30 a.m. – 12:00 p.m.
Orrick Seattle
You need money. You want to raise it quickly, with few headaches and paperwork. What route do you go? A note agreement – a SAFE agreement?
Join us for a TOTAL ACCESS program in Seattle, examining convertible notes and SAFEs and how each affect your company when raising capital.
During this panel we will cover:
• Debt for bridge and angel investments
• Key terms: Convertible Notes & SAFEs
• Conversion terms and valuation caps.
One-on-One Session by invitation
July 27th (Fri) 10:00-17:00 One-on-one sessions with Top Japanese companies
Main purpose of this event is to sit down with delegation for one-on-one business talks. Participants for the Meetup will have a chance to meet them at the networking session or the pitch session and ask for one-on-one. We also pre-arrange one-on-one so please register your interest to participate, and we will send your names and URL to the delegations. We will inform you of the early one-on-one selection a week before and final schedule after the networking session. One-on-one session is 30 min sessions. In the previous event, we organized 198 sessions.

Innovators Pitch session at Private Reception 25th July 4PM
There is an Innovators Pitch Session on 25th July. This is for entrepreneurs to pitch their technology in front of entire delegation. To be considered for this pitch session, please indicate in when registering. Pitch Session is 5-7 min plus reception at the end with food at a very exclusive venue. There is a cost to participate in this pitch event. We will let you know if you are qualified for this Innovators Pitch session. (Please contact organizer)

List of the Japanese delegations
Deloitte Tohmatsu Consulting LLC
https://www2.deloitte.com/jp/en/pages/about-deloitte/articles/dtc/dtc.html
Fujitsu Limited
http://www.fujitsu.com/global/
Jamco Corpporation
https://www.jamco.co.jp/en/index.html
KANEKA Corporation
http://www.kaneka.co.jp/kaneka-e/
Macnica, Inc.
https://www.macnica.com/global/
Microsoft Co., Ltd.(Japan)
https://www.microsoft.com/ja-jp/
Mitsubishi Corporation (Americas)
http://www.mitsubishicorp.com/northamerica/
Mitsubishi International Corporation
https://www.mitsubishicorp.com/us/en/mic/
Nikkei Business Publications, Inc.
http://www.nikkeibp.com/
DoCoMo Ventures
https://www.nttdocomo-v.com/en/
NTT Communications
https://www.ntt.com/en/index.html
Mitsui Sumitomo Bank Corporation
http://www.smbc.co.jp/global/
Sojitz Corporation of America
http://www.sojitz.com/en/
Sonpo Japan Nipponkowa Himawari Life Insurance Inc.
http://www.himawari-life.co.jp/
SC Foods Co., Ltd.
http://www.scfoods.co.jp/english/
TOYOTA TSUSHO NEXTY ELECTRONICS AMERICA,INC
http://www.toyota-tsusho.com/english/

Please contact organizer using this web site for more information.
Organized by: Innovation Finders Capital (IFC)
Co-Organizer and Sponsored by: Washington State Dept. of Commerce and Orrick Herrington & Sutcliff LLP (Orrick),