Description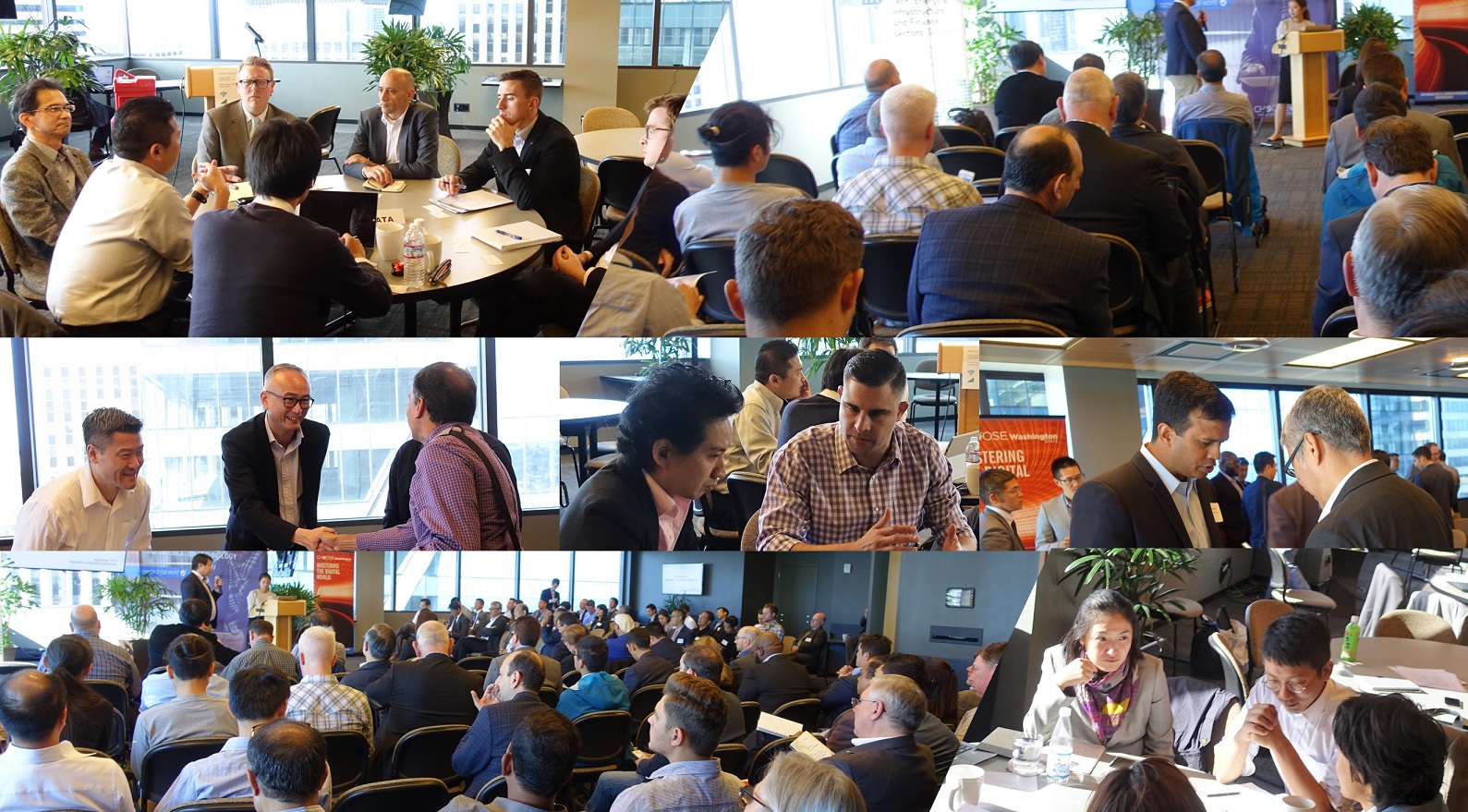 Innovation Finders Capital (IFC), the Washington State Department of Commerce, and Orrick Herrington & Sutcliffe invite you to attend the Japan-Seattle AI Innovation Meetup 8.0.
This is a unique event which all participants are given a chance to meet the Japanese delegation for business talks. Although the theme is AI, we cover all industries and it is not just for entrepreneurs. It is an event which largest platform providers such as Microsoft and Amazon participate as well as around 100 startups of all area and sizes.

Also, Japanese delegation are looking for development service providers as well as tools and development utilities companies as well. And we do have companies from ICT, Chemical, Manufacturing, Trading & Finance and many others coming, even if you are doing innovative composite materials to bit coin startups, do give it a go.

In order to make your time worth your while, we will give you the list of the Japanese participants well in advance. Also, we give the list of attending companies to the Japanese side so that they can view your web site and decide in advance which companies they would like to meet. The aim of this event is for you to meet them One-on-One on Friday20th April.

This Eventbrite registration is for Pitch + Networking session on 19th April where the Japanese delegation will reverse pitch what kind of innovation they are looking for and how they want to work with you. You must register for this event in order to be considered for the one-on-one meetings. Both are FREE but I recommend you prepare well in advance. Again, I cannot stress enough that this is a business development meetup. When you register, please make sure to fill in what kind of technology/product/service you offer and your URL.
1:30 PM: Japan Seattle AI Innovation Meetup 8.0
Location: Columbia Center conference rooms
40th Floor, 701 Fifth Avenue, Seattle, WA

Expected number of participants: 120-150
Event program
1:00 Open
1:30 Opening Remarks by Tom Sato (IFC)
1:35 Welcome Speech by Japanese Consul in Seattle
1:40 WA Department of Commerce
Announcement "AI Tech Mission to Japan" by Robert Fiddick
1:45 Orrick Announcement
Blake Ilstrup, Partner, Orrick Herrington & Sutcliffe, Seattle
1:55 Announcement : Innovation Internship for International Students : AI Media CEO Akemi Ikeda
2:00 IFC Presentation
"Innovation Road to Revenue"
Tom Sato, Managing Partner, Innovation Finders Capital, Kirkland WA
2:15 PM Introduction of Japanese Delegation
By Tetsuro Eto, CEO & Managing Partner, Innovation Finders Capital, Kirkland WA
2:20 PM Japanese Delegation Pitch
5:00 PM Japanese Style Networking Session
6:00 PM Close

For participants we have these programs for you.

Orrick Seminar: Seattle's Tipping Point: An Economy on the Verge
Thursday April 19, 10:30 – 12:00
Columbia Tower 40th Floor Conference Center

Once thought of as a provincial backwater in terms of entrepreneurial activity, Seattle is in the midst of rapid historic growth, both in terms of population and pace of innovation. In fact, Seattle was recently described as a "suburb of Silicon Valley" when it comes to venture-backed companies. But what is driving this growth?
Understanding Seattle's social and economic history is key to anticipating and investing in our future. Our distinguished panel will explore these themes and questions, including:
What are the key historical factors that laid the foundation for Seattle's rapid growth in tech and life sciences innovation?

How has Seattle's talent pool evolved over the years and what characteristics define our workforce now and in the near future?

Which sectors and technologies have played the biggest role in our growth, and which ones will rise to the top in the future?

What elements is Seattle lacking if we are to become a Top 3 market for venture-backed companies?
Panelists Include:
Blake Ilstrup, Partner, Orrick (moderator)
John Cook, Co-Founder and Publisher, GeekWire
John Lauer, CEO, Zipwhip
Rebecca Lovell, Director, Seattle Office of Economic Development
Craig Philips, CEO, Kv1.3 Therapeutics

One-on-One Session by invitation
April 20th (Fri) 10:00-17:00 One-on-one sessions with Top Japanese companies

Main purpose of this event is to sit down with delegation for one-on-one business talks. Participants for the Meetup will have a chance to meet them at the networking session or the pitch session and ask for one-on-one. We also pre-arrange one-on-one so please register your interest to participate, and we will send your names and URL to the delegations. We will inform you of the early one-on-one selection a week before and final schedule after the networking session. One-on-one session is 30 min sessions. In the previous event, we organized 198 sessions.

Innovators Pitch session at Private Reception 18th April 4PM
There is an Innovators Pitch Session on 18th April. This is for entrepreneurs to pitch their technology in front of entire delegation. To be considered for this pitch session, please indicate in when registering. Pitch Session is 5-7 min plus reception at the end with food at a very exclusive venue. There is a cost to participate in this pitch event. We will let you know if you are qualified for this Innovators Pitch session.


List of the Japanese delegations
ISI-Dentsu : SI for manufgacturting, advertising and financial institutions
Dentsu : Largest Ad Agency in Japan
Earthquake Prediction Reseach Center : Government Research Center
Japan Securities Finance : Security Finance
Kaneka : Chemical and Medical Device
Keyence : Robotics Factory Automation and Electronics for manyufacturing
Microsoft Japan : Japan Subsidiary
Mitsubishi Corp : Large Japanese Congrolomate
Mitsui Corp : Large Japanese Congrolomate
Nikkei Business Publications : Business Press
NTT Holdings (R&D Center) : Parent company of NTT Group with its R&D Center
Open Associates : Venture Capital
Sojizt Corp : : Large Japanese Congrolomate
Mitsui Sumitomo Bank Corp : Large Financial Institution
SMK Electectonics : Electronic parts for CE and Auto sector
Terumo : Medical Device
Priority Technology Area
+ AI Education & Training
+ Automotive and Public Transportation
+ Manufacturing (Industry 4.0 and Intelligent factories)
+ Fintech
+ Chemical Engineering
+ Intelligent Marketing
+ IoT and New Sensors
+ Retail + Retail logistics
+ Use of AI+ML in medical & wellness
+ Natural languages processing Chat Bot for B2B
+ Robotics for all area
+ Real estate and construction
+ Telecom
+ Call Centers and Customer Support
+ Cyber Security & Public Safety


How to:- Please read this carefully to get the most out of this event.
We organize this event for you to have quality one-on-one sessions with Japanese delegation. So we asked the Japanese side in advance what kind of innovation they are looking for. Fortunately, we have companies from all industry (mobile, ICT, Advertising, Manufacturing, Chemical, Real Estate etc) so it is likely that you will find potential fit. When registering, please fill in the comment section with brief description of your business and target customer base.
Please make sure you come and hear the Japanese pitch session so that when you are meeting them, they wont have to repeat what they said. Also, networking session at the Meetup is very important. Few munities of chat with delegation before you meeting will go a long way.

Please contact organizer using this web site for more information.
Organized by: Innovation Finders Capital (IFC)
Co-Organizer and Sponsored by: Washington State Dept. of Commerce and Orrick Herrington & Sutcliff LLP (Orrick),