Description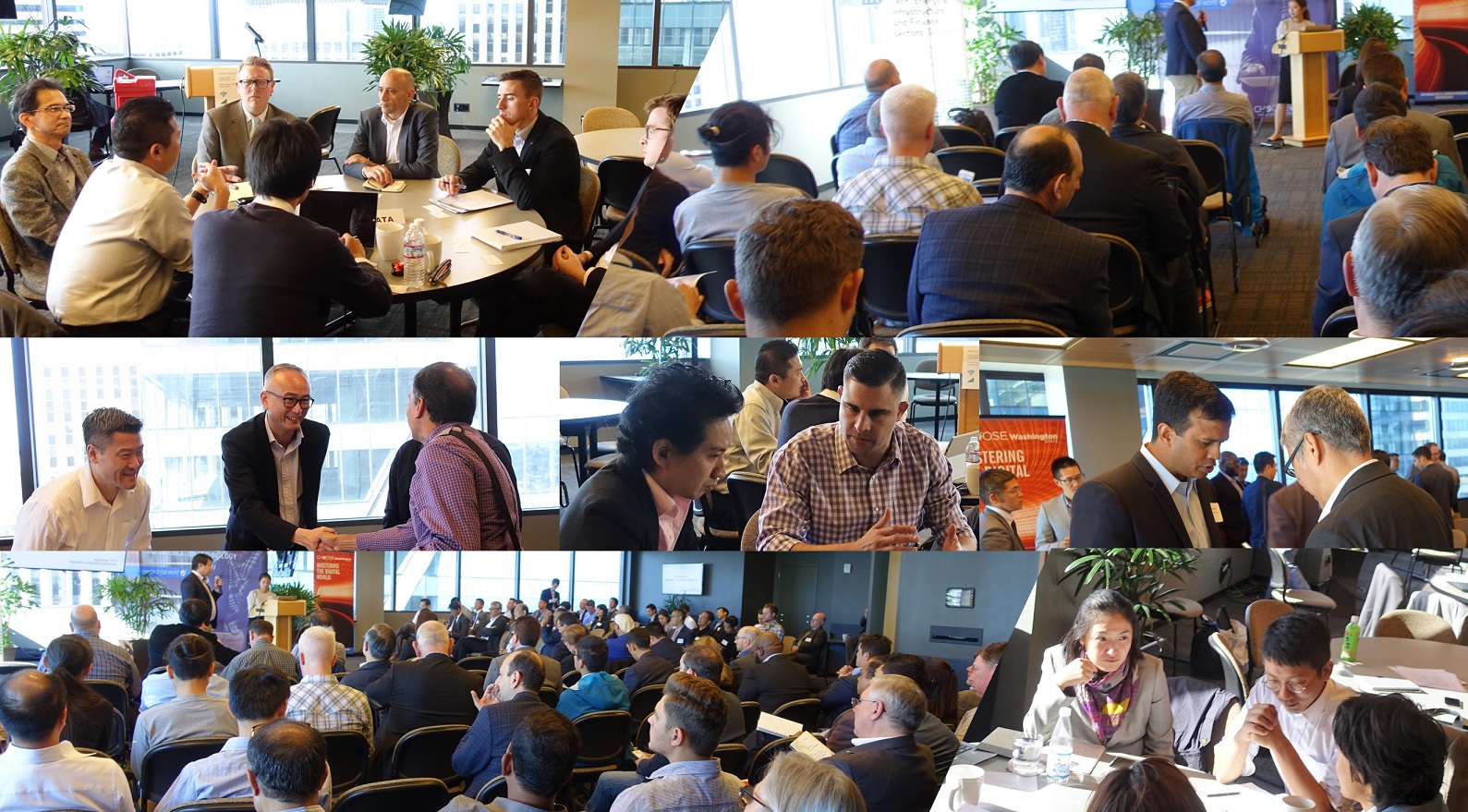 Innovation Finders Capital (IFC), the Washington State Department of Commerce, and Orrick Herrington & Sutcliffe invite you to attend the Japan-Seattle AI Innovation Meetup 7.0.
This is a unique event which all participants are given a chance to meet the Japanese delegation for business talks. Although the theme is AI, we cover all industries and it is not just for entrepreneurs. It is an event which largest platform providers such as Microsoft and Amazon participate as well as around 100 startups of all area and sizes. Also, Japanese delegation are looking for development service providers as well as tools and development utilities companies as well. And we do have companies from chemical, Machinery, Finance and many others coming, even if you are doing innovative composite materials to bit coin startups, do give it a go.
In order to make your time worth your while, we will give you the list of the Japanese participants well in advance. Also, we give the list of attending companies to the Japanese side so that they can view your web site and decide in advance which companies they would like to meet. The aim of this event is for you to meet them one-on-one on Friday 26th Jan.
This Eventbrite registration is for Pitch + Networking session on 25th Jan where the Japanese delegation will reverse pitch what kind of innovation they are looking for and how they want to work with you. You must register for this event in order to be considered for the one-on-one meetings. Both are FREE but I recommend you prepare well in advance. Again, I cannot stress enough that this is a business development meetup. When you register, please make sure to fill in what kind of technology/product/service you offer and your URL.
1:00 Venue Open
1:30 Opening Remarks by Tom Sato (IFC) and Ted Johnson (Orrick)
1:35 Welcome Speech by WA Department of Commerce
1:45 Orrick Presentation"Working with Japanese Corporations" Orrick Herrington & Sutcliffe
2:00 IFC Presentation"Innovation Road to Revenue" by Tom Sato, Managing Partner, Innovation Finders Capital, Kirkland WA
2:15 PM Introduction of Japanese Delegation
By Tetsuro Eto, CEO & Managing Partner, Innovation Finders Capital, Kirkland WA
2:20 PM Japanese Delegation Pitch
10 min pitch by 15 Companies
5:00 PM Japanese Style Networking Session
6:00 PM Close
Here is the list with description of what kind of innovation they are looking for.
Aoyama Gakuin Univerity - AI Education
FUJI FILM : Leaders in medical devices such as ultrasound. Looking for medical diagnostics and medical device innovations.
FUJITSU : Largest computer, SI, AI company in Japan. Has its own Accelerator program. Looking for AI Innovators in all area.
KANEKA : Chemical giant looking for business opportunity & partner for AI Speaker / Robotics / Comm Device(5G, LPWA, WPS) as well as Medical services, using AI / Visual recognition / NLP
Konica Minolta - Medicakl devices
MITSUBISHI : Global Trading company with area in Aerospace, Food, Energy, and more.
NTT : NTT Holding is the parent company of all NTT Group. They are looking for AI Innovators.
SMK : Auto and electronic parts company. Wireless Power Transmission / Energy Harvesting Tech / New UI (Five Sense, Emotions) / BMI / Image Correction
SOJITZ : Global Trading Firm looking for Aerospace, transportation and autonomous drive technologies.
Nomura : Large Financial Institution : Leader in corporate finance: Looking for fintech and digital transformation using AI.
Yagi Ueda Tanshi : Leading Financial institution that works with Bank of Japan providing intra-bank marketplace. Looking for Fintech and Digital Transformation area.
Delloitte Consulting Japan: Partner with AI development services.

Tokyo Marine Insurance - Fintech
For participants we have these programs for you.
Orrick Tutorial
Jan 25th (Thu) 10AM Pre-event Tutorial for Startup CEOs Successful entrepreneurship and how to work with Japanese companies by Orrick Herrington & Sutcliffe
"Japan Loves Seattle Tech! How Early-Stage Companies Can Enter Japanese Markets"
Blake Ilstrup, Partner, Orrick Herrington & Sutcliffe, Seattle
Ted Johnson, Orrick Herrington & Sutcliffe, Tokyo
James Nakatsu - Director, Epson
Matt Callamata - CTO, Matchbox Mobile
James Reed - Managing Partner Reed Global Consultants
Note: This tutorial is designed to help Founders and Innovators to create a great startups and work with the Japanese.
Location: Columbia Center, 701 Fifth Avenue Seattle

There is an Innovators Pitch Session on 24rd. This is for entrepreneurs to pitch their technology in front of entire delegation. To be considered for this pitch session, please indicate in when registering. Pitch Session is 5-7 min plus reception at the end with food at an very exclusive venue. There is a cost to participate in this pitch event. We will let you know if you are qualified for this Innovators Pitch session.
For Sponsoring Platform and Development Service providers, there is an event on 23rd where you can sponsor 45-30 min technology presentation session. This is for large AI platform providers, AI consulting service, development tools, development outsourcing companies.
Oct 6th (Fri) 10:00-17:00 One-on-one sessions with Top Japanese companies
Participants for the Meetup will have a chance to meet with individual delegation members. Register your interest to participate, and we will send your names to the delegation. Note; You will have 30 min session to meet the delegates individually for business discussions.
Innovators Pitch session at Private Reception Jan 24th 4PM
There is an invitation only Innovators Pitch Session on 24th. To be invited, please register and indicate in the registration form. There is a requirement and qualification process. Also, there is an fee for this Pitch session. Please contact organizers for more details.
This event is focused on AI in broadest sense.
Priority sector
+ AI Education & Training
+ Automotive and Public Transportation
+ Manufacturing (Industry 4.0 and Intelligent factories)
+ Fintech
+ Chemical Engineering
+ Intelligent Marketing
+ IoT and New Sensors
+ Retail + Retail logistics
+ Use of AI+ML in medical & wellness
+ Natural languages processing Chat Bot for B2B
+ Robotics for all area
+ Real estate and construction
+ Telecom
+ Call Centers and Customer Support
+ Cyber Security & Public Safety
By Technology
Natural Language Processing, Chat Bot, Voice Recognition, Machine Translation
Big Data for Marketing, Predictive Analysis, Failure Prediction, Business Intelligence, Predictive analytics for healthcare
IoT for Manufacturing and Auto
AI & ML Development Service, AI & ML Data sourcing, AI Algorithm
Robot Machine Vision, Robot Operating System, Robots, AI Robot operation for manufacturing
How to:- Please read this carefully to get the most out of this event.
We organize this event for you to have quality one-on-one sessions with Japanese delegation. So we asked the Japanese side in advance what kind of innovation they are looking for. Fortunately, we have companies from all industry (mobile, ICT, Advertising, Manufacturing, Chemical, Real Estate etc) so it is likely that you will find potential fit. When registering, please fill in the comment section with brief description of your business and target customer base.
Please make sure you come and hear the Japanese pitch session so that when you are meeting them, they wont have to repeat what they said. Also, networking session at the Meetup is very important. Few munities of chat with delegation before you meeting will go a long way.
Please contact organizer using this web site for more information.
Organized by: Innovation Finders Capital (IFC)
Co-Organizer and Sponsored by: Washington State Dept. of Commerce and Orrick Herrington & Sutcliff LLP (Orrick),