Japan Seattle AI Innovation Meetup 5.0 with Softbank, NEC, Epson + Others
Description
This THREE DAY EVENT is a great opportunity to meet leading Japanese companies including
Softbank, NEC, Epson, Kaneka, AML, SMK, Mitsui, Nippon RAD, Intage and more. We have 10 confirmed and 10 more in the pipeline. This is a business meetup event. Find your customer, global distributer, alliance partners and investors. The opportunity is huge.
Innovation Finders Capital (IFC), the Washington State Department of Commerce, and Orrick Herrington & Sutcliffe invite you to attend the Japan-Seattle AI Innovation Meetup 5.0. This will be the fifth and the largest meetup event. We expect over 150 participants, resulting in over 200 one-on-one sessions between innovators and representatives from Japanese multinational firms.
This is a "Reverse Pitch" business development event, where key decision makers at top Japanese companies will pitch to the innovators in Seattle, explaining what kind of innovation they are seeking, how they would like to do business and the distribution channels they can offer to help early stage companies accelerate on the road to revenue. Japanese delegations are looking for technology for them to use as customer, license, distribute and re-sell through their global sales channel.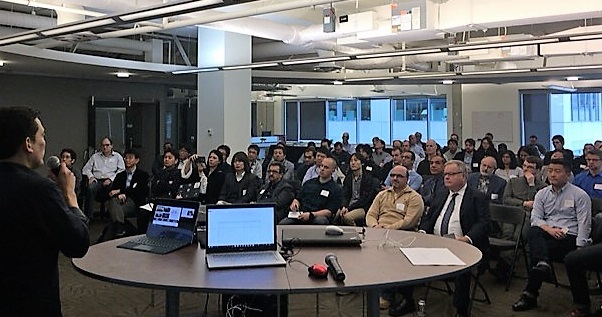 The three day program includes:
June 7th (Wed) 1PM Pre-event Tutorial for Startup CEOs Successful entrepreneurship and how to work with Japanese companies by Orrick Herrington & Sutcliffe
Note: This tutorial is designed to help Founders and Innovators to create a great startups and work with the Japanese.
Location: Columbia Center, 701 Fifth Avenue Seattle
June 8th (Thu) 1:30PM Japan Seattle Innovation Meetup
Note: This is the main event where you will learn from the Japanese delegation exactly what they are looking for and how they would like to work with you. Meet them at the Networking Session and make sure you get your appointment fixed for the Ono-on-One.
Location; Columbia Center, 701 Fifth Avenue Seattle
June 9th (Fri) 10:00 One-on-one sessions with Top Japanese companies
Note; You will have 30 min session to meet the delegates individually for business discussions.
Location; Columbia Center, 701 Fifth Avenue Seattle
This event is focused on AI in broadest sense.
Priority sector
+ Public Safety and Security
+ Chemical Engineering
+ Intelligent Marketing
+ New Sensors
+ Retail + Retail logistics
+ Industry 4.0 and Intelligent factories
- Use of AI+ML in medical & wellness
- Natural languages processing Chat Bot for B2B
-Autonomous drive, Connected Vehicle, Fleet Management, Traffic Control and Navigation
- Robotics for all area
- Real estate and construction
By Technology
Natural Language Processing, Chat Bot, Voice Recognition, Machine Translation
Big Data for Marketing, Predictive Analysis, Failure Prediction, Business Intelligence, Predictive analytics for healthcare
IoT based on ARM and mobile infrastructure for Industry, B2B, B2C, public utilities
AI & ML Development Service, AI & ML Data sourcing, AI Algorithm
Robot Machine Vision, Robot Operating System, Robots, AI Robot operation for manufacturing
By Specific Request
+ Geospacial Analytics for Retail, Real Estate and Marketing
+ GIS for Auto industry
+ Large scale public safety and security including law enforcement
+ Space Industry
+ GIS + AI (All areas)

Delegation: Softbank, NEC, Espon Intage, Mitsui, Nippon RAD, Kanena, OKWave,SMK, AML + Others
Public Safety and Security. NEC would like to meet innovators and system venders for large scale public access and law enforcements. They have their own facial recognition system and have global clients but want to team up with more AI+ML innovators in this area.
Softbank is looking for innovative AI, IoT and Robotics startups. They are hosting the Washington State AI Tech Mission to Japan in July and would like to invite startups to their pitch session.
Intage is the largest market research company in Japan with huge retail and brand customer base. They are looking for innovative marketing technology and BI system for this sector. Their distribution channel is pan-Asia.
Nippon RAD is looking for security, industrial AI and more. Their customer base are telcos, hospitals and manufacturing.
Epson is looking for Industrial 4.0 play using VR/AR techonology to be used with their VR Goggle.
Kaneka is chemical giant which is looking for new chemical innovation.
SMK is CE and auto parts manufacturer that is looking for new generation of sensors, input devices, man-machine interface and remote charging.
OKwave is QnA provider that is looking for AI Chatbot and unique NPL services. They have 400 coprate clients in Japan.
AML is a large real estate developer interested in home utility, real estate marketing and security services.
There are IoT+AI outsourcing projects as well so if you are seasoned AI developer, come to our meetup
How to:- Please read this carefully to get the most out of this event.
We organize this event for you to have quality one-on-one sessions with Japanese delegation. So we asked the Japanese side in advance what kind of innovation they are looking for. Fortunately, we have companies from all industry (mobile, ICT, Advertising, Manufacturing, Chemical, Real Estate etc) so it is likely that you will find potential fit. When registering, please fill in the comment section with brief description of your business and target customer base. Also, we have 5 min pitch session at the Meetup. If you'd like to considered, please let us know. IFC will do the match making and we will email you regarding your one-on-one. Please make sure you come and hear the Japanese pitch session so that when you are meeting them, they wont have to repeat what they said. Also, networking session at the Meetup is very important. Few munites of chat with delegation before you meeting will go along way.
Program
June 7th (Wed) Pre-event Tutorial
Orrick Seminar for Startup CEOs
1. Founder Safeguards: Maintaining Control and Ownership as Your Company Grows
2. Working With Japanese companies
At Orrick Seattle Office
Columbia Center 40th Floor, 701 Fifth Avenue, Seattle WA
June 8th (Thu) Japan Seattle Innovation Meetup and Seminar
13:00 Registration Opens
13:30 Start
1. Welcome by Orrick Herrington & Sutcliffe
2. Welcome by WA Department of Commerce
Announcement ; Washington State Tokyo Japan AI Tech Mission July 18-21
3. Cross Border Business Development and Legal Support, Orrick Herrington & Sutcliffe
4. How to enter Japanese market & beyond, Tom Sato, Innovation Finders Capital
5. "Reverse Pitches" by Japanese Delegation Corporations 15 min each with 5 min Q&A
6. 5 min pitches by Start-ups
7. Networking Session, Japanese Style
June 9th (Fri) 10:00 One-on-one sessions with delegates
At 40th Floor, 701 Fifth Avenue (Columbia Center)
-30 min meetings with start-ups and Japanese Delegation companies.
-Start-ups must pre-register with the organizers. Start-ups who meet at Thursday meet-ups networking session, must request to the delegates and inform the organizers after the networking session. Schedule of meetings will be announced the night before.
-Most start-ups participating will be able to have one-on-one with Orrick Herrington & Sutcliffe and also Innovation Finders Capital.
17:00 End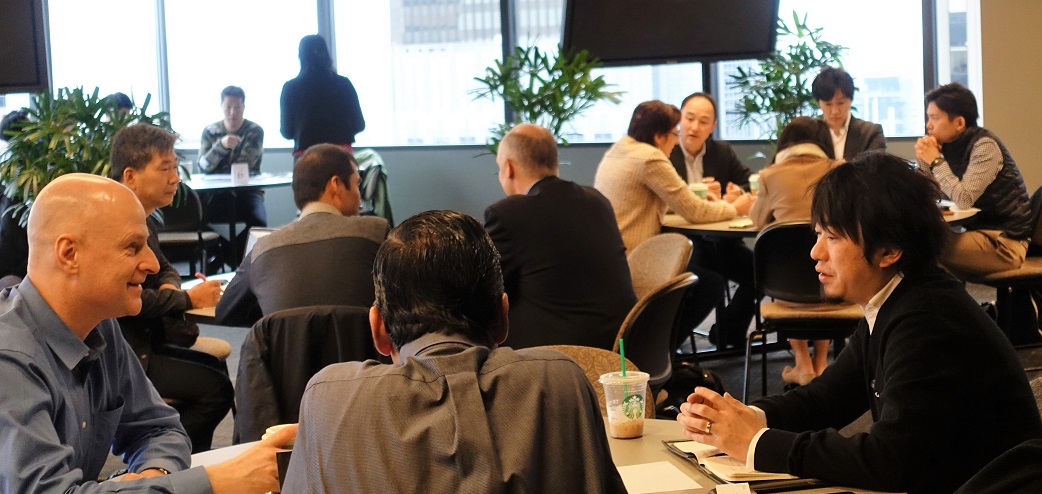 Please contact organizer using this web site for more information.
Organized by: Innovation Finders Capital (IFC)
Co-Organizer and Sponsored by: Orrick Herrington & Sutcliff LLP (Orrick),
Co-Organizer and Sponsored by: Washington State Department of Commerce