Japan Seattle AI Innovation meetup 13.0 + Seattle Innovation Investor Track 4.0: July 25th Seattle Central Library 4F

Thursday, July 25, 2019 from 9:00 AM to 6:00 PM (PDT)
Event Details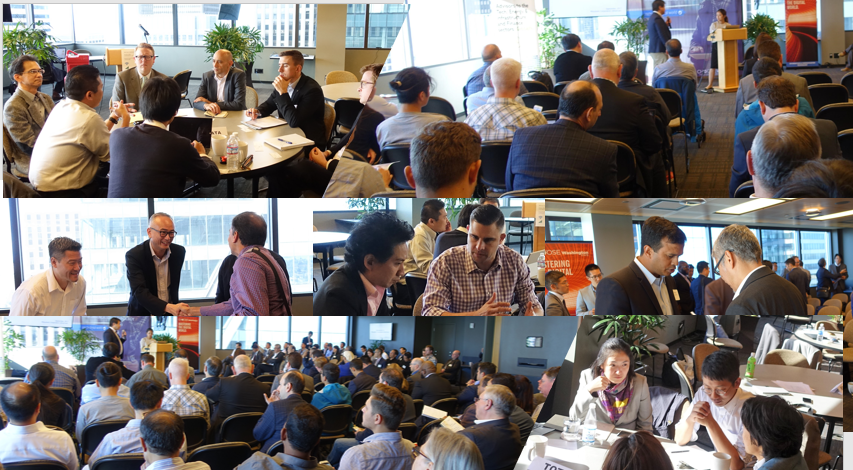 Innovation Finders Capital (IFC), the Washington State Department of Commerce, and Orrick Herrington & Sutcliffe invite you to attend the Japan-Seattle AI Innovation Meetup 13.0 and Seattle Innovation Investors Track 4.0.
Supported by:         Consulate-General of Japan in Seattle
Supported by:          JETRO
VENUE: Seattle Central Library 4th Floor, Conference Room 1
This is a double feature event that should result in your meeting with delegations, one-on-one on the following day.
Seattle Innovation Investors Track 9:30AM July 25th 2019
Some of the largest VC funds andinvestors from Canada will come to Seattle to pitch to the innovators community on what kind of technology they are looking for and how they would like to invest in your startups. Then during the networking session, you will get to meet them and if they are interested, they may request for one-on-one meeting on the following day. The pitch session will be preceded by Orrick's seminar on financing by legal experts on raising money form VCs.
Startups seeking alternative method of financing through Canadian TSX-Venture should definately attend and meet with investment banks and sevice providers who can help to raise your financing.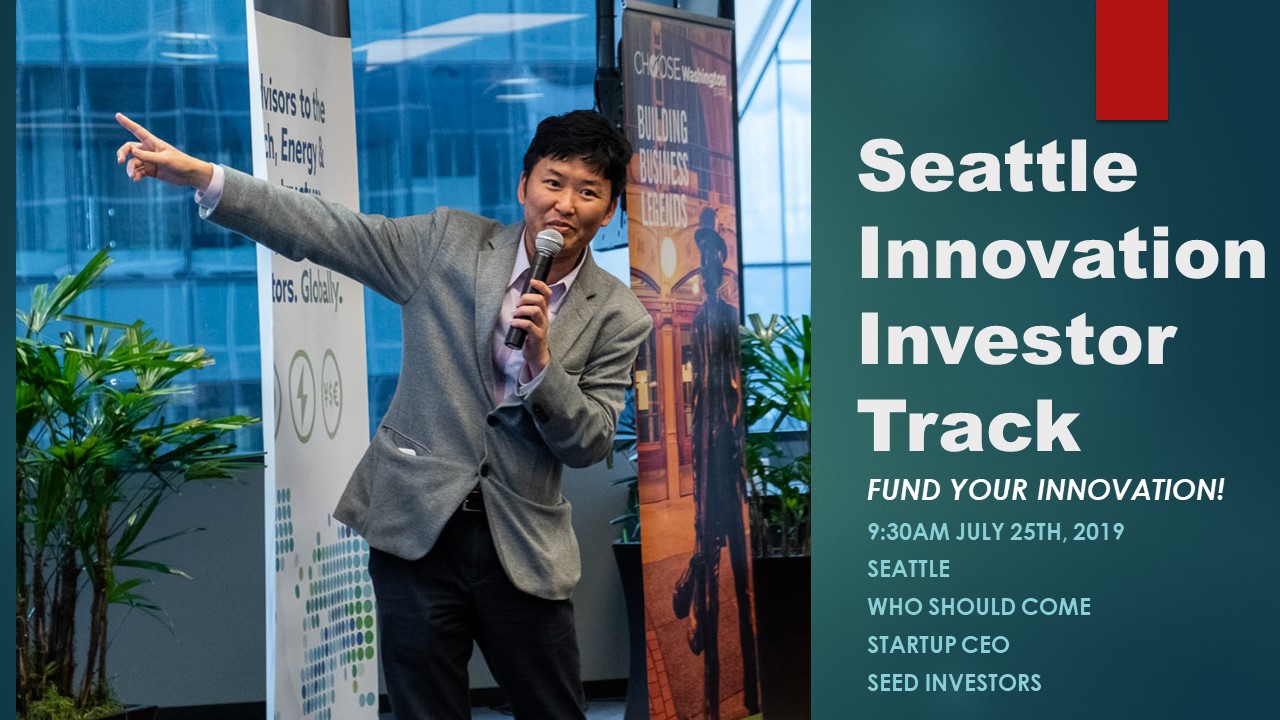 Japan Seattle AI Innovation Meetup 13:00PM July 25  2019
Many of the largest Japanese companies will be pitching to the Seattle innoavtors, what kind of innovation they are looking for and how they would like to do business with you. So if you are looking for serious revenue opportunity, just come to downtown Seattle to hear them out and meet them for the networking session. If they like to meet you, we will make sure that you get to sit down with them for one-on-one on the following day.
Also, Japanese delegation are looking for development service providers as well as tools and development utilities companies as well. And we do have companies from ICT, Chemical, Manufacturing, Trading & Finance and many others coming, even if you are doing innovative composite materials to bit coin startups, do give it a go.

Step by Step Guide
1. Signup early and request one-on-one meetings. Please give brief description of your company and URL
2. We will give the advance list of participants to all delegation members. They will look at your web site and request one-on-one. (These meeting requests goes out 10 days before the event)
3. Come to the Meetup event. The Japanese companies will pitch to you, what kind of Innovations they are looking for and how they would like to do business with you.
4. Meet them during the networking session after the Meetup and ask if they would like to meet you on the following day.
5. One-on-one meeting confirmations will be emailed to you the night before
6. Come prepared for the one-on-one meeting. If you can give a demo, that will be great.
This Eventbrite registration is for Pitch + Networking session on July 25 and the one on one on the following day. Both are FREE but I recommend you prepare well in advance.

Again, I cannot stress enough that this is investment and revenue opportunity. When you register, please make sure to fill in what kind of technology/product/service you offer and your URL.
Event program
9:00 – 12:00 Seattle Innovation Investor Track 4.0
Venture Capitalists from Europe and Japan will reverse pitch to the Seattle Startup community.
9:30 Opening Remarks by Tom Sato (IFC)
9:35 Keynote by Orrick
Blake Ilstrup, Partner, Orrick Herrington & Sutcliffe, Seattle
9:50 Presentation 10 min each
TSX-Venture TMX Group Presentation
Julia Yan, VP Regional Sales, TMX Group (Vancouver)
10:00 Canadian delegation: Seatrend Strategy Group, CEO Jeremy Wright
10:10 Jeff Clark Managing Partner, Energy Innovation Capital
10:20 James Reed, CEO, SWAN Venturs
10:30 EU Global Business delegation TBD
10:40 List of Japanese Investors to be announced TBD
10:50 Panel Discussion
"There must be an easier way of getting funded"
1. Global funding. How is it done
2. Making sure that you have the right BoD
3. When to raise, when not to raise
11:20 Networking Session
Meet the speakers and ask them for one-on-one meetings. Get connected to the right people who will get you funded.

1:00 PM: Japan Seattle AI Innovation Meetup 13.0

Major corporations from Japan will pitch to Seattle Startup community for business development and distribution deals.
1:00 Open
1:30 Opening Remarks by Tom Sato (IFC)
1:35 WA Department of Commerce
Julie Monahan,Business Development Manager (ICT)

1:40 Orrick Announcement
Blake Ilstrup, Partner, Orrick Herrington & Sutcliffe, Seattle
1:50 IFC Presentation "Innovation Road to Revenue"
Tom Sato, Managing Partner, Innovation Finders Capital

14:00 JETRO Presentation
Noriya Tarutani Executive Directro, JETRO San Francisco

14:05 PM Japanese Delegation Pitch Sessions 
DNP Corporation USA
Fujitsu America / Fujitsu Laboratories of America (FLA)
Ito-Yokado Co., Ltd.
Kajima Corporation
Mitsubishi Corporation (Americas)
Nippon RAD Inc.
SMK Electronics Corporation U.S.A.
Sompo Japan Nipponkowa Himawari Life Insurance Inc.
SORACOM, INC.
Sumitomo Mitsui Banking Corporation (SMBC)
Format : 10-15 min Presentation by Corporations
1. Overview of their company
2. What kind of innovation they are looking for
3. How they would like to do business with Startups
4. What are the market opportunities?
5:00 PM Japanese Style Networking Session
6:00 PM Close
One-on-One Session by invitation 26th July
26th July (Fri) 10:00-17:00 One-on-one sessions with VCs and Top Japanese companies
Participants for the Meetup will have a chance to meet them at the networking session or the pitch session and ask for one-on-one. We also pre-arrange one-on-one so please register your interest to participate, and we will send your names and URL to the delegations. We will inform you of the early one-on-one selection a week before and final schedule after the networking session. One-on-one session is 30 min sessions. In the previous event, we organized 198 sessions.
Innovators Pitch session at Private Reception 24th July  2019
There is an Innovators Pitch Session on July 24th. This is for entrepreneurs to pitch their technology in front of entire delegation. To be considered for this pitch session, please indicate in when registering. Pitch Session is 5-7 min plus reception at the end with food at a very exclusive venue. There is a cost to participate in this pitch event. We will let you know if you are qualified for this Innovators Pitch session. (Please contact organizer)
The list of delegations 
1. Construction : Kajima (General Construction)
Consytuction area Robotics, design, AI, drone
2. Retail : 7&I Holdings (Supermarket)
Retail technologies, logostics innovations, security
3. Finance ; SMBC (banking), Sonpo Holdings (Insurance), Maya Capital
Banking innovations, insurance technologies, investment opportunities, wellness
4. Computing : Fujitsu, Nippon RAD (SI, AI and IoT)
AI, ML, Bigdata, Industrial IoT, Industrial drones, heathtech
5. Digital Marketing : DNP (Printing and marketing)
Digital Marketing for small businesses
6. Electronics : SMK (CE and auto parts maker)
hardware, auto, consumer electronics
7. Mitsubishi (Global trading)
All areas
8. Government : JETRO (Japan Extrenal Trade Organization)
Planning to go to Japan
9. TSX-V Stock Exchange: (TMX Group, SeaTrend)
Fund raising, IPO, RTO on TSX-Veture for small startups.
10. LandRover Jaguar
mobility
-------------------------------------------------------
Please contact organizer using this web site for more information.
Organized by: Innovation Finders Capital (IFC)
Co-Organizer and Sponsored by: Washington State Dept. of Commerce and Orrick Herrington & Sutcliff LLP (Orrick),
Have questions about Japan Seattle AI Innovation meetup 13.0 + Seattle Innovation Investor Track 4.0: July 25th Seattle Central Library 4F?
Contact Innovation Finders Capital
When & Where

Seattle Central Library
4FL Conference room 1
1000 4th Ave.
Seattle, WA 98101


Thursday, July 25, 2019 from 9:00 AM to 6:00 PM (PDT)
Add to my calendar
Organizer
Innovation Finders Capital is a Venture Capital firm based in Kirkland Washington.
4555 Lake Washington Blvd. NE Unit 2, Kirkland WA 98033 USA
http://www.innovation-finders.com/