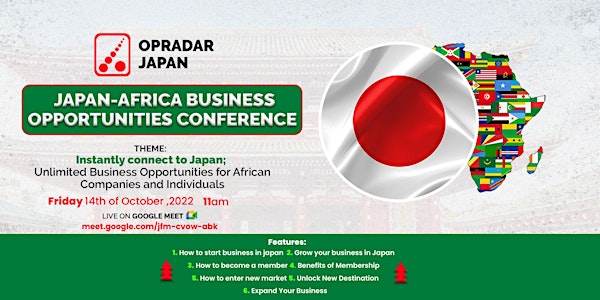 JAPAN-AFRICAN BUSINESS OPPORTUNITIES CONFERENECE BY OPRADAR JAPAN
Instantly connect to Japan; Unlimited Business Opportunities for African Companies and Individuals
About this event
INVITATION TO AFRICA-JAPAN BUSINESS OPPORTUNITIES CONFERENCE
Welcome to Opradar Japan Opportunities Resource – Opradar Ltd.
Opradar invites you to access Opportunities for Business and Socials in Japan. Opradar is a membership subscription platform.
We match your business goal to Japan Opportunities on Opradar Japan opportunity Channel. Opradar provides all the resources and support you need for connecting and engaging in business or social activities with Japan.
Through registration, members are welcomed based on their organization, corporate activities, business scale and capability to pursue business and social opportunities with/in Japan.
Opradar covers about 30 Industry Sectors in Japan
Multi-sector Deals and Services Line up
1.Energy- Renewable Energy/ Energy Generations / Energy efficient electronics / Electronic Systems
2. Agriculture - Food processing/ food and beverages / Fishery/
3. Healthcare and Medical - / Medical equipment
4. Pharmaceuticals
5. Beauty and Cosmetics - Nail care
6. Wellness and Self care
7. Water – water purification products and system
8. Cooling
9. Automotive and Mobility
10.Digital
11. IT & Communications 12. Media & Entertainment 13.Construction 14.Electrical Machinery
15.Electronics 16.Manufacturing 17.Mining
18.Oil & Gas
19.Heavy Industry - Steel 20.Education
21.Tourism and Hospitality 22.Textiles and Garments 23.Leather
24.Gems & Jewelry 25.Biotechnology 26.Chemicals
27.Ports
28.Railways 29.Roads & Highways 30.Space
Become a member of Opradar Japan!
Unlock new destination for business and socials on Opradar Japan Resource Platform
Instantly connect to multi-sector opportunities.
Access unlimited deals and services from across industry sectors in Japan.
Enjoy a two-way business engagement
Sign up now !