The speakers will discuss the DP-37, CTP 2050, Complete Street Decision Document, and Climate Action Plan documents.
About this event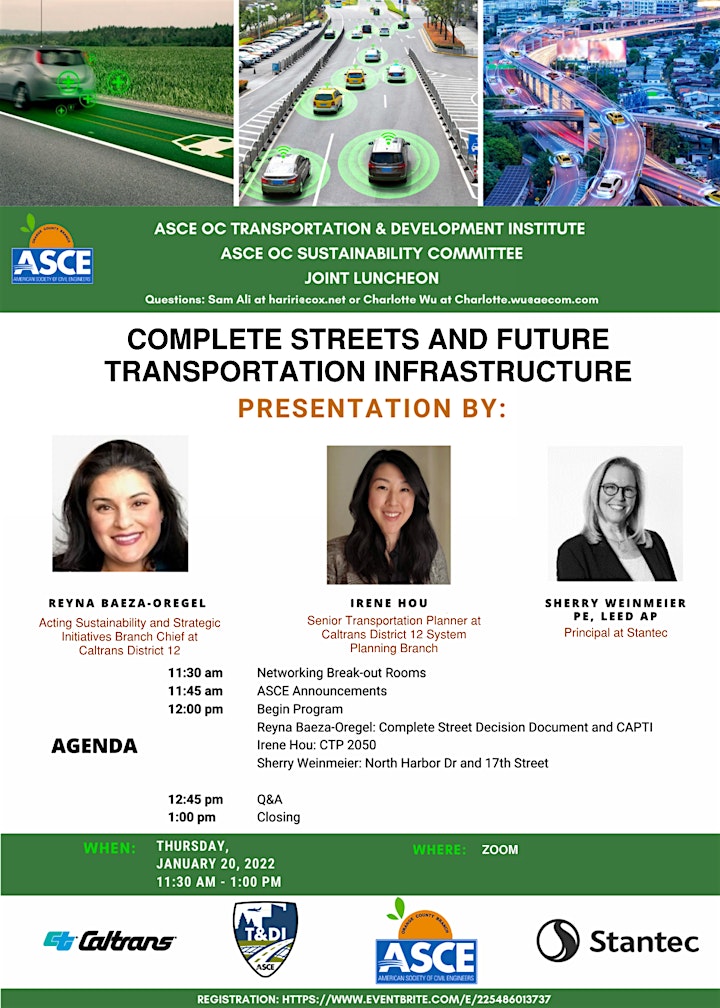 For Questions contact:
Sam Ali: hariri@cox.net or Charlotte Wu: Charlotte.Wu @aecom.com
COMPLETE STREETS AND FUTURE OF TRANSPORTATION INFRASTRUCTURE
AGENDA
11:30 am Networking Break-out Rooms
11:45 am ASCE Announcements
12:00 am Begin Program
Reyna Baeza-Oregel: Complete Street Decision Document and CAPTI
Irene Hou: California Transportation Plan 2050
Sherry Weinmeier: North Harbor Dr and 17th St
12:45 pm Q&A
1:00 pm Closing
In early 2021, California Transportation Plan (CTP) 2050 was approved by California State Transportation Agency (CalSTA); it provides a common framework for guiding transportation decisions and investments by all levels of government and the private sector. Shortly after, Complete Street Decision Document was implemented by Caltrans to record key decisions to incorporate complete streets facilities in projects on the State highway system.
Later in the year, CalSTA released the final Climate Action Plan for Transportation Infrastructure (CAPTI); this plan details how the state recommends investing billions of discretionary transportation dollars annually to aggressively combat and adapt to climate change while supporting public health, safety and equity.
In December the Caltrans Director's Policy 37 was released. It states: "In locations with current and/or future pedestrian, bicycle, or transit needs, all transportation projects funded or overseen by Caltrans will provide comfortable, convenient, and connected complete streets facilities for people walking, biking, and taking transit or passenger rail unless an exception is documented and approved."
Join us to hear the latest and how those documents will play a part in programs and projects.
Reyna Baeza-Oregel, Acting Sustainability and Strategic Initiatives Branch Chief at Caltrans District 12
Reyna is currently the acting Sustainability and Strategic Initiatives Branch Chief at Caltrans District 12 (Orange County). She is a Licensed Landscape Architect and has spent her entire career in the Transportation Sector championing innovative and strategic practices in the Divisions of Design, Maintenance Engineering, and Transportation Planning. Her work includes the planning and development of Complete Streets, Active Transportation, Wildlife Connectivity, and Sustainable Transportation improvements that are equitable and transformative.
Irene Hou, Senior Transportation Planner at Caltrans District 12 System Planning Branch
Irene is Senior Transportation Planner of Caltrans District 12's System Planning Branch, which encompasses the Active Transportation, Freight Planning, Modeling/Forecasting, Corridor Planning, Sustainable Transportation Planning Grant Program, Park & Ride and Rideshare functions. She greatly enjoys the multimodal and multidisciplinary nature of her work and leading her team in support of the Department's mission of providing a safe and reliable transportation network that serves all people and respects the environment.
Sherry Weinmeier, PE, LEED AP, Principal at Stantec
Sherry has been a principal civil engineer for the Orange County office of Stantec Consulting for over 30 years and a licensed civil engineer since 1986. Her focus has been civil engineering design services for public and private infrastructure projects, with an emphasis on local municipal public works roadway and highway improvement projects. As a recreational cyclist and outdoor enthusiast with her family during their younger years, she understands the importance of safe routes and takes great pleasure in design of safety enhancements to create the complete street for all modes of travel. Sherry is a team leader and responsible for the budgeting, scheduling, staffing, and delivery of concept development through final plans, specifications, and estimates for a wide range of projects.