January Session: Designing Solutions for Health Challenges in Humanitarian...
Sales Have Ended
Registrations are closed
Thank you for registering! We look forward to seeing you at the Hackathon on June 23, 2018.
Event Information
Location
Johns Hopkins University Center for Bioengineering Innovation and Design; Mercy Corps مركز "جونز هوبكينز للابتكار و التصميم الحيوي الهندسي": ميرسي كور
Baltimore (USA) or Gaza (Palestine) بالتيمور (الولايات المتحدة الأمريكية) أو غزة (فلسطين)
Sales Have Ended
Registrations are closed
Thank you for registering! We look forward to seeing you at the Hackathon on June 23, 2018.
Description
Designing Solutions for Health Challenges in Humanitarian Crises Design Challenge
هاكاثون "حلول للتحديات الصحية خلال الأزمات الإنسانية"
---
JOIN US THIS JANUARY for a US-GAZA Humanitarian Health Design Challenge with students, faculty, and experts based in Baltimore and Gaza.
انضموا إلينا خلال شهر يونيو ضمن هاكاثون "تصميم التدخلات الصحية الإنسانية – الولايات المتحدة و غزة" مع طلبة و أعضاء هيئة تدريسية و خبراء من "بالتيمور" و "غزة"
Participants will listen and participate in live lectures held in Baltimore and Gaza to help them understand the design process and healthcare needs in Gaza. Participants will share questions and discussion on the issues with experts. Details on topics covered below. Participants will have the opportunity to speak directly with healthcare workers and residents to better understand the needs and context.
سيستمع المشاركون إلى و سيشاركون في محاضرات حية تعقد في "بالتيمور" و "غزة" تساعدهم على فهم عملية التصميم و احتياجات الرعاية الصحية في غزة. سيطرح المشاركون الأسئلة و يناقشون القضايا مع الخبراء. تفاصيل الموضوعات التي سيتم تغطيتها موجودة أدناه. سيكون لدى المشاركين الفرصة للتحدث مباشرةً إلى مزودي الخدمة و المواطنين من أجل فهم أفضل للاحتياجات و السياق.
WHAT: Participants will be on teams comprised of members from both locations. Teams will collaborate using tools such as Google Drive, Whatsapp, and Zoom to exchange ideas and create shared documents detailing their ideas, solutions, stakeholder feedback, etc. They will also have access to a "Portal" - a room equipped with immersive audiovisual technology to ensure smooth virtual collaboration. Teams receive extensive mentorship by Innovation Mentors, Subject Matter Experts, faculty, and staff who will guide the teams through the design process. Prototyping supplies will be available on both sites. Each team will report to the larger group on the needs they have chosen to address and on their solution concepts.
ماذا: سيكون المشاركون ضمن فرق تضم أعضاء من كلا الموقعين. ستتعاون الفرق باستخدام أدوات مثل "جوجل درايف" و "واتساب" و "جوجل هانج آوتس" لتبادل الأفكار و إنتاج ملفات مشتركة تشتمل، بالتفصيل، على أفكارهم و حلولهم و التغذية الراجعة لأصحاب المصالح، إلخ. ستتاح لهم أيضاً إمكانية الوصول إلى "بورتال"، و هي غرفة مجهزة بتقنيات سمعية بصرية غامرة من أجل ضمان تعاون افتراضي سلس. تتلقى الفرق إرشاد/ توجيه واسع النطاق بواسطة "مرشدي/ موجهي ابتكار" و خبراء متخصصين في مواضيع محددة و أعضاء هيئة تدريسية و طواقم العمل، الذين سيرشدون الفرق خلال عملية التصميم. سيتم توفير مستلزمات النماذج في كلا الموقعين. سيقدم أعضاء كل فريق تقريراً للمجموعة الكبرى عن الاحتياجات التي تطرقوا إليها و عن مفاهيمهم لحلها.
WHERE: Participants in Gaza will work in a space designated by Mercy Corps and participants on the JHU campus will work in Clark Hall, on the Homewood Campus of Johns Hopkins University.
أين: سيعمل المشاركون من غزة في مساحة مخصصة بواسطة "ميرسي كور" و سيعمل المشاركون من حرم جامعة "جونز هوبكينز" في قاعة كلارك، في حرم "هوم وود".
WHEN: Participants will be expected to attend the hackathon JANUARY 14 - 26, 2019. During the first week, January 14-18, teams will be encouraged to join joint live sessions in-person; however, most sessions during this week will be able to be joined remotely. During the week of January 21-26, teams will be expected to be in-person to work together during joint work times (Morning Eastern Standard Time, Late Afternoon/Early Evening Eastern European Time). See the event outline below.
متى: يتوقع من االمشاركين حضور الهاكاثون خلال الفترة 14 - 26 يناير، 2019. خلال الأسبوع الأول، 14 - 18 يناير، نشجع الفرق على الانضمام للجلسات الحية بشكل شخصي، بالرغم من ذلك أغلب الجلسات خلال هذا الأسبوع يمكن الانضمام إليها عن بعد. خلال الأسبوع 21 - 26 يناير، يتوقع من الفرق أن تتواجد بشكل شخصي للعمل معاً .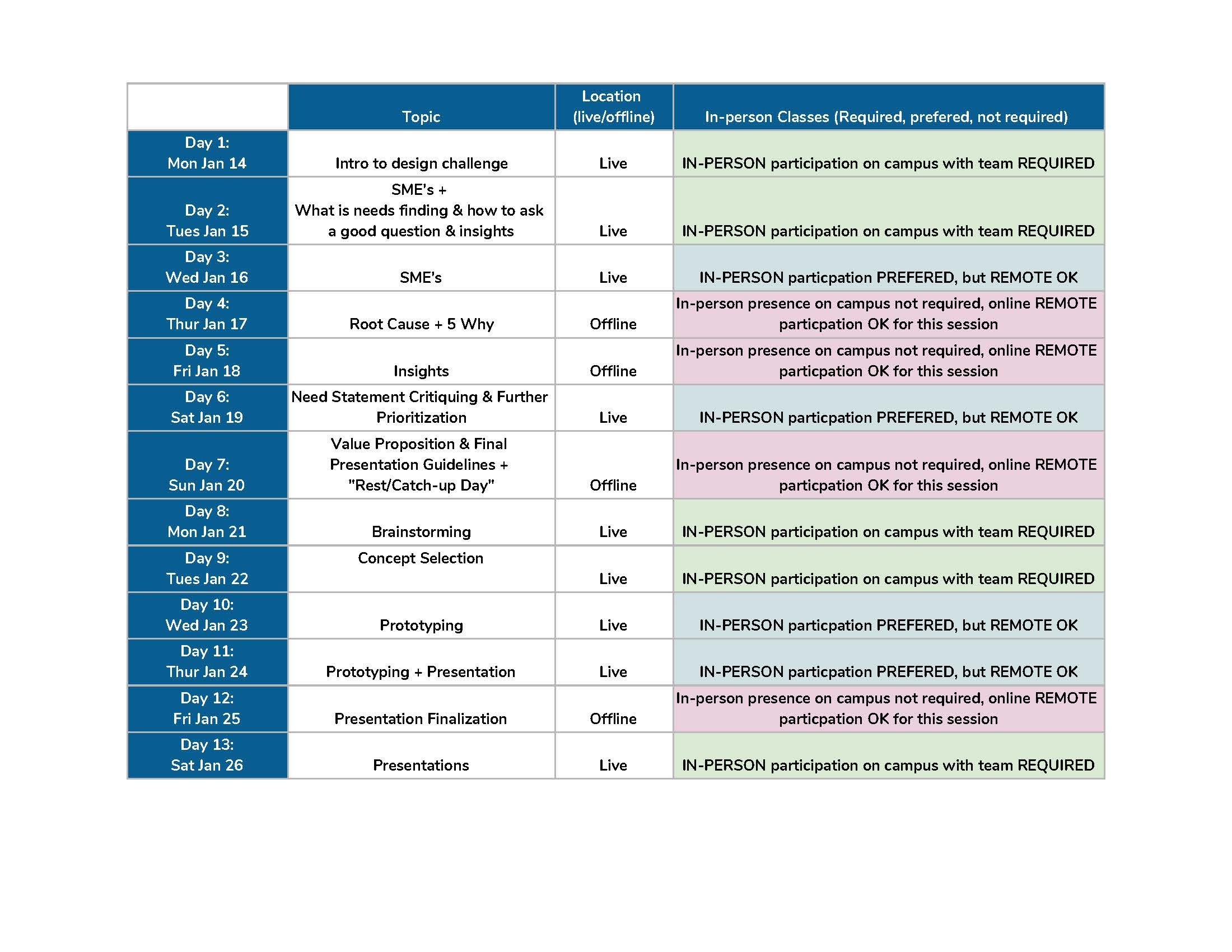 BEYOND THE HACKATHON: For those interested, teams will continue to work together on an ad hoc basis and receive guidance from faculty for a duration of 2-3 weeks and possibly even longer following the hackathon. For the top teams and ideas, additional support for grant applications will be provided throughout 2019.
ما بعد الهاكاثون: لأولئك المهتمين، ستستمر الفرق في العمل حسب الحاجة و ستتلقى توجيهات من أعضاء الهيئة التدريسية لمدة 2-3 أسابيع و ربما أكثر بعد انقضاء الهاكاثون .سيتم توفير دعم إضافي نحو التقدم بطلبات منح خلال عام 2019 لأفضل الفرق و الأفكار.
WHO MAY ATTEND: Students, fellows, health practitioners, engineers, entrepreneurs, innovators, and designers from Gaza and Baltimore can apply. Preference will be given to students at the undergraduate and graduate levels, in all related fields. Engineering, science, public health, business, nursing, art and medical students are all strongly encouraged to participate!
Some skillsets that we are looking to include (but not limited to) are:
· Public Health students and professionals from all disciplines
· Engineers and computer scientists of all backgrounds
· Industrial Design & Human Factors Engineers
· Materials Scientists
· Highly creative and inventive people of all backgrounds
من يمكنه/ها الحضور: يستطيع الطلاب و الزملاء و العاملين الصحيين و المهندسين و الرواد و المبتكرين و المصممين من "غزة" و "بالتيمور" أن يتقدموا بطلبات للمشاركة. الأفضلية ستكون للطلاب في مراحل الدراسة الجامعية و الدراسات العليا في جميع المجالات ذات الصلة بما في ذلك الهندسة و الصحة العامة و التمريض و الطب (نشجعهم بقوة على المشاركة). بعض مجموعات المهارات التي ننظر إليها (لكن لا نقتصر عليها) هي:-
طلاب الصحة العامة و المهنيين من كل التخصصات.-
المهندسون و علماء الحاسوب من جميع الخلفيات.-
مهندسو التصميم الصناعي و العوامل البشرية.-
علماء المواد.-
أشخاص مبدعون و مبتكرون للغاية من جميع الخلفيات.
ORGANIZERS AND SUPPORT: This unique event is supported by the Aspen Institute Stevens Initiative and organized by Johns Hopkins University, Shared Studios & Mercy Corps.
المنظمون و الدعم: يتم دعم هذا الحدث الفريد من قبل "معهد أسبين - مبادرة ستيفنز" و يقوم بتنظيمه مركز الهندسة الحيوية للابتكار و التصميم بجامعة "جونز هوبكينز" و "ميرسي كور".
HACKATHON PARTICIPATION RECOGNITION AND CREDIT: All participants who complete the program will receive a Certificate of Completion for participating in the design challenge.

الاعتراف ب و اعتماد المشاركة بالهاكاثون: سيتلقى كل المشاركين الذين يكملون البرنامج شهادة إكمال ل "هاكاثون (مسابقة) تصميم حلول للتحديات الصحية أثناء الأزمات الإنسانية". اتصل بالجامعة أو المنظمة المحلية ("جامعة جونز هوبكينز" أو "ميرسي كور") بخصوص إمكانية الحصول على اعتماد مساق جامعي رسمي. تختلف النظم بين المؤسسات.
OUTCOMES: At the completion of the hackathon, participants should be able to:
Identify and define public health problems and needs in a specific domain for design purposes.

Understand and engage with stakeholders in humanitarian settings to understand needs, constraints, and context, using appropriate research and design tools

Apply formal design processes from different disciplines for the design of solutions and interventions given a set of constraints

Apply relevant and appropriate technologies and tools to prototype their designs

Present their problems and designs to a diverse audience effectively

Function effectively in a team with diverse backgrounds and perspectives

Articulate a deeper understanding of the perspectives and concerns of students in the Middle East and the United States.
النتائج: مع اكتمال الهاكاثون، سيكون المشاركون قادرين على:
تحديد و تعريف مشاكل الصحة العامة في نطاق محدد لأغراض التصميم.

فهم و الارتباط ب (التفاعل مع) أصحاب المصالح ضمن سياقات إنسانية من أجل فهم الاحتياجات و القيود و السياق باستخدام أدوات بحث و تصميم مناسبة.

تطبيق عمليات تصميم رسمية من تخصصات مختلفة لتصميم حلول و تدخلات أخذاً بعين الاعتبار مجموعة معينة من القيود.

تطبيق تقنيات و أدوات مناسبة و ذات صلة لنمذجة تصاميمهم.

عرض مشاكلهم و تصاميمهم لجمهور متنوع.

العمل بفعالية ضمن فريق بخلفيات و رؤىً متنوعة
تكوين فهم أعمق لجوانب و مخاوف الطلاب في الشرق الأوسط و الولايات المتحدة.
IP RULES: By registering, participants agree that all concepts contained in the idea submission forms will be the property of their respective institution (JHU or Mercy Corps, based on the location), and will be managed according to the established IP rules of their institution. Some ideas submitted may be selected to include in proposals by the program organizers for funding for further development of these solutions. If your idea (based on the forms submitted) is included in one of these proposals and funding for development is obtained, you will be invited to participate in further development efforts via your institutional partner.
القوانين: من خلال التسجيل، يوافق المشاركون على أن كل المفاهيم الواردة في نماذج تقديم الفكرة ستكون ملكاً للمؤسسة المعنية ("جامعة جونز هوبكينز" أو "ميرسي كور"، حسب الموقع)، و أنه سيتم إدارتها حسب القوانين الخاصة بالمؤسسة. قد يتم اختيار بعض الأفكار المقدمة ضمن مقترحات يعدها منظمو البرنامج من أجل تمويل زيادة تطوير تلك الحلول. إذا كانت فكرتك (بناءً على النماذج المقدمة) واردة في أحد هذه المقترحات و تم الحصول على تمويل لتطويرها، ستتم دعوتك للمشاركة في مزيد من جهود التطوير من خلال مؤسستك الشريكة.
REGISTRATION IS REQUIRED FOR ALL PARTICIPANTS. PLEASE ENSURE THAT YOU HAVE RECEIVED A CONFIRMATION EMAIL FROM THE ORGANIZERS THREE WEEKS PRIOR TO THE HACKATHON.
IF YOU HAVE ANY QUESTIONS, PLEASE CONTACT:
يلزم التسجيل لجميع المشاركين. يرجى التأكد من استلامك رسالة تأكيد بالبريد الإلكتروني من المنظمين قبل الهاكاثون (المسابقة) بثلاثة أسابيع. إن كان لديك أي أسئلة، يرجى الاتصال ب:
At Johns Hopkins University (Baltimore): Meg Glancey at mglancey@jhu.edu
DATE AND TIME التاريخ و الوقت
Monday, January 14, 2019, 8:30 AM EST through Saturday, January 26, 2019, 1:00 PM EST
LOCATION الموقع
Johns Hopkins University Center for Bioengineering Innovation and Design; Mercy Corps
Baltimore (USA) or Gaza (Palestine)

Date and Time
Location
Johns Hopkins University Center for Bioengineering Innovation and Design; Mercy Corps مركز "جونز هوبكينز للابتكار و التصميم الحيوي الهندسي": ميرسي كور
Baltimore (USA) or Gaza (Palestine) بالتيمور (الولايات المتحدة الأمريكية) أو غزة (فلسطين)