January Salon: Love those Toys

Tuesday, January 17, 2017 from 6:30 PM to 8:00 PM (EST)
Event Details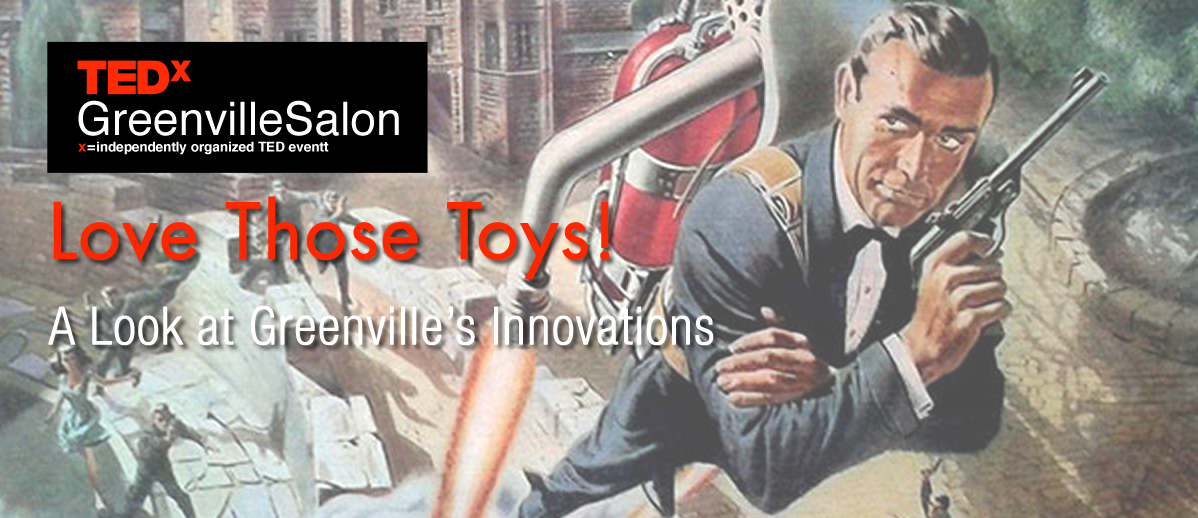 January Salon: Tuesday, January 17, 2017 
Love Those Toys!
A Look at Some of the Cool Technologies Coming Out of the Upstate.
TED stands for Technology, Entertainment, and Design. The first letter in stands for Technology, and we have no shortage of that here in Greenville.
San Francisco. Cupertino. Austin. Boston. These are cities known for producing the world's best technologies. They are known throughout the world. However, we can hold our own in Greenville. These cities do not own cutting edge innovations, technology, and cool stuff. Greenville is quickly emerging as a mecca for some of the most creative technologies in the country. With the emergence of lots of new technology companies and entrepreneurs, Greenville has a lot to brag about, and share with the world.
Come join us for the January TEDxGreenvilleSalon where we will feature some of the innovations that are emerging in our home town.
The salon will feature two "TEDx traditional" talks  and a couple demonstrations. 
RALPHHULSEMAN | The Power of Microsurfaces

Ralph Hulseman is the president and founder of Hoowaki LLC. Ralph has a BS and MS in chemical engineering both from MIT. Prior to starting Hoowaki, Ralph spent almost 26 years with Michelin in various roles. His last position was as Manager of Science and Expertise based in Greenville, SC, which established and managed research partnerships between Michelin R&D and universities, national laboratories and companies; and which conducted business development analyses of new opportunities. Prior to this Ralph was responsible for R&D effectiveness and process re-design for Michelin Groupe based in Clermont-Ferrand, France which conducted studies to improve Michelin's R&D centers in Europe, Asia and the Americas. Before his time in France.
Hoowaki transforms the surfaces of common materials through micro technology on extruded and molded products and processes. We reduce sliding friction and control surface tension along with other custom capabilities. Using our proprietary technology, Hoowaki creates micro structured surfaces on your industrial tooling to create micron-sized features on the polymer and metal surfaces of your products.
DAVIDHUIZENGA | Post Stroke Gait Rehabilitation
David Huizenga is co-founder and Chief Executive Officer of Moterum. His expertise in commercialization routes and strategies comes from over 20 years of working with early stage technologies at numerous universities. He has worked closely with technology transfer offices in not only protecting their technology through patents, but also in helping them to decide how to deploy their limited resources. He is an expert in translating groundbreaking science into realistic commercial opportunities.
Moterum is a company located in Greenville, South Carolina, focused on the needs of the mobility-challenged due to disease, accident, or condition. Moterum develops products for people, for example, who have survived stroke, traumatic brain injury, spinal injury, and conditions leading to chronic crutch use. We believe increased mobility can have an positive effect on anybody's life through better health, fitness, and independence. Our goal is to help people achieve that mobility.
That's Not All! 
In addition, we will feature two demonstrations from the following people and organizations. 
JOSHLEWIS | Drone Racing Supply
At Drone Racing Supply we are avid pilots who started out like everyone else.  We were frustrated with trying to decipher the lingo that more experienced pilots were using to try their best to describe the ins and outs of quad building, flight controller setup, but also the basics from how to start flying fpv in acro to how to solder correctly. We started trying to bridge the gap between veteran and beginner and in that pursuit wound up noticing all the other flaws in the industry, namely customer service and professionalism in the marketplace.  
 Based out of South Carolina we strive to create relationships with our customers whether they are just getting into the sport and hobby of FPV flying or they have been at it since the beginning.  We want to be the mentor and suppliers out clients need so they can get the answers they need and the items they want in a fast and friendly manner.
DAVIDSCHLITTER | Maker Pipe
Have you have ever built something custom, that truly meets your needs or has allowed you to express your creativity?  It's an awesome accomplishment and whether you did that yesterday or a while back, that feeling is hard to forget.  Maybe you even shared that special moment with someone you care about... those memories endure.  That's why we are so passionate about putting Maker Pipe in everyone's hands.  We want more people to feel that sense of accomplishment and experience those special moments with others.  It can be life changing at the individual level, maybe even a movement if more of us are enabled to make.
Admission is free, but registration is required.
Cash Bar at 6:00. Program begins promptly at 6:30.
NOTE: If you sign up and cannot attend, please let us know, so we can open a space for someone else. 
Sponsored by:

When & Where

ZEN
924 S Main St
Greenville, SC 29601


Tuesday, January 17, 2017 from 6:30 PM to 8:00 PM (EST)
Add to my calendar
Organizer
TEDxGreenville was the first independently organized TEDx event in South Carolina. It all started in 2010 when a diverse, passionate group of TED enthusiasts from around the community came together with the singular goal of bringing an educational and inspirational TED-like experience to Upstate residents.
Now in its eleventh year, the TEDxGreenville movement is igniting passions and building bridges like never before, while highlighting the incredible people and organizations that make the Upstate of South Carolina one of the best places to live on the planet. Yep, we said it.