[January] NAPW transitions to IAW International Association of Women: Janua...
Description
(Disclaimer: You are receiving this email based on our current NAPW-IAW members list. Downloaded monthly on November 11, 2017 from NAPW-IAW website. If you feel you have received this in error, please inform us via email. Thank you.) If you wish to be fully removed off our list, please contact IAW office at

888-852-1600.



Email us: NAPWSantaClarita@gmail.com or Hello@NickyDare.com
UPCOMING EVENTS / MEETINGS:
Saturday, February 17 (Social at Winery) RSVP HERE
Tuesday, February 20 RSVP HERE
Tuesday, March 20 RSVP HERE






TUESDAY, JANUARY 30, 2018: IAW transitions News! New Members Orientation / 2018 New Team Leadership Members
Bring your guest(s), we will serve refreshments, wine and snacks.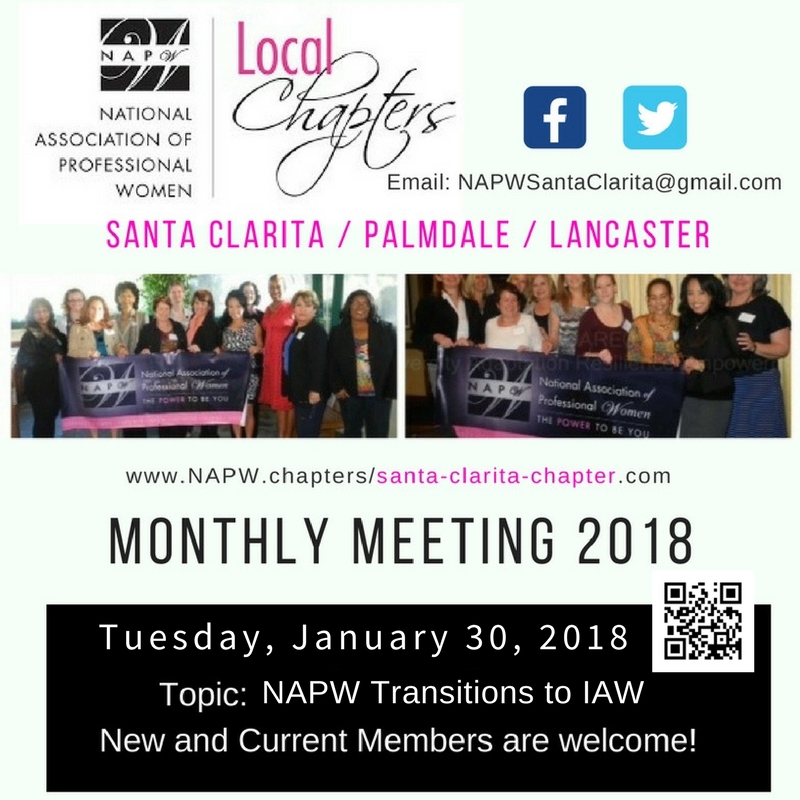 NAPW IAW Santa Clarita
would like to THANK YOU each and one of you amazing ladies for another great year in 2017!
We have named our 2017 President Recognition Award to Ms. Lisa A. Hurrell of Boston Private Security & Trust Company. And 2017 Member Appreciation awarded to Ms. Tonya N. Allen of MRTN Consulting. Congratulations to both ladies!
We are currently accepting applications for Leadership Team / Board members 2018, deadine to submit is by January 15, 2018. Position is for a 6-month term, with 4 renewals maximum.
Thank you to the following ladies who attended our Year-End meeting:
Marguerite Berg, Life Coach of My Shoes, My Journey
Tonya N. Allen, Strategist Consultant, MRTN Consulting
Monica Candelario, Assistant Regional Manager, ATAP All Things Are Possible
Jose Candelario, guest
Zoe Garcell, CEO, Weddings by Zoe
Zaida Anaya, guest
Darlene Gomez, Business Consultant, Nerium
Niki Nicsinger, CEO, Essence of Valor
Brooklynn Grace Thompson, Essence of Valor
VIctoria Erfle, Global Entrepreneur, Wealth Building
Africa De Broeck,
Michelle McClain, Singer Burke
Happy holidays and See you all in 2018 !
Let's Kick off another great new year.
Here's to our 1st meeting in January 30, 2018.
EXCITING NEWS ! NAPW is officially transitioning to IAW, International Association of Women.
We will cover and share all the current updates at this meeting. Please attend and bring guest(s) !!
NAPW IAW Santa Clarita wishing all of you new members WELCOME ABOARD, and valued members to stay connected.
January is Mentoring Month, giving us a chance to use our professional advantages to guide others, leaving an impression and making a positive difference in the lives of other women and girls. During National Mentoring Month, we pay special tribute to the men and women who enrich the lives of our young people and fortify the unbreakable bonds between one generation and the next. A supportive mentor can mean the difference between struggle and success.
MEETING FOCUS: Becoming a mentor or seeking out a mentor by building relationships
and Discussion of NAPW transitions to IAW.
You ask. We listen. We deliver.
In an effort to bring your membership to its complete potential, this 90 minute gathering will afford you the opportunity to meet members of our team, introduce you to our online resources, and prepare you to capitalize on our networking opportunities.
NEW MEMBERS ORIENTATION (January and October)
New Members come out and learn how to get the most out of your NAPW IAW Membership.
Membership tools and features through NAPW IAW website to: Network and Connect with other members

Increase and promote your business

NAPW IAW eChapter meetings to obtain valuable information and increase your networking opportunities

Information on future local and national events
2018 Event / Meeting Speakers (February - December)
As previously discussed in our meetings, we plan to schedule 2018 Speakers* for our meetings.
We are currently seeking 2018 Event / Meeting Speakers as listed on previous emails. If you see your name on our roster, please email or call us (661) 998-3285 to confirm for your availability and details. Thank you!



Cost: $20*
* When you RSVP and attend, you will be reimbursed 50%. However, if you RSVP and do not show up, we will donate your fund to a good cause.
What to bring: Plenty of business cards! We are here to power network!!
Who may attend: New Members, Members and their guests are welcome
We look forward meeting you soon!
Please save the dates of our 2018 monthly meetings, social wine tasting, and community events:

Tuesday, January 30
Saturday, February 17 (Social at Winery) RSVP HERE
Tuesday, February 20 RSVP HERE

Tuesday, March 20 RSVP HERE