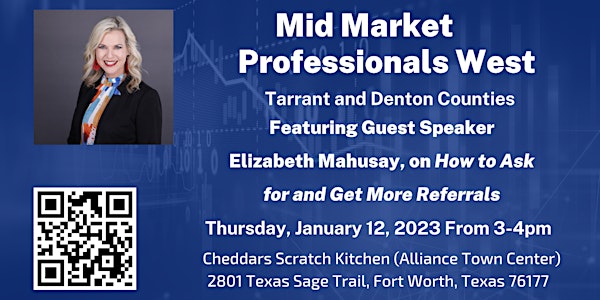 January Mid Market Professionals West (Tarrant and Denton Counties)
B2B networker, business developer, salesperson, or marketer who resides, works, or targets businesses in zip codes beginning with 76XXX?
When and where
Location
Cheddar's Scratch Kitchen 2801 Texas Sage Trail Fort Worth, TX 76177
About this event
Are you a B2B networker, business developer, salesperson, or marketer? Do you reside, work, or target businesses in zip codes beginning with 76xxx? Then Mid Market Professionals West is designed for you. No fee, no occupational exclusivity, just an association of givers and learners.
Elizabeth Mahusay will be our guest speaker discussing How to Ask for and Get More Referrals. The number 1 reason why people don't get referrals is they don't ask! What would happen if you were fearless in asking for referrals? Join us as Elizabeth Mahusay, Elite Sales and Leadership Coach with Southwestern Consulting walks us through how to ask for and get more referrals. You'll leave the session empowered to double your referrals, while improving your time management, and leveraging LinkedIn to build strategic referral partnerships.
Meet Elizabeth,
Elizabeth is dynamic, high energy, and positively focused on helping others realize their full potential. She graduated with a chemistry degree and master's degree in Instructional Technology from the University of South Florida.
Elizabeth is an expert in thought transformation, with over 21 years sales and leadership experience. She has trained thousands of people to overcome negative thinking while implementing proven systems that create a growth environment.
As a certified sales and leadership coach, trainer, and keynote speaker with Southwestern Consulting, Elizabeth works to provide outside perspective that helps her clients creatively solve problems, transform their habits, and multiplying their time and income.
Author of two books, Elizabeth enjoys speaking and training both in person and online. She is married to her high school sweetheart, and together, they have two grown sons. You can learn more about her by visiting elizabethmahusayswc.com.
Join us Thursday, January 12, 2023, at 3 PM!
Format: Networking -> then Discussion Topic -> Q&A -> more Networking!
Agenda:
• Pre-event B2B networking and 1-on-1s
• 3 pm - 4 pm The Event
• Post-event B2B networking and 1-on-1s
About Mid Market Professionals
• Established in 2016 in Dallas County.
• Focused on B2B (not B2C) networkers, No Dues, No Exclusive Seats - Just be a generous GIVER of referrals.
• Members of this group seek to do business with mid-size companies (20+ employees or $1+ million dollars in revenue).
• Our Goal is to connect with professionals that have a similar, B2B target market and share best practices. We meet monthly, In-Person geared around a particular "table topic" in a networking environment focused on:
• Group Mixers
• Break Out sessions
• 1 on 1s
• Referral/lead generation
Connect with Jack: https://www.linkedin.com/in/johndjackkearneysr/
Connect with Elizabeth: https://www.linkedin.com/in/elizabeth-mahusay-coach-author-keynotespeaker/
Connect with Mid Market Professionals:
https://www.linkedin.com/groups/12135824/