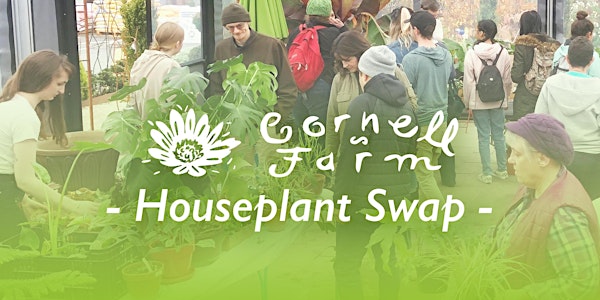 January Houseplant Swap at Cornell Farm
Mask up and come out to Cornell Farm to meet other houseplant lovers and trade your labeled cuttings and plants!
When and where
Location
Cornell Farm 8212 Southwest Barnes Road Portland, OR 97225
About this event
January is Houseplant Month at Cornell Farm, and to celebrate, we're hosting a houseplant swap for plant parents across our community! Any and all indoor plants are welcome, from common finds to coveted collector varieties, but please keep in mind that this is an event about exchanging plants and knowledge, not cash.
All plants should be labeled, healthy, and pest-free! In general, cuttings should be rooted, but if you have fresh cuttings to share from easy-to-root plants, these could be acceptable offerings for the free table (more info below).
Masks are required. Please do your part to keep our community safe by wearing a mask at all times.
This is a free event. Tickets are not required; however, we ask that you please register so we have an idea of how many people to expect. Thank you!
----------
When? January 16 from 3:00pm - 4:30pm
Where? Meet in our Garden Pavilion behind the yellow farmhouse Cafe.
How does it work?
Negotiation Tables: If you want to negotiate the trade for a specific plant, place it on a negotiation table. Stay close so people can make offers and talk to you about it until you are both happy with the trade or gift.
Free Tables: If you want to give plants or cuttings away freely, put them on a free table for anyone to pick up!
No sales. This event aims to celebrate the spirit of generosity between plant enthusiasts. Please don't offer to buy or sell. We encourage trading and giving!
What if I don't have anything to trade? Bring your questions! We all have to start somewhere, and you might just go home with a plant or cutting in addition to your new knowledge.