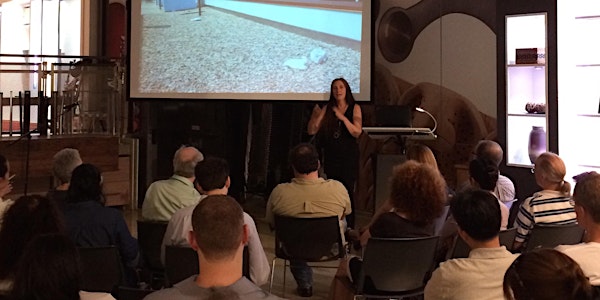 January Forum: 2016 Green Catwalk
When and where
Location
DORMA Design Center 1040 Avenue of the Americas, 22nd floor (enter at 39th Street Freight Entrance) New York, NY 10001
Description
Join us for our annual kick-start event to the New Year!
Happy New Year from GreenHomeNYC's Monthly Forums Group! We're bringing you a whole new lineup of interesting topics this year, and January brings you the annual Green Catwalk, featuring a multitude of hot topics for 2016. Join us to hear about trends and regulations affecting solar installation, carbon assets, sustainable cleaning options and much more. Reserve your seat now and check our website for speaker updates.
Our Speakers:
- Reed Shapiro, Carbon Credit Capital, will speak about carbon assets and the importance of mitigating the carbon footprint of buildings for the future.
- Lucie Dupas,EnterSolar, will speak on various solar topics including community solar, virtual net metering and the solar ITC extension.
- Oliver Koelher, IST/Suntegra Solar, will speak about Suntegra Solar Roof Shingles and opportunities for solar on building sides.
- Andy Padian, PadianNYC Consulting, will be speaking on Energy & Building trends in Alaska.
- Elizabeth Derry, Community Preservation Corporation (CPC), will be speaking on green financing options and lessons learned

- Ufei Chan, The Institute for Market Transformation (IMT), will speak about the relaunch of the NYC Benchmarking Help Center.
- Lauren Hildebrand, Steven Winters Assoc, will be speaking on modular housing projects.
More about our Speakers:
Reed Shapiro, Director of Business Develoment at Carbon Credit Capital, LLC
Reed leads CCC's business development activities and is responsible for the Carbon Credit Capital's client relations, sales outreach and account management of corporate GHG mitigation to local businesses. He also manages public relations and communications including social media, web site development and direct client engagement. Reed co-manages the current research and intelligence reporting, a historic aspect of the company.
Lucie Dupas, Sr. Solar Engineer at EnterSolar
Lucie is a Senior Engineer at EnterSolar, and she plays a key role in the operations and maintenance activities. She collaborates with the sales team from preliminary design to contract signature, and follows the projects from design and permitting to end of warranty. She works on numerous cutting edge projects, including community solar and battery-backup projects. Prior to joining EnterSolar, Lucie started her career at Sollega, a solar racking manufacturer and at Bright Power, an NYC-based energy management company. Lucie has extensive experience making solar project happen in the challenging NYC regulatory market. Lucie graduated from INSA Lyon with a Masters Degree in Energy Engineering.

Oliver Koehler, CEO and Founder at IST (Integrated Solar Technology) and Suntegra Solar
Oliver Koehler has worked in the solar industry for over 15 years. Prior to founding Integrated Solar Technology (IST), Oliver worked at solar industry leaders such as SunPower Corporation and BP Solar where he served as the global Product Manager for cells and solar modules between 2001 and 2012. Prior to his career in solar, Oliver worked as a consultant at Deloitte & Touche and was an officer in the United States Army, where he attained the rank of Major. He has an MBA from the University of Washington and a BA from Brown University.
Andrew Padian, Padian NYC
F.L. Andrew Padian is a private Building Science Consultant with 35 years of experience in the unique building science of multifamily buildings. He has performed detailed energy analysis on thousands of buildings across the country, is a frequent contributor to energy and sustainable publications, and has spoken at numerous conferences. Previously, he was Vice President for Energy Initiatives for The Community Preservation Corporation (CPC), where he worked in the implementation of the Green Financing Initiative (GFI) and NYC's Sandy Recovery Program (Build it Back). Prior to CPC, Andy started the Multifamily Buildings Division and re-opened the NYC Office for Steven Winter Associates (SWA). He was also Director of Engineering and Training for the Association for Energy Affordability (AEA), and worked in the NYC Mayor's Energy Office and the NYC Department of Housing Preservation and Development.
Elizabeth Derry, Field Staff, Community Preservation Corporation (CPC)
Elizabeth works with CPC's resiliency and energy efficiency programs as a project manager. She helps property owners and managers incorporate efficiency into their repair projects while ensuring they get adequate financial support to meet their rebuilding needs. Elizabeth Derry holds a Master's in City and Regional Planning with a concentration in green building and real estate at the Edward J. Bloustein School of Planning and Public Policy.
Ufei Chan, Benchmarking Program Manager, The Institute for Market Transformation (IMT)
Ufei is a LL84 Energy and Water Benchmarking Program Manager in the City of New York, a role funded through the Institute for Market Transformation (IMT) to support the PlaNYC Greener, Greater Buildings Plan (GGBP). Prior to joining the government, she worked in the corporate sustainability unit of Citigroup, where she reported on the bank's environmental metrics including its GHG emission and energy usage, and led the bank's employee engagement campaign. Prior to that, she worked in a residential wind energy startup and consulted to Exelon Generation on its wind fleet. Ufei received a B.S. from Carnegie Mellon University, an M.P.A. from Columbia University, and an M.B.A. from Cornell University.
Lauren Hildebrand, Steven Winters Associates
Lauren Hildebrand is an in-house Green Rater and LEED BD+C Accredited Professional for Steven Winter Associates, Inc. (SWA), the largest LEED for Homes Provider in the Northeast. With over 5,000 certified homes in 10 states, SWA has 13 LEED Raters based in Norwalk CT, New York City, and Washington D.C. The 125-person firm provides comprehensive building-systems consulting services throughout the Northeast and Mid-Atlantic States as well as Indiana and Ohio. Lauren has over nine years of experience in sustainable design and development in both commercial and residential buildings.
A note about 2016: Beginning in January 2016, GreenHomeNYC will institute an admission fee ($10 for general attendees and $3 for full time students with ID) for Monthly Forums events. All proceeds will go towards basic operational costs and will help us continue to bring you these lively and important programs. We appreciate your support and look forward to seeing you in 2016.