January is full of funky, fabulous and frisky female roles! -- Reserve 1 Ticket per Car!
About this Event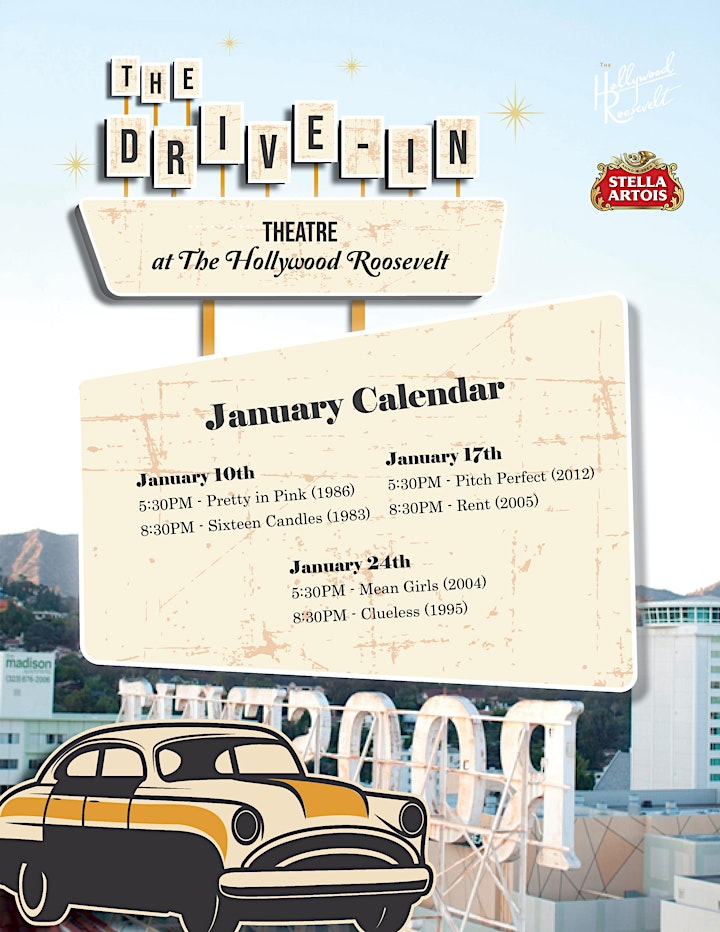 January Movie Series @ The Hollywood Roosevelt Drive-In Theatre
Advanced ticket purchase required with all sales final 24 hours before your event. Please match your times when booking to the below schedule. Guests booking a double feature will get a complimentary round of drinks for their car.
SCHEDULE OF FEATURE FILMS:
JANUARY 10th - 80's Night
5:30PM - Pretty in Pink (1986)
8:30PM - Sixteen Candles (1983)
JANUARY 17th - Come Sing Along
5:30PM - Pitch Perfect(2012)
8:30PM - Rent (2005)
JANUARY 24th
5:30PM - Mean Girls (2004)
8:30PM - Clueless (1995)
The iconic Hollywood Roosevelt has transformed our valet parking lot into a Drive-In Theatre, and we'd like to invite you to purchase your spot for our January Movie Series! VIP, Preffered and General Parking spots available. All guests will receive complimentary popcorn! We also have a full menu and bar for purchase from the menu at 25° Burger Bar in the hotel. All guests are required to wear masks outside of their car and follow social distancing protocols. Parking spots are limited so make your reservations today!
Full bar and food menu available until 9:30pm each evening
Upon completion of the movie, you will have a 15-minute grace period to depart the parking lot
VIP Front Row Tickets are available at $65/per car and VIP Center Tickets at $75/per car get you the best spots with unobstructed views of the screen
General Admission Tickets are available at $45/per car and Preferred Tickets at $55/ per car offer closer views with side angles or central views from the back of the lot
Parking lot opens for your show one hour before the scheduled time, please arrive early for parking and enter on Orange between Hollywood and Hawthorne
To inquire about Buyouts for Drive-In Events please contact apriest@journalhotels.com
FAQ:
1. What does a VIP ticket mean?
You will have a prime parking spot toward the front of the lot close to the speakers with a central view of the Drive-In Movie offering unobstructed views of the full screen. Front rows cars are recomended to tilt their chairs back for best viewing.
2. How many people can join me in my car?
Up to 6 people, please keep in mind most of the movies are around two hours so you want to be able to stretch and relax! Viewing from the rear of your vehicle is welcome. Also, you are welcome to bring chairs that fit in front of your vehicle only. Please observe social distancing with other people in other vehicles and wear masks outside of your vehicle.
3. What type of food and drink is available?
25° Burger Bar offers more than just burgers. With vegan and vegitarian options and a new All Day Brunch Menu, this is not just another place to get an ordinary burger.
4. What time does the parking lot open ?
Parking lot opens one hour before show times. Vehicles that are not parked within 15min after showtime may be turned away.