Description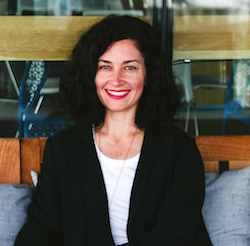 Camp Optimization Welcomes Melissa Ashcraft, Global Director of Marketing Communications at Wacom Technology Corp.

Use Your Words: Move Customers from Awareness to Purchase with Content
Your Slack game is strong. You blow it up on group text. But your ecomm copy is…um…well, as in most things in life it's best described in a gif. Specifically that gif from Monsters, Inc. with the little girl blinking herself to sleep.

Granted your copy is a total bore because you have to have it reviewed by nearly everyone in the company who has a Senior in their title plus those VP-types for whom a daring day starts and finishes with donning the purple and red check button up (instead of the royal blue and white one, natch.)
There's a way to bring some interest to your ecomm copy without it upsetting the tan chino crowd. Melissa Ashcraft, published Random House novelist and Director of Community at Wacom, will share it with you. Spoiler alert: it involves getting specific and using some of the narrative elements that writers rely on to make books, blogs and, yes, even memes.
---
Come network with Portland's top digital marketing, design and optimization professionals at the Assembly Lounge Bar located at Washington High School in Suite 213 on the second floor.
Don't forget to RSVP and spread the word. First round of drinks is on us with an RSVP!
---
What is Camp Optimization?
Camp Optimization's mission is simple: provide a casual, fun and informative forum for digital marketers and technologists to share optimization best practices, challenges and wins.
Who is roboboogie?
roboboogie is a data-driven marketing, design and optimization agency from Portland, OR. We combine creative design and marketing science to create digital experiences that delight customers and ensure marketing success.